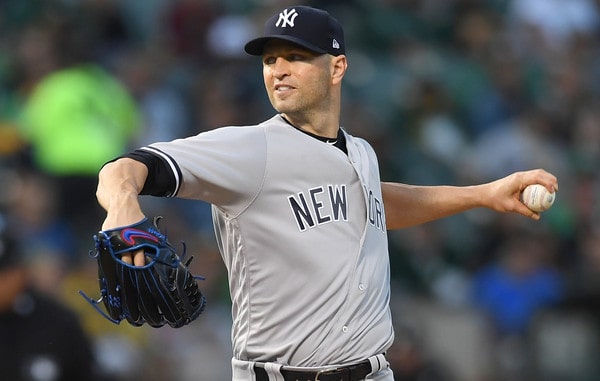 Last night J.A. Happ bounced back from his worst start as a Yankee with a gem against the Athletics, holding them to two hits and one run in six innings. It was Happ at his best. Fastballs in, out, up, down, and with juuust enough offspeed stuff mixed in to keep hitters honest. It's a bit unconventional, sure, but it works for Happ and has for several years now.
The 35-year-old Happ has a 3.10 ERA (4.77 FIP) in 40.2 innings with the Yankees, and a 3.90 ERA (4.08 FIP) in 154.2 innings overall this season. He hasn't been as good as the last few seasons (3.43 ERA and 3.72 FIP from 2015-17), but he's been steady and reliable, and that's exactly what the Yankees needed at the trade deadline. Happ has been as advertised, and if the Yankees are thinking about a reunion next year, he's open to it.
"I'd hate to get too far into that, but the one thing that I'll say is, I've been impressed since I came over here with how things have worked so far and all the baseball-related things have been a positive," said Happ to Brendan Kuty. "So, I think I'd be foolish to cross anybody off the list. But, yes, certainly, judging by how the first month has gone, it would be a place that I for sure would consider coming back if there was interest."
Happ is an impending free agent and this is likely his last chance to cash in big. He does have a World Series ring (2008 Phillies) and hey, he might get another one this year. It's possible his top priority in free agency will be contract size, not maximizing his chances to win. I'll never ever begrudge a player for going after the money. That's what I'd do. Does a reunion make sense? Let's talk this out a bit.
1. The Yankees are going to need a starter. I mean, duh. Pretty much every team goes into the offseason needing a starting pitcher. The Yankees are no different. At the moment their projected 2019 rotation looks something like this:
Luis Severino
Masahiro Tanaka
CC Sabathia
???
???
Barring a change of heart, Sabathia is coming back. He wants to pitch next season and the Yankees love him, so I'd bet a farm on another one-year contract. Sabathia is actually getting better with age — he's gone from a 110 ERA+ to a 122 ERA+ to a 124 ERA+ the last three seasons — and finding someone to replace everything he brings to the table won't be easy. He's coming back and I'm all for it.
Anyway, Sonny Gray seems destined to be traded over the winter and Jordan Montgomery won't be back until the second half of the season following Tommy John surgery, so the Yankees can't count on him. I suppose those last two spots could go to some combination of Justus Sheffield, Chance Adams, Jonathan Loaisiga, Luis Cessa, and Domingo German (and Mike King!). That strikes me as the worst case scenario though. Even with Sabathia coming back, there is a clear need for another starter.
2. He's turning 36 soon. That's a red flag. Indeed. Happ turns 36 in October and is getting to the point where baseball players can decline drastically even when you don't see it coming. "I don't really look into the age thing. I know teams and people in general will be. I feel like I've sort of been an outlier of that trend for the last couple of years … I know that I do want to play several more years and at that point, we'll just see what happens," Happ said to Kuty.
The thing is, even at his age, Happ is improving. He is an outlier. He's striking out more batters and getting more soft contact with each passing year. Look at this: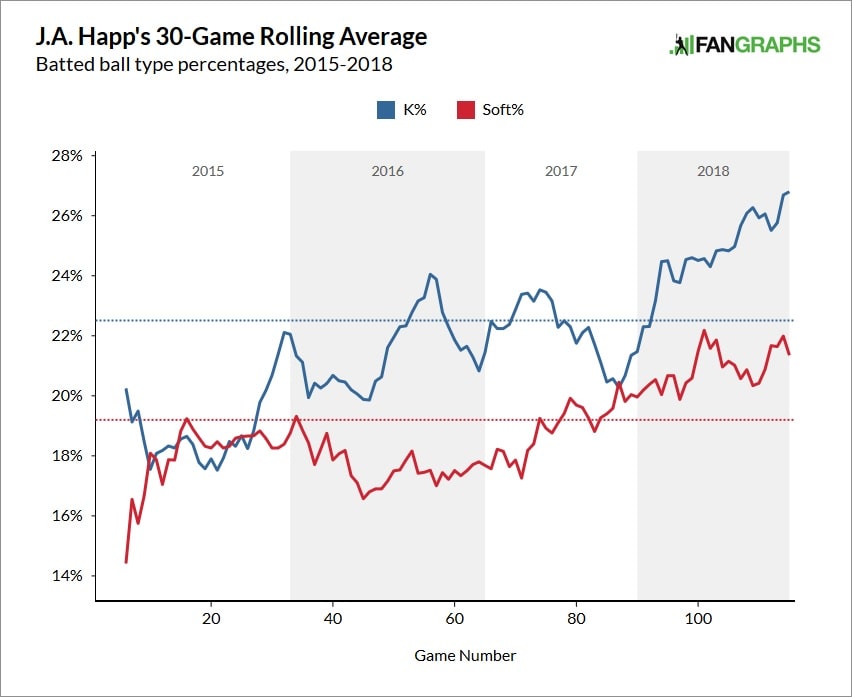 On one hand, Happ is going to peak at some point and decline, and, given his age, it could happen very soon. Those strikeout and soft contact trends won't continue forever. On the other hand, Happ is starting from a pretty high baseline now. He could lose some strikeouts and soft contact and still be pretty good. There is much more to life than strikeouts and soft contact, but, when trying to forecast future performance, they're a good place to look.
The reasons to bring Happ back are fairly obvious. He's good, he's AL East battle tested, and he's a low maintenance veteran who has no issues with playing in New York. At this point age-related decline is an undeniable risk with Happ though. Whichever team signs him will assume that risk. You sign him hoping he ages like Andy Pettitte or Hiroki Kuroda, and aware of the fact he might age like Derek Lowe or Adam Wainwright, and just go in the tank in his mid-30s.
3. What will it cost? I have no idea. The free agent market changed completely last season. Quality free agents wound up signing sweetheart deals late in the offseason because they had nowhere else to turn. I dunno if teams were colluding or what, but whatever it was, it worked! Players signed super cheap. I expect that to happen again this year. Teams have shown they'll wait the players out and they'll use it to their advantage.
Happ, however, might be one of the free agents who gets a market rate contract early in free agency because he's not going to require a long-term contract. His age ensures that. John Lackey got a two-year deal worth $32M three years ago, before his age 37 season, which might be a benchmark for Happ. Lackey then was a year older than Happ now, but he was coming off a much better contract year (2.77 ERA and 3.57 FIP). Ryan Dempster got two years and $26.5M at Happ's age, so maybe that's more appropriate.
Part of me thinks the current free agent climate will lead to Happ taking a one-year deal, or maybe one year with an option. And another part of me realizes the outlier team is usually the one that gets the free agent. It only takes one team to offer that second year, you know? Look at the upcoming free agent class. The best starting pitchers are clearly Dallas Keuchel, Charlie Morton, and Patrick Corbin. Isn't Happ next? A team could jump on him early knowing he's getting a short-term deal no matter what, and that team might be the Yankees.
* * *
This isn't something the Yankees should worry about right now. Even if the Yankees are interested in re-signing Happ, they're not going to sign him to an extension, because his luxury tax hit would get recalculated and screw up the luxury tax plan. This will wait until the offseason no matter what. The Yankees and Happ have more important things to worry about now.
Given everything we know right now, the Yankees should have interest in bringing Happ back next year, because he's a damn good pitcher and because the contract terms don't figure to be outrageous. He's the perfect veteran stabilizing force for the middle of the rotation. As long as Happ doesn't collapse down the stretch, I suspect we're going to hear a lot about a potential reunion in a few weeks.