Far too many times this year the Yankees have played a terrible team and looked inferior. It happened again Sunday afternoon. They dropped the series finale to the Tigers 11-7. The Yankees went 3-4 on a seven-game homestand against the White Sox and Tigers, two teams on pace for 98 losses. Not only that, the Yankees scored first only once on the homestand and they trailed at some point in all seven games. Terrible homestand. Everyone involved should be angry — not disappointed or embarrassed, angry — about that performance against those teams at home.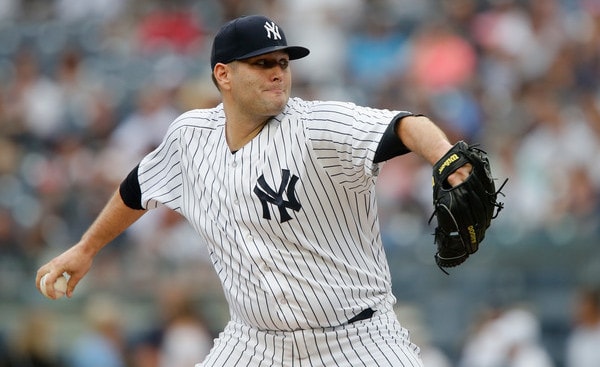 Another Lynn Stinker
It's probably time for the Yankees to bump Lance Lynn to the bullpen. He had a case of the Eovaldis on Sunday, where it seemed like everything put in play fell in for a base hit, even the weak stuff, but nine hits in 3.2 innings against that lineup is awful. Lynn has now allowed 19 runs and 31 hits in his last four starts and 18.2 innings. The opponents: Tigers, White Sox, Marlins, and Blue Jays. Those four teams came into the day a combined 97 games under .500.
The 7-8-9 hitters for Detroit — three dudes named Ronny Rodriguez, Dawel Lugo, and Victor Reyes — went a combined 6-for-6 with two doubles against Lynn. He got five swings and misses in the 24-pitch first inning and four swings and misses with his final 58 pitches. Niko Goodrum flared a run-scoring single to center in the first inning, Reyes had run-scoring doubles in the second and fourth, and JaCoby Jones doubled in a pair in the fourth. Tommy Kahnle inherited a baserunner from Lynn and allowed a two-run homer to Nick Castellanos. Yuck.
Lynn's final line: 3.2 IP, 9 H, 6 R, 6 ER, 1 BB, 6 K on 82 pitches. Lance Lynn with the Twins: 5.19 ERA. Lance Lynn with the Yankees: 5.10 ERA. Put him in the bullpen and let him air it out for two or three innings at a time. Sonny Gray could start in his place, Luis Cessa or Jonathan Loaisiga could start, or the Yankees could just bullpen game it every fifth day now that rosters have expanded. Lynn got off to a nice start in pinstripes. This is now four straight bad outings against bat teams. Time for a change. They have enough alternatives.
Two Runs Early, Not Enough Late
The good news: The Yankees did not get no-hit through four innings for the third straight day. They did break up the no-hitter with a home run for the third straight day, however. Aaron Hicks skied an opposite field solo home run into the right field second deck with one out in the bottom of the first. Hicks has a career high 24 homers in 494 plate appearances this year. He had 23 homers in 722 plate appearances the last two seasons. Pretty cool.
The Yankees added a second first inning run when Miguel Andujar slammed a double off the left field wall and Gary Sanchez brought him home with a single to left for a 2-1 lead. Mikie Mahtook's throw hit Andujar in the left hand on his way home. He's okay though, thankfully. The Yankees didn't score again until Lynn let things get out of hand. Luke Voit pounded a fourth inning opposite field solo home run into the right field bleachers to get the Yankees to within 7-3. It was not a Yankee Stadium cheapie. That was some real opposite field power.
Voit now has five home runs in 57 plate appearances with the Yankees. He had five homers in 137 plate appearances with the Cardinals. Granted, all five of his homers have come at hitter friendly Camden Yards and Yankee Stadium, but still. Voit hasn't hit many cheapies. He is 13-for-33 (.394) with five homers, five walks, and ten strikeouts in his last ten games now.
The Yankees had their best chance to make this a ballgame in the eighth inning. It started with an Andrew McCutchen hit-by-pitch. Two hit-by-pitches and zero base hits through two games for Cutch. Anyway, McCutchen got hit by a pitch, Hicks drew a walk, and then Andujar pulled a ground ball single through the left side to score a run and get the Yankees to within 8-4. Sanchez reached on a fielder's choice and Gleyber Torres walked to load the bases with one out. The Yankees were in business!
Sadly, Voit struck out for the second out despite not seeing a single pitch in the strike zone from Victor Alcantara. Not one. Rather than let Austin Romine hit with the bases loaded and two outs, manager for a day Josh Bard sent up Neil Walker, who ricocheted a grounder off Alcantara to score a run. It stayed on the infield, so only that one run scored, but hey, that works. Bases loaded, two outs, down three, and pinch-hitter Greg Bird hit a ball here: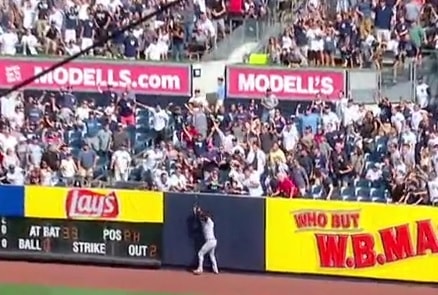 Close to a go-ahead grand slam, but no dice. A few feet short of the wall. Bird's had a few of those lately. Why Giancarlo Stanton did not pinch-hit in that eighth inning with the bases loaded, either in place of Walker or Bird, I do not understand. I know Walker got a run in and Bird came thisclose to a go-ahead grand slam, but come on.
After the game Bard said the Yankees really wanted to give Stanton a full day off and were only willing to use him with a chance to "win the game." Reminder: The bases were loaded and the Yankees were down three. So dumb. I know you can't play every game like Game Seven, but surely the Yankees can do better than this. Play to win the game, please.
Ninth Inning Rallies
No idea why Stephen Tarpley was brought into the ninth inning. Down three after a big rally doesn't seem like the best spot for a kid to make his MLB debut. Three hits and two walks later, the Yankees were back down 11-5. Pretty awful. I like Tarpley. He has a chance to be pretty good. But bringing a kid in for his big league debut in that spot? Come on now. There are too many good relievers in that bullpen to let a rookie let this game get away.
Sure enough, the Yankees made some noise in the bottom of the ninth. All with two outs too. Hicks walked, Andujar beat out an infield single, Sanchez walked, then Gleyber Torres shot a two-run single to center field. The Yankees were back to within 11-7 and the tying run was on deck. Voit struck out looking to end the game. The Yankees were down 7-3 at one point, they scored two runs in the eighth and two runs in the ninth, and they still lost by four. So bad.
Leftovers
Kahnle finished off the fourth inning and Gray, who hadn't pitched since the spot start in last Saturday's doubleheader, took over and allowed one run in four mop-up innings. He gave up a solo homer to Victor Reyes, a Rule 5 Draft pick who went into the game with a .211/.229/.251 (25 wRC+) batting line and zero homers. Reyes went 4-for-5 with two doubles and a homer on the day. Ryan LaMarre and Victor Reyes having career days on one homestand. Good work, Yankees.
Three hits for Andujar, two hits for Voit, and one hit apiece for Hicks, Sanchez, Torres, and Walker. Hicks (two), Andujar, Sanchez, and Torres drew the walks. You'd like seven runs to be enough against an awful team like the Tigers. It wasn't even close to enough. Given the talent the Yankees have on the roster, the whole is very much less than the sum of the parts right now. The Yankees need to snap the hell out of it already.
Box Score, WPA Graph & Standings
Go to ESPN for the box score and updated standings, MLB for the video highlights, and FanGraphs for the postseason odds. Here's our Bullpen Workload page and here's the loss probability graph:

Source: FanGraphs
Up Next
The homestand is over and the Yankees are heading out on a nine-game, eleven-day road trip. First up is a potential AL Wild Card Game preview with the Athletics. As of this writing the Yankees are five games up on Oakland for homefield advantage in that AL Wild Card Game. CC Sabathia and Trevor Cahill are the scheduled starters for Monday's three-game series opener. That is a Labor Day matinee with a 4pm ET start.