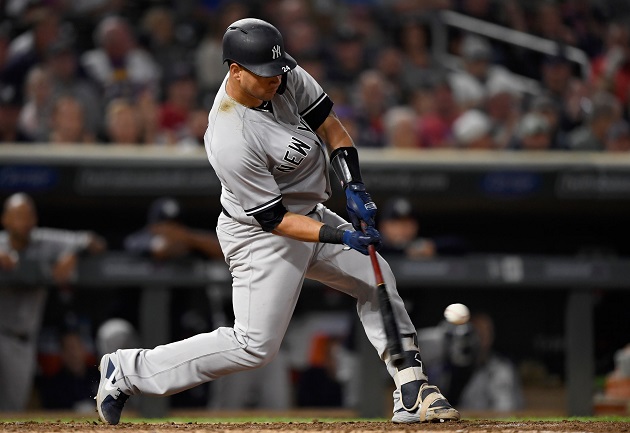 Welcome back, El Gary
Monday's series opener in Minnesota had a familiar feel through the first five innings: too many wasted scoring opportunities amid mounting pressure to beat up on a below-average team. Locked in a pitchers duel, Gary Sanchez broke a scoreless tie with a solo homer in the sixth, and then the Yankees bats finally woke up in the next frame as they exploded for six seventh-inning runs en route to the 7-2 win. At 90-54 on the season, this was the fastest to 90 wins for the team since 2009, when they reached the mark in their 140th game.
Sanchez's home run was a titanic blast that traveled an estimated 460 feet into the left field seats, his second home run this season of 460-plus feet (other was a 461-foot shot on May 4 against the Indians). He is one of four players this season to hit two 460-plus-foot bombs, along with Trevor Story, Joey Gallo and Carlos Gonzalez.
The most interesting part of Sanchez's two mammoth homers is that they couldn't have been more different in terms of their vertical location, highlighting his ability to crush pitches regardless of where they're thrown. On Monday, Sanchez somehow golfed a pitch that was at his shins and sent it into the upper deck at Target Field; back in May, he tomahawked an elevated fastball deep into the left field bleachers at Yankee Stadium.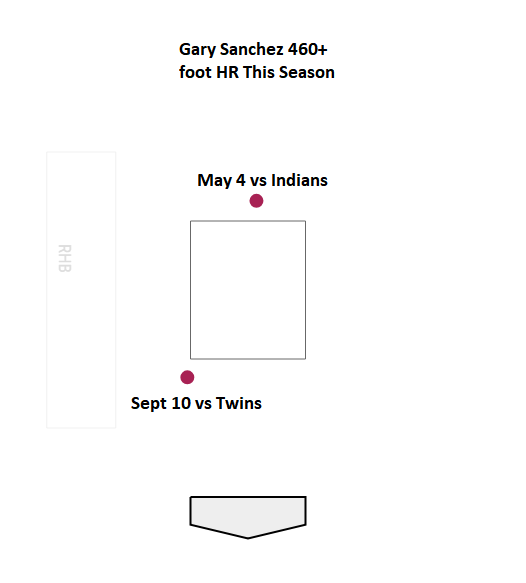 Through Monday, there had been 32 homers hit at least 460 feet. Sanchez's against the Twins came on a pitch that crossed home plate just 1.2 feet off the ground, the lowest in the 32-homer sample. His one against the Indians in May came on a pitch that crossed home plate just 3.6 feet off the ground, the highest in the 32-homer sample.
Miguel Andujar ignited the fireworks in the seventh inning with an RBI double, his 40th two-bagger of the season. Cue the Joe-D comparisons:
Yankee Rookies with 40+ Doubles and 20+ HR:

Miguel Andujar (2018)
Joe DiMaggio (1936)

— Katie Sharp (@ktsharp) September 11, 2018
Andujar is one of 14 Yankees all-time to hit at least 40 doubles and 20 homers in a season, but he is the first third baseman to achieve the feat in franchise history. And impressively, only five other American League rookies as young as (or younger than) the 23-year-old Andujar have produced a 40-double, 20-homer season:
AL Rookies Age 23 or Younger

| | Year |
| --- | --- |
| Miguel Andujar | 2018 |
| Nomar Garciaparra | 1997 |
| Fred Lynn | 1975 |
| Ted Williams | 1939 |
| Joe DiMaggio | 1936 |
| Hal Trosky | 1934 |
Slammed!
One up, one down continues to be an annoying trend for the Yankees this month. They followed up Monday's win with an embarrassing and disappointing 10-5 loss on Tuesday. The Twins pummeled the Yankees pitching from start to finish, roughing up starter Sonny Gray for three runs in the first three innings, and then turning the game into an unsightly rout with seven more runs on nine hits against the bullpen.
After his implosion against the Twins, Gray's ERA as a starter is 5.26 in 23 games. Since 2001, three other Yankee pitchers have finished a season with an ERA that high in as many starts as Gray: A.J. Burnett (5.26 in 2010), Javier Vazquez (5.56 in 2010) and Jeff Weaver (5.73 in 2003).
Jonathan Loaisiga took over for Gray and was somehow worse, tagged for six runs while getting just four outs. The six runs matched the same number he had allowed in his first 20 major-league innings pitched before Tuesday.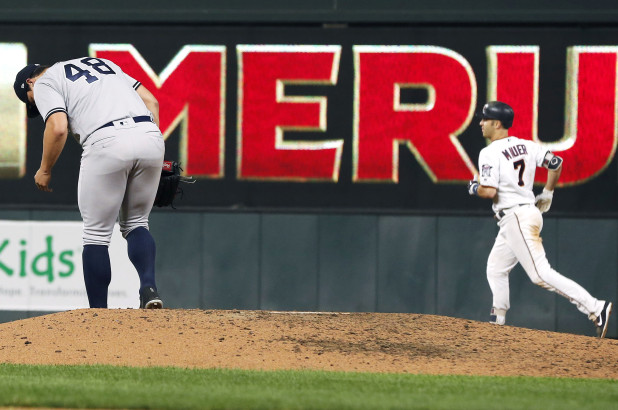 Three of those runs came courtesy of a grand slam allowed by Tommy Kahnle, who inherited a bases-loaded, one-out jam in the fifth and poured gasoline on the fire when Joe Mauer deposited a center-cut fastball into the seats. It was the first grand slam allowed by Kahnle in his big-league career.
Kahnle has now inherited 11 baserunners and allowed eight of them (73%) to score. Among the 200-plus pitchers with at least 10 innings pitched and 10 inherited runners this season, that inherited score rate is the highest in MLB (the league average rate is 31%).
Didi Gregorius kept the game from being a total disaster with his own grand slam in the sixth, his third career dinger with the bases loaded and second this season. He is the first shortstop in franchise history to hit multiple grand slams in a season.
Both of his slams this year came against the Twins (also on April 23 at in the Bronx), giving us our #FunFact of the series. Here's the list of Yankees to hit multiple grand slams against the Twins/Senators franchise since 1925:
Lou Gehrig (5)
Babe Ruth (3)
Mickey Mantle (2)
Alex Rodriguez (2)
Didi Gregorius (2)
Nearly no-hit
The Yankees dropped a rare series in Minnesota thanks to Wednesday night's debacle, a 3-1 loss in which they nearly got no-hit by Jake Odorizzi. They entered this series 20-8 all-time at Target Field, the best record by any AL team at the ballpark and the Yankees best record at any current AL stadium.
Their offensive struggles reached near-DEFCON-1 levels with Odorizzi taking a no-hitter into the eighth inning before Greg Bird drilled a one-out RBI double into the left-centerfield gap. It was the longest the Yankees had been held without a hit since September 11, 2014 when Rays righty Alex Cobb had his no-hitter broken up with one out in the eighth inning by a double from Chris Young.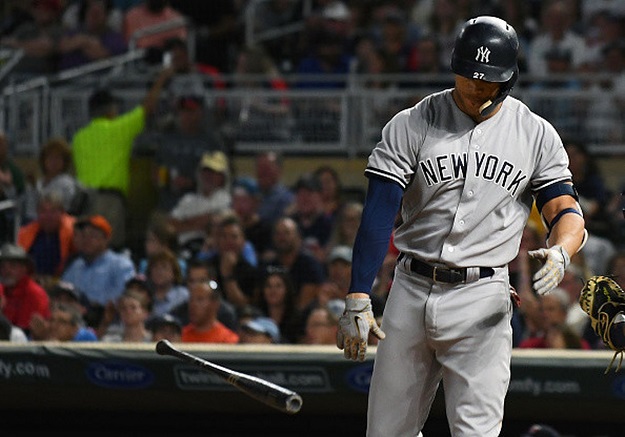 Bird might have been one of the most unlikely Yankees to make sure the team wouldn't be on the wrong side of history. It was his first hit since August 29 and his first RBI since August 19. Bird had one hit in his previous 30 at-bats dating back to August 19 before Wednesday's miracle hit.
Luis Severino delivered a strong bounceback effort with one run allowed on four hits in 5 2/3 innings. After giving up a leadoff single, he retired 15 straight guys before getting into trouble in the sixth. It was his fewest runs given up since July 1, when he threw 6 2/3 scoreless innings against the Red Sox. In between those dates — 11 games from July 7 through September 5 — Severino posted a 6.83 ERA and batters had a .934 OPS against him.