Is it a coincidence that, in their first game after activating Aaron Judge off the disabled list, the Yankees went back to beating the tar out of their opponents? Yes, yes it almost certainly is. But it makes for a fun narrative! The Yankees opened the final homestand of the 2018 regular season with an 11-0 win over the Blue Jays on Friday night. The stupid A's beat the stupid Rays in Tampa, so the lead for the top wildcard spot remains two in the loss column. Three if you include the Yankees owning the tiebreaker. Also, the Yankees have matched last year's win total (91) with 15 games still to play.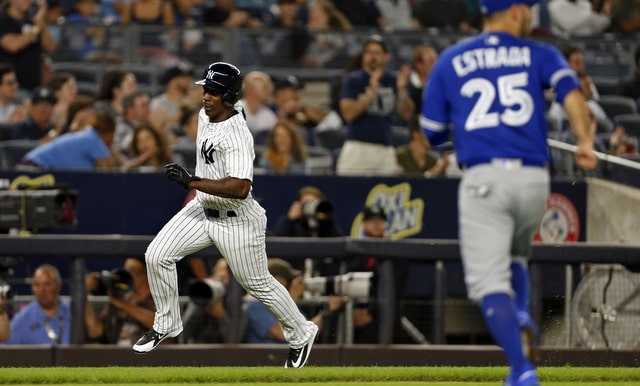 Five In The First
How did the Yankees respond after a disappointing road trip? With a five-run first inning, that's how. Hell yeah. Didn't even hit a home run, which will make the #toomanyhomers crowd happy. The five-run first inning was the team's largest first inning since scoring six in the first inning on August 19th against the Blue Jays, coincidentally enough. Ryan Borucki started that game though. Not Marco Estrada.
The Yankees scored more runs in the first inning Friday than they scored in six of the nine games on the road trip and in seven of their first eleven September games. Let's recap that first inning annotated play-by-play style so we don't miss anything.
(1) I don't know if he's hurt or what, but Estrada did not look good at all right out of the gate. He seemed … stiff. Like his back was acting up for something. Estrada did miss most of July with a glute problem, so maybe that's it? Whatever it is, he didn't look good. He was up in the zone to Andrew McCutchen to start the first inning, and his 0-2 changeup was a 75 mph nothingball up in the zone. McCutchen hammered it to left field for a leadoff double. The Yankees were in business.
(2) This at-bat started with one of those ugly off-balance Giancarlo Stanton swings. You know what I'm talking about, right? Stanton followed that with four takes on pitches down below the zone to draw the walk. When he's going really bad, Giancarlo offers at a few of those pitches. Instead, he took them. His at-bats started to look a little better in Minnesota, I thought. After that ugly first pitch hack, seeing Stanton spit on those pitches blow the zone was a welcome sight.
(3) I didn't realize this, but apparently Aaron Hicks went 3-for-27 (.111) during the road trip? Huh. He did draw six walks, which mitigated the damage some, but yeah, Hicks went 3-for-27 on the road trip. Anyway, Hicks started his homestand well with an opposite field single to score McCutchen and give the Yankees a quick 1-0 lead. And, because Billy McKinney slipped while fielding the ball, Stanton was able to go to third and Hicks went to second. One run in and runners at second and third with no outs. The Yankees were really in business.
(4) Small ball! After Miguel Andujar popped up in foul territory for the first out — first baseman Rowdy Tellez made a nice running catch along the left field line and threw the ball home quickly, so Stanton had no chance to tag up and score — Gregorius reached out and pulled a changeup to second base for a run-scoring fielder's choice ground out. Sexy? No way. Effective? Sure is. We've seen the Yankees waste enough opportunities like that lately. Hooray for getting the run in.
(5) Who would've guessed batting Gleyber Torres near the middle of the order rather than ninth — literally ninth — would lead to good things? Estrada threw Torres five fastballs: 89, 88, 88, 88, 88. The 2-2 fastball was way up and out of the zone …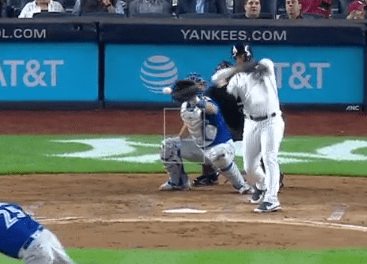 … and Gleyber poked it to right field for two-out, two-strike, run-scoring single anyway. I was all ready to settle for two runs that inning. Not because Torres isn't good or anything. He obviously is. But two-out hits can be hard to come by. Torres turned that 2-0 lead into a 3-0 lead with his single.
(6) After hitting all those balls hard right at defenders on the road trip — he had six batted balls at 95+ mph exit velocity go for outs on the trip — Gary Sanchez was rewarded with the karmatic 88 mph ground ball with eyes single. He picked up a 79 mph infield single in the fourth inning too. Anyway, Sanchez's first inning single set up Luke Voit for the two-run double. Estrada started him with four straight changeups and fell behind in the count 3-1. He totally gave in at that point. Estrada threw Voit an 88 mph middle-middle fastball in the 3-1 count, and Voit drilled a double into the left-center gap.
Came in at 88 mph and went out at 112 mph. Kinda mad he didn't go deep on that pitch. (Kidding! Or am I?) Sanchez scored all the way from first with two outs. Three straight two-out hits turned a 2-0 lead into a 5-0 lead. Nine batters, five runs. I feel like we've been waiting for a first inning like that since June.
The Yankees piled on in the third inning. Gregorius took a pitch to the elbow guard to start the inning, then, after two quick outs, four straight Yankees reached base with two outs. Voit walked, Brett Gardner slashed a single to left to score a run, McCutchen walked, and Stanton looped a two-run single to right. Estrada was out of the game after the Gardner single — he faced 18 batters and ten reached base — then September call-up Taylor Guerrieri walked Cutch and allowed the Stanton single. Eight-zip lead after three innings? Why can't they all be like this.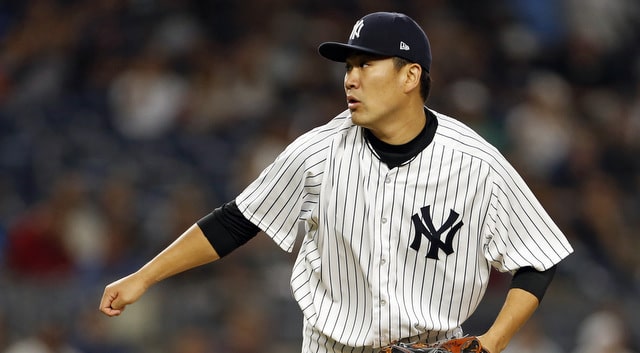 Terrific Tanaka
Too bad you can't bottle up a pitching performance and save it for a game where the offense doesn't have as much success, eh? Masahiro Tanaka was great again Friday night, extending his scoreless streak to 20 innings with six shutout innings against an admittedly terrible Blue Jays lineup. Justin Smoak and Kendrys Morales didn't even play. A September call-up named Rowdy Tellez batted cleanup. Yeah.
Believe it or not, Tanaka only had one 1-2-3 inning. Two-out walk in the first, one-out single in the third, two-out double in the fourth, leadoff double and one-out walk in the fifth, and a one-out walk in the sixth. And yet, it still felt like Tanaka was dominant. He struck out eight and allowed only six of the 24 batters he faced to hit the ball out of the infield. His only real jam came in the fifth inning, when the Yankees had already built an 8-0 lead. Tanaka struck out Billy McKinney and Lourdes Gurriel Jr. to strand two that inning.
The final line: 6 IP, 4 H, 0 R, 0 ER, 2 BB, 8 K on 90 pitches. Season-high-tying 19 swings and misses. Tanaka definitely had enough in the tank for the seventh inning, but, with an 8-0 lead and a bullpen loaded with September call-ups, there's no reason to push it. Tanaka has a 2.35 ERA (2.98 FIP) in his last 13 starts and 80.1 innings now, and his overall 3.47 ERA is basically the same as Luis Severino's (3.46). The majority of RAB readers want Tanaka to start the Wild Card Game. He's my pick too. What a stud.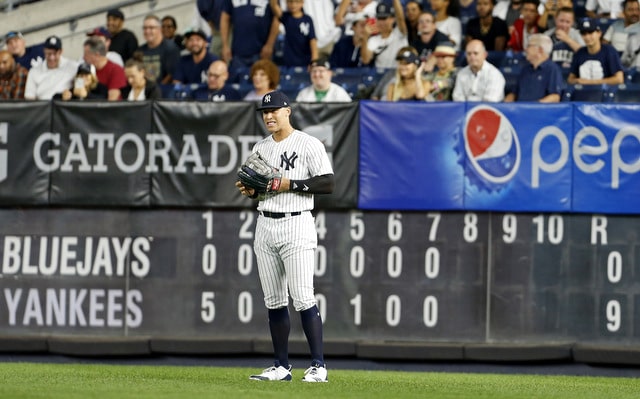 Leftovers
Solo homers by McCutchen (fifth inning) and Gregorius (eighth inning) got the Yankees into double-digits on the scoreboard. (Gardner added a ninth inning sacrifice fly as well.) First time the Yankees scored 10+ runs since their 10-3 win in the first game of the (most recent) doubleheader in Baltimore. McCutchen went 3-for-3 with a double, a homer, and two walks. He's reached base 18 times in his last eight games and has a .442 OBP as a Yankee. That'll work, Cutch. That'll work juuust fine.
Fourteen hits, seven walks, and one hit batsmen for the Yankees. Only four strikeouts too. In their last four games, the offense has 25 walks and 23 strikeouts. Neat. Every starter had at least one hit and seven of the nine starters reached base multiple times. McCutchen reached five times, Sanchez (two singles, double, walk), and Voit (two walks, single, reached on error) both reached four times. Great game for the offense. Hope to see more like this.
Second save of the season for Luis Cessa. He allowed three singles and a walk in three scoreless innings and got one of those junky "throw the final three innings and you get a save no matter the score" saves, his second such save of the year. The 2018 Yankees saves leaderboard:
Aroldis Chapman: 31
David Robertson: 5
Dellin Betances: 3
Luis Cessa: 2
Zach Britton, Chasen Shreve, Tommy Kahnle, Gio Gallegos: 1 each
And finally, welcome back Aaron Judge. He played right field the final two innings. Yankee Stadium gave him a long standing ovation when he ran out on the field. Pretty cool. Also, McCutchen slid over and played left field for the first time in his big league career. Judge wasn't tested defensively and he hasn't been cleared to hit yet, but damn, it sure was good to see him back there again.
Box Score, WPA Graph & Standings
For the box score and updated standings, go to ESPN. MLB has the video highlights and FanGraphs has the postseason odds. Here's our Bullpen Workload page and here's the win probability graph:

Source: FanGraphs
Up Next
This three-game series continues with the middle game Saturday afternoon. That's a 4pm ET start because playing baseball at 1pm ET on a Saturday isn't a thing that happens anymore, apparently. Veteran lefty CC Sabathia and rookie righty Sean Reid-Foley are the scheduled starting pitchers.