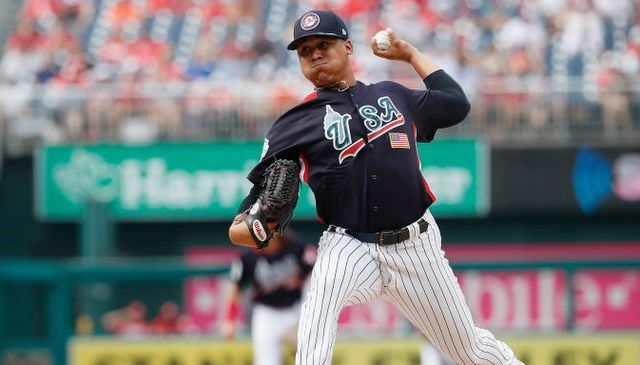 According to Conor Foley, the Yankees are calling up top pitching prospect Justus Sheffield. Triple-A Scranton was eliminated from the postseason Saturday, so, with their season over, Sheffield will join the Yankees for the rest of September. Also, Foley says Domingo German is coming up as well. No surprise there.
Sheffield, 22, pitched to a 2.48 ERA (2.98 FIP) with 25.9% strikeouts and 10.5% walks in 116 innings this season, mostly with the RailRiders. The Yankees moved him to the bullpen late in the season to prepare him for a possible big league role. He's still a starter long-term. Even if he doesn't pitch much, there's value in letting Sheffield spend the rest of the season with the big league team.
"The transition to the bullpen, obviously, I knew there was something going on there. So it was hard for me to block it out and do my thing. When I did, I felt back to myself. It was one of those things where it was hard to block out," said Sheffield to Jay Monahan. "I am still at a loss for words. I'm super excited. I just can't believe it. I am pretty sure my whole town knows about it already."
The Yankees need to clear a 40-man roster spot for Sheffield, who will be Rule 5 Draft eligible this winter. He was going to be added to the 40-man after the season anyway. The Yankees are just getting a head start on it. They won't burn an option year or anything like that. I imagine Clint Frazier will be transferred to the 60-day DL to open up the 40-man spot.