It has been an exceedingly busy year for Mike, due to his non-stop work here and his commitments over at CBS, so I figured that I'd try my hand at tackling your mailbag questions this week. As always, you can continue to send your questions to RABmailbag (at) gmail (dot) com. Let's do it to it.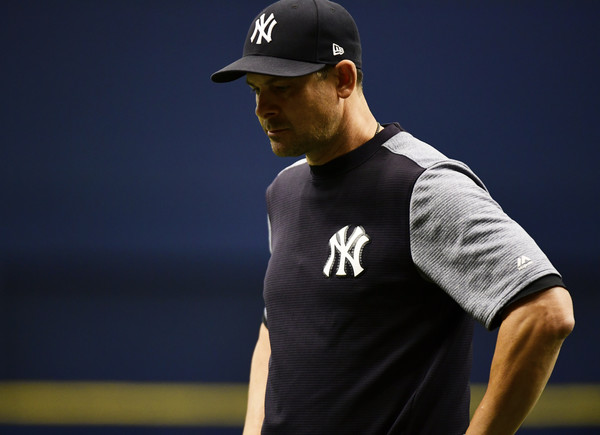 Many asks: So what happens with Aaron Boone now?
As cliché as it may be to say this, I cannot help but feel that Boone is quite lucky that George Steinbrenner isn't in charge nowadays. The Yankees did not execute well-enough to win a couple of close games, and the blowout loss was inexcusable on every level – but the manager's job is to put his team in the best position to win, and Boone failed to do so in back-to-back games. And he failed spectacularly, too. I don't think The Boss would have brought him back for another season.
With the current administration, however, I would be utterly shocked if Boone wasn't back next season. Cashman and Co. clearly love his ability to manage interpersonal relationships in the clubhouse, and they knew the risks of hiring a manager straight out of the announcer's booth. I'm sure that they're disappointed, and I'm sure that Boone's exit interview will focus quite a bit on his decision-making – but he'll be on the Yankees bench next year, with no adjustments to his leash.
Segundo asks: Seeing Luke Voit playing with all this swagger is very refreshing. Can't remember the last Yankee who played like this and was productive (Ricky Henderson?). I think he should get the first base job from day 1 next year. Thoughts? What do you think his numbers will look like if he gets 600 plate appearances
I'm a fan of Voit's swagger, too, but I think you're underselling this team as a whole. It comes in all shapes and sizes throughout the roster, but Gary Sanchez, Didi Gregorius, CC Sabathia, and Ronald Torreyes all have quite a bit of swagger. Voit stands out, though, because he came out of nowhere with it – and he looks kind of like Billy Butler.
And I'd agree that he's the best in-house option for first base as of today; I don't think it's possible for me to be more down on Greg Bird than I am right now. I wouldn't expect Voit to do anything remotely close to what he did this year, though. I think the best-case scenario is probably something along the lines of what Justin Smoak did this year – .250/.350/.460 with 25 home runs or so. I'd take that in a heartbeat.
Kelan asks: You mentioned potentially upgrading the corner infield defense this offseason. Outside of maybe the obvious, sign Machado and either trade Andujar or maybe try him at first, what do you see as the most realistic options?
I'll answer this with two caveats. The first is obvious – I'm not Mike. I'm sure that our ideas would be similar, given the available options, but it's possible he'd go in an entirely different direction. And the second caveat? I'd give Andujar at least one more season to work on his defense. The tools are there, and he'll be 24 for the entire 2019 season; I don't think moving several pieces around is a necessity.
That being said, I'm not sure that there's a great free agent option for the hot corner outside of Machado. As of this morning, these are the top-five non-Machado third basemen that are slated for free agency:
Adrian Beltre
Josh Donaldson
Marwin Gonzalez
Jed Lowrie
Mike Moustakas
I think Beltre (nearly 40 and may be retiring), Gonzalez (more of a utility player), and Lowrie (nearly 35 and best-suited for second) can be ruled out right away. And I don't see Moustakas as a clear enough upgrade defensively to make a move. Donaldson is interesting, though. I'm not incredibly enthusiastic about his age or his injuries these last two seasons, but his defense is still strong and he's a helluva hitter. If the price was right, I think he's the sort of player that you can make think about moving Andujar for.
Nicholas asks: This may be a little pedantic on my part, but isn't Kahnle's problems more due to a lack of separation between his fastball and changeup? Last year he was throwing around 99 with a 90 changeup-this year it looks like his fastball regressed to around 95 but his changeup stayed the same. I think a lack of separation with his changeup is an easier fix than expecting the fastball to return.
The separation between his fastball and change-up actually didn't change all that much. Check it out: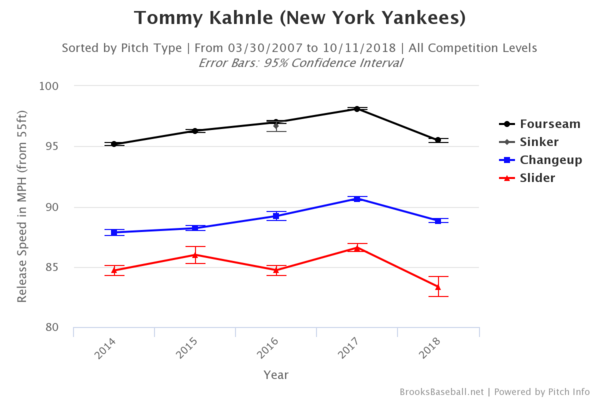 Kahnle's velocity was down across the board. The difference between his fastball and change-up was 7.4 MPH in 2017 and 6.7 MPH this year. That's certainly enough that you can't just hand-wave it away, but I'm not sure that it's enough to draw anything conclusive from. What stands out the most for me in terms of his pitches is actually the distribution. In 2017, Kahnle threw 65.6% fastballs, 23.9% change-ups, and 10.5% sliders; those numbers this year were 54.3%, 40.3%, and 5.4%, respectively.
Batters hit .383 (!) with a .660 SLG (!!) against his fastball, so there was definitely something going on. The vertical and horizontal movement on his fastball were virtually unchanged; the spin rate did drop from 2287 RPM to 2223 – but that's not a massive difference. Putting all of those factors together, though, might lead you to your answer.
Consider this, though: Kahnle's walk rate doubled in 2018, from 6.6% to 14.0%. He was pitching with a lot of base-runners, and most every pitcher is worse out of the stretch. I think that may've been his biggest issue.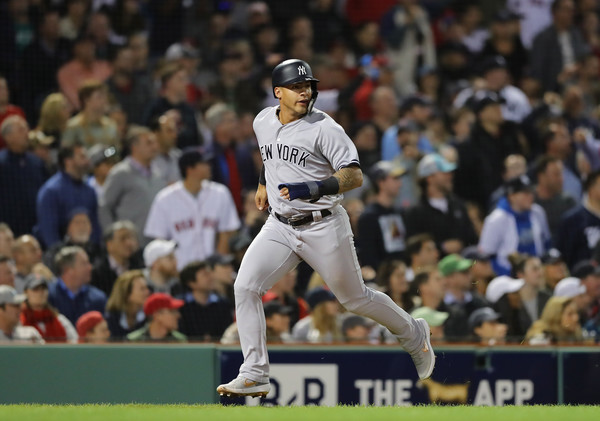 Scott asks: Hey guys, thanks again for all of your work. The yanks have long since avoided signing players to extensions before free agency (with some exception), but I wanted to get your thoughts on a Torres extension. It might rub players like Judge, Didi, and Sanchez the wrong way, but those guys have different circumstances (Judge is under control until his 30's, Sanchez underperformed this year, Didi has a replacement in Torres). Most folks believe Torres is a bonafide above average starter at a middle infield position who I believe the yanks have under control for 4 more seasons (maybe 3). Do you think it would be crazy to offer him 6 years at 10mm per? Kingery signed for 6/42, I assume that sets the baseline. Curious as to what you guys think, thanks again.
When Scott Kingery signed his deal, he was a 23-year-old prospect that had never played in the majors; Gleyber Torres is a 21-year-old player coming off of an excellent rookie season. I think that comparison may have worked six months ago, but it doesn't work that well now. Torres may not be a completely known commodity now, but he's proven to be – at worst – a solid regular at the highest level.
I think you'd have to look at the deals of players that signed after a strong rookie season; that list includes names like Troy Tulowitzki, Ryan Braun, Anthony Rizzo, Paul Goldschmidt, Christian Yelich, and Andrelton Simmons. If we average their contracts, we get a baseline of 6.7 years and $42.75 MM. Round that to 7-years and $43 MM, and the Yankees would be crazy to say no – but all of those deals were inked between 2008 and 2015, and prices have gone up.
I don't think it would be crazy to buy out Torres's remaining team control years (and tack on some post-team control option years) for something like $10 MM a year. He could fail to improve a lick over the next half-dozen years and he'd still be worth a contract of that nature. I'd be all over it.
Luke asks: How about Eric Kratz having himself an NLDS series for Milwaukee. If we lose to the Sox, what other notable ex-Yankees do we have to root for in the rest of the playoffs?
The championship series have been set at this point, with the Red Sox vs. the Astros in the AL, and the Dodgers vs. the Brewers in the NL. Going team-by-team, we have:
Boston – Nathan Eovaldi, Eduardo Nunez, Steve Pearce (lest we forget his 12 game cameo in 2012)
Houston – Brian McCann
Los Angeles – Rich Hill (5.1 IP in 2014)
Milwaukee – Erik Kratz, Curtis Granderson
Tom asks: What do u prefer and what do you think the yankees prefer of the 3 options for LF: 1. Sign a FA 2. Clint Frazier 3. Stanton becomes regular LFer, Andujar to DH, sign Machado thus solving LF & 3b defense
I think the Yankees would prefer two, or the first portion of three; that is, Stanton becomes the everyday left-fielder. I don't know if I'm being pragmatic, pessimistic, or just completely out there, but I'm not too sure that they're planning on making a splash on the position player side of things. Pitching feels like a much bigger priority, given the paucity of in-house options under team control.
And I'm a fan of the Yankees spending money, so I would love to see Machado manning the hot corner next season. That would mean moving Andujar to another position (first base or DH), but I'm fine with that for a player of Machado's quality. But I also wouldn't mind the Yankees signing Bryce Harper, sticking with Stanton at DH (or keeping that revolving door going), and giving Andujar more time to figure things out as I said above.