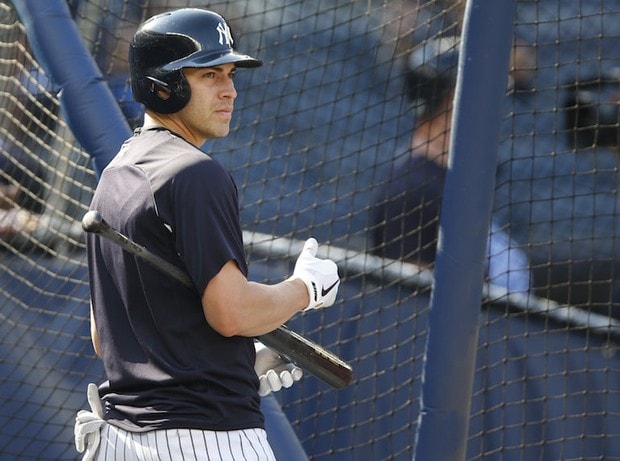 The end of Jacoby Ellsbury's contract was never going to be pretty. Players whose game revolves around their legs usually don't age all that well. Once the speed starts to go, their value sinks. There are always exceptions, but yeah, once a speed dude starts to lose speed, he can go from valuable to useless in a hurry. The final few seasons of Ellsbury's contract were always going to be ugly.
In 2018, year five of Ellsbury's seven-year contract, we never got to see the speed. We didn't get to see the speed, we didn't get to see the defense, and we didn't get to see whether Ellsbury could still contribute on even a part-time basis. A series of injuries, culminating with August hip surgery, prevented Ellsbury from taking the field this year. Zero games and zero plate appearances.
What's worse, an older player declining and his contract keeping him on the roster, or an older player declining and sitting on the disabled list all season with injuries? With Ellsbury, we've seen a little of both in recent years. He was a man without a role in the 2017 postseason and he wasn't even available to play in 2018. Let's review what little bit of Ellsbury's season we can.
The Injury Timeline
It's not fair to say Ellsbury played zero games this year. He did play in Spring Training. Six games. Ellsbury went 1-for-14 (.071) with two walks and three strikeouts in six Grapefruit League games before his first injury. I couldn't care less about the 1-for-14. Small sample and Ellsbury is a veteran player, and those dudes tend to go through the motions early in camp because they know what they have to do to get ready for the season. Here is video evidence Ellsbury did play baseball in 2018:
We didn't know it at the time, but Ellsbury's season effectively ended on March 2nd. He was scratched with tightness in his side and tests revealed a mild oblique strain. Even mild oblique strains can take weeks to heal. The Yankees had more outfielders than outfield spots at the time and Ellsbury's injury seemed to temporarily clear up the logjam. Then the injuries kept mounting. Ellsbury's timeline:
March 2nd: Scratched with a mild oblique strain.
April 3rd: Shut down with "a little something" in his hip and sent for a cortisone shot.
April 16th: Slowed with plantar fasciitis.
May 18th: Rehab work halted by an illness.
May 19th: Shut down with back trouble.
August 7th: Yankees announce Ellsbury needs season-ending hip surgery.
"Everything he's had has been diagnosed legitimately by a doctor," said Brian Cashman after the back trouble popped up. That's a line Cashman once used to defend Carl Pavano. True story.
That "little something" in Ellsbury's hip turned out to be a torn labrum, which is a rather serious injury. Alex Rodriguez had a torn labrum in his hip way back when. Several players have had surgery to repair their hip labrum in recent years. From what I understand, the injury is easier to detect and treat now than it was even ten years ago.
Ellsbury had his hip surgery in August and, at the time, the Yankees announced the rehab timetable as six months, and said Ellsbury is expected to be ready in time for Spring Training. Last week Cashman hedged a bit and told Brendan Kuty that Ellsbury could be healthy in time for Spring Training, but being ready to play on Opening Day is another matter.
Various injuries have limited Ellsbury to 520 of 810 possible regular season games in his five years as a Yankee. For all intents and purposes, Ellsbury had played three full seasons in the five seasons he's been with New York. Knee trouble in 2015 and a concussion in 2017 sidelined him for an extended period of time. Ellsbury still has not played 150 games in a season in pinstripes.
You Know, The Yankees Could've Used Ellsbury At One Point
Remember when the Yankees had too many outfielders in Spring Training? Good times.  They did legitimately have more outfielders than roster spots, but those things have a way of taking care of themselves, and the outfield logjam sure took of itself early in the season. This was the outfield depth chart going into camp:
Aaron Judge
Giancarlo Stanton
Aaron Hicks
Brett Gardner
Jacoby Ellsbury
Clint Frazier
Billy McKinney
Frazier and McKinney could go to Triple-A and the DH spot meant the Yankees could have those top four guys in the lineup every day. Ellsbury was fifth on the outfield depth chart on paper. In reality, he would've been the fourth outfielder on the bench. Instead, he got hurt in Spring Training. So did Frazier (concussion). Hicks (intercostal) and McKinney (shoulder) then got hurt in the very first series of the regular season. By April 7th, the ninth game of the regular season, the Yankees had Jace Peterson starting in left field. Oy vey.
There were two times this season in which the Yankees could've used Ellsbury, in fact. The first was in April, when Frazier and Hicks were hurt, and Peterson (and Shane Robinson) were starting in the outfield. The second was in August, when Judge and Frazier were out and Stanton was nursing his hamstring issue. The Yankees rolled with Robinson and Neil Walker in right field in August before trading for Andrew McCutchen. Could've used Ellsbury in August too.
What's Next?
I think Ellsbury has played his final game as a Yankee. Granted, I thought the same thing about A-Rod when he got suspended in 2014, so I don't really know what I'm talking about. But I think Ellsbury is at that point. There are two years and $47M remaining on his contract and that is within the established danger zone of being released despite a big contract. Consider some recent releases:
Carl Crawford: Released with two years and $35M remaining.
Hector Olivera: Released with three years and two months and $33M remaining.
Jose Reyes: Released with two years and $38M remaining.
Alex Rodriguez: Released with one year and two months and $28M remaining.
Pablo Sandoval: Released with two and a half years and $48M remaining.
The Yankees do have insurance on Ellsbury's contract. They will reportedly be reimbursed 75% of his salary while he's on the disabled list — that means they recouped about $15.9M of his $21.1M salary this year — and while Ellsbury's full salary still counts against the luxury tax payroll, the Yankees do get money back. It's a significant amount of money too. Losing Ellsbury for the full season didn't hurt the bottom line too much.
The insurance is why I don't think Ellsbury will be released this offseason. He had major hip surgery a few weeks ago and Cashman is already saying Ellsbury might not be ready to play come Opening Day 2019. If that is indeed the case, he goes back on the disabled list and the Yankees get that sweet insurance money. Once Ellsbury is healthy though, all bets are off. It's hard to see there being room for him in the outfield and I don't think the Yankees will make room for him on the roster if they don't believe he can contribute.
We'll see what happens with Ellsbury next year. Right now all we know is that he's rehabbing from a major hip surgery and may not be ready in time for Opening Day. (No offense to the guy, but when's the last time Ellsbury got hurt and returned when expected?) The Yankees won't plan around him and, whenever he gets healthy, they'll see where they're at (is their outfield short due to injuries again?) and act accordingly. Ellsbury's days in pinstripes are numbered. The end of his contract is drawing closer and it is entirely possible he will gone before then.