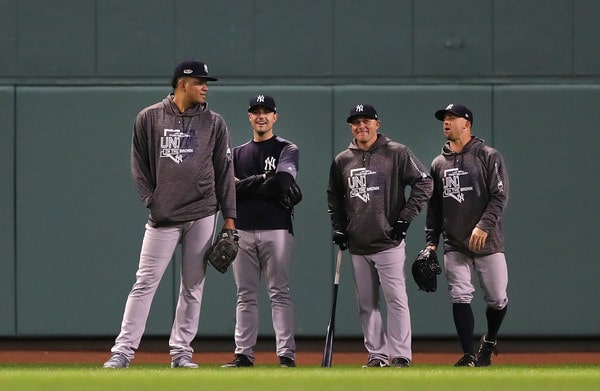 The Yankees went to Fenway Park and did what they had to do over the weekend. They split the first two games of the ALDS and grabbed homefield advantage. Game Two was especially fun. The Yankees socked some dingers and, after the game, Aaron Judge blasted "New York, New York" from his road trip boombox as he walked through the Fenway Park concourse to the team bus. Pretty great. Anyway, I have some thoughts going into Game Three tonight (7:40pm ET on TBS), so let's get to 'em.
1. Remember how bad Judge was in the ALDS last year? He was historically awful. He went 1-for-20 (.050) with a double, four walks, and 16 strikeouts (!) in the five-game series against the Indians. That's the most strikeouts by a single player in a postseason series in baseball history, including seven-game series. Judge was much better in the ALCS against the Astros (.250/.357/.708) and, this postseason, he's been a monster. He is 7-for-12 (.583) thus far, and in all three postseason games he's hit a home run and reached base three times. Judge is 12-for-29 (.414) with five walks (.500 OBP) and six homers (1.138 SLG) in his last eight postseason games dating back to ALCS Game Three last year. What a beast. Hard to believe we were all concerned about whether Judge would have his timing at the plate and adequate strength in his wrist after the injury. It wasn't unreasonable to be concerned! Wrist injuries are tricky. Right now, it's impossible to tell he was ever hurt. Judge had three 109+ mph batted balls in his first three at-bats in Game Two. MVP candidate Jose Ramirez had two 109+ mph batted balls all season. Judge is a unicorn, man. That size, that athleticism, that power, that leadership. He's looking more and more like a once in a generation type, truly.
2. The talent and depth in the bullpen is insane. The guys the Red Sox have been trotting out there in middle relief do not compare to the guys the Yankees have been running out there. The depth has really stood out. The Yankees used four relievers to cover five innings in the Wild Card Game and they still had Chad Green and Jonathan Holder in reserve. Four relievers covered six innings in ALDS Game One and the Yankees didn't use Aroldis Chapman, Dellin Betances, or Holder. Three relievers covered four innings in ALDS Game Two and the Yankees had David Robertson, Green, and Holder still available. That is nuts. Holder threw 66 innings with a 3.14 ERA (3.04 FIP) this season and was a rock solid middle innings reliever, and he hasn't even warmed up in any of the three postseason games. When that dude is your sixth best reliever, you're in great shape. The bullpen is incredibly deep and the built-in rest means the Yankees will have all those guys available pretty much every game. There are no A.J. Coles who need to soak up innings when others need rest, you know? The relievers still have to get outs, absolutely, but what an advantage the bullpen has been thus far. They protect leads and, when the Yankees are behind, they prevent the other team from adding on.
3. Eduardo Nunez, not Rafael Devers, has started at third base in the first two games of the ALDS, and Red Sox manager Alex Cora said it is because "we feel he's been the better defensive player." First and foremost, I'm pretty sure this is the first time anyone has said Nunez is in the starting lineup for his glove. Hard to believe. Secondly, there's a parallel to the Gary Sanchez/Austin Romine situation here. Devers is, clearly, the more talented player and more likely to do something game-changing (at the plate). Nunez is the safer play. Neither he nor Devers stood out for his bat during the regular season (90 wRC+ vs. 78 wRC+), and the Red Sox consider Nunez the superior defender, so they've have gone with him. The Yankees are doing the opposite. Romine is the better defender than Sanchez — well, he's better at blocking pitches in the dirt, throwing and pitch-framing and game-calling are a different matter — and the safe play would've been to start him in the postseason. Instead, the Yankees have stuck with Sanchez, and he rewarded them with a monster two-homer game in Game Two. Nunez is 0-for-7 with a walk in the two ALDS games and his defense has been suspect as well. The Red Sox have played it safe and they have yet to be rewarded. The Yankees bet on the talent and it paid huge dividends in Game Two.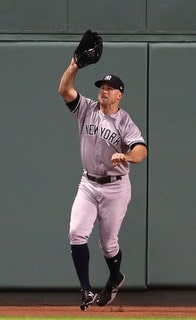 4. This isn't the easiest thing to quantify, but the Yankees seem to be positioned exceptionally well this postseason. Ground balls are hit right at guys and the outfielders aren't having to travel very far to run down fly balls. The Red Sox had several hard-hit balls against Masahiro Tanaka the other night and Brett Gardner was in position to catch all of them. Don't mistake that for me saying the Yankees have been flawless defensively. Miguel Andujar still has his issues and Luke Voit can make things interesting at first base. I'm just saying that the Yankees seem to have their defenders positioned very well. Ground balls have been hit right at infielders and several line drives have been hit right at defenders at well. Maybe it's all one giant coincidence. That's possible. Given how much the Yankees rely on analytics though, I don't think that's the case. Love it or hate it, the shift is here to stay, and the Yankees have doing a really good job getting their people in the right spots.
5. Obvious statement is obvious: The Yankees don't want this series going back to Fenway Park for Game Five, especially not with Chris Sale lined up for that game. If they have to do it, they have to do it, but they want to put this series away these next two days. The Yankees are built for their ballpark and the Yankee Stadium crowd is a very real homefield advantage. Astros players said the atmosphere was intimidating last season — "There's no doubt the crowd had an effect on the game," said then Astros DH Carlos Beltran to Tom Verducci following the ALCS Game Four comeback last year — and I imagine the energy with be ratcheted up another notch since this is Yankees vs. Red Sox. The Yankees are undefeated at home since last postseason. They won all six home games last year and the Wild Card Game this year. That's because the Yankees are insanely talented and built for their ballpark, first and foremost. But the crowd helps. For sure. The old Yankee Stadium was special in its own way. I loved that place. I grew up going to games there. The new Yankee Stadium has started to develop its own personality though. Its own personality with a new core of players. The Yankees have transitioned out of the Derek Jeter era and a new core has arrived. It's fun and it's exciting, and the atmosphere at Yankee Stadium reflects that. I get the feeling these next two games will be bonkers.