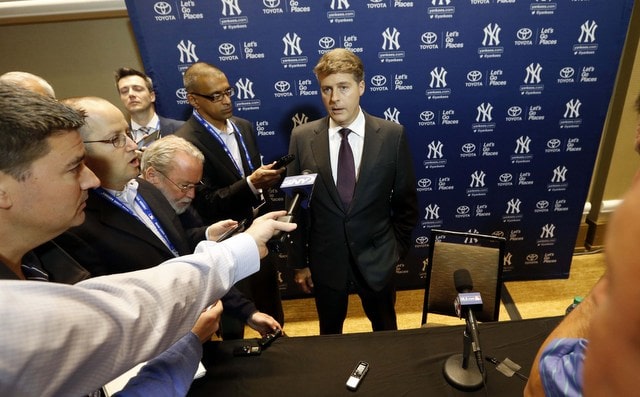 Winning the Wild Card Game and getting bounced in four games in the ALDS hardly qualifies as a successful season, but, as far as ownership is concerned, the Yankees accomplished a very important goal this season. The Yankees stayed under the $197M luxury tax threshold and reset their tax rate, and saved tens of millions in the process. It's not quite a clean slate financially, but it's about as close as the Yankees can get.
Over the last year or so the general assumption seems to have been that once the Yankees reset their luxury tax rate — they'll be taxed 20% rather than the maximum 50% should they go over the $206M threshold next year — they would go back over the threshold and spend lavishly. They're the Yankees and they should rank near the top of the league in payroll, right? Right. It's been assumed they'll do it again. Will it be reality? No one really knows.
"I don't want to speak for (Hal Steinbrenner), but my general feeling from him and for us has been not wanting to line the pockets of others to let them utilize that excess against us," said Brian Cashman at his end-of-season press conference next week. "It was mission accomplished in terms of the payroll this year, and taking away advantages that teams have been getting from us because we were exceeding those thresholds."
Luxury tax money does wind up in the pockets of other teams — a chunk is taken off the top to help fund player benefits and half the remainder is distributed evenly to teams that didn't play luxury tax — and, based on Cashman's comments, the Yankees don't like giving money to other teams. They already pay tens of millions (probably hundreds of millions at this point) into revenue sharing. They don't want to give them more through luxury tax.
"I've been saying you can have a world championship caliber team and not have a $200M+ payroll, and I think we're finally getting to a point where that's coming true for us," said Hal Steinbrenner to Billy Witz at last November's owners' meetings. Hal's been saying that for years. Whether it's sincere or simply posturing, the "we don't need to spend $200M to win a championship" line has been repeated ad nauseum for a few years now.
Cashman's and Hal's comments all point to payroll not increasing significantly next season. Again, they could be posturing. The Yankees have to make players and agents and teams think they are working on a fixed budget to maintain negotiating leverage, otherwise everyone's going to try to take them for a ride. The fact they adhered to a budget this year increases their leverage. Sticking to a budget is not just talk anymore. They did it.
My quick math has $55M in free agent contracts coming off the books this offseason and, during a radio interview last week, Steinbrenner said "my family has always been willing to take money that comes off the payroll and put it back in," which didn't happen this year. Last year's payroll was $226.4M for luxury tax purposes. This year it's around $193M. That is roughly $33M that came off the payroll last year and was not put back into the roster.
The Yankees can put that $55M back into the roster this winter — some of that $55M will go to arbitration raises — and still come in well under next season's $206M luxury tax threshold. The team has money to spend and I expect them to spend it. Manny Machado? Patrick Corbin? Bryce Harper? I don't know. But that money is going somewhere. The question is whether just that money is spent, or money is spent on top of it to bring the Yankees over next year's threshold.
"We're going to leave no stone unturned. Every single option that comes across my desk I'm going to be considering. I don't know who that is or who that isn't. We haven't begun that process yet," said Hal last week. Cashman indicated payroll addition decisions are made on a case-by-case basis, which makes sense. It seems that, if the Yankees are going to go back up over the threshold next year, Cashman will have to make a convincing case, which he's done in the past, most notably with Mark Teixeira.
The Steinbrenners own the Yankees and are free to run the team however they want. They can set payroll limits, introduce new uniforms, change the team colors, whatever. They can do whatever they want. At the same time, the Yankees staying under the luxury tax threshold does not benefit fans at all. Ticket prices aren't coming down or anything like that. The fan experience will be enriched exactly 0% by avoiding the luxury tax. Could it lead to the Yankees spending more in the future? Sure. But they could've done that anyway given their revenues.
The window of contention will never get more open than it is right now. The Yankees have an excellent young core and most of those players are in their cheap pre-arbitration years, leaving money to spend elsewhere. This past season the Yankees cut payroll and won 100 games anyway. Will they continue to toe the line between contention and austerity? Or will they put their newfound payroll flexibility to use? The luxury tax plan has been in the works for years and this offseason we'll finally see what things look like on the other side.