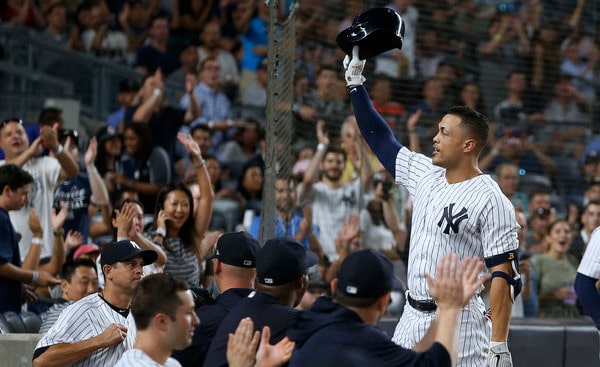 At this time last year, Giancarlo Stanton was nowhere to be found on the Yankees' radar. He was coming off a historic 59-homer season and was about to be named NL MVP, and while the Marlins made it clear they were ready to tear things down, Stanton and his contract didn't seem to fit the luxury tax plan. Besides, the Yankees already had Aaron Judge in right field, and he's the closest thing to Stanton in baseball.
Fast forward to December 9th. Stanton had used his no-trade clause to block deals to the Cardinals and Giants, and he reportedly told the Marlins he would only accept a trade to four teams: Astros, Cubs, Dodgers, and Yankees. The four 2017 LCS teams and arguably the four teams best set up for contention in 2018 and beyond. Stanton backed the Marlins into a corner with his no-trade clause and the Yankees took advantage.
The Astros, Cubs, and Dodgers never seriously pursued Stanton. It was Yankees or bust for the Marlins, and that meant Miami had no leverage. Not even 48 hours after the news broke that Stanton had blocked trades to St. Louis and San Francisco, the Yankees and Marlins had a deal in place. The details:
Yankees get: Stanton and $30M in conditional money
Marlins get: Starlin Castro, Jose Devers, Jorge Guzman
The Yankees acquired the reigning NL MVP — the 28-year-old reigning NL MVP — for Castro and two good but not great Single-A prospects. The impending arrival of Gleyber Torres made Castro expendable and neither Devers nor Guzman were among the farm system's elite. (Aside: The Marlins currently have zero top 100 prospects according to MLB.com. How do you trade Stanton, Christian Yelich, and Marcell Ozuna in one offseason and wind up with no top 100 prospects? Yikes.)
Furthermore, the Marlins are due to send the Yankees $30M if Stanton does not use his opt-out clause following the 2020 season. Even though they may never actually receive that money, the Yankees still get to subtract it from Stanton's contract for luxury tax purposes, so they got him with a $22M luxury tax hit. Chris Davis, Jason Heyward, Jacoby Ellsbury, Jordan Zimmermann, and Justin Upton, are among the players with similar luxury tax hits. Wait until Bryce Harper and Manny Machado sign. That $22M is going to look like a bargain.
During his first season in pinstripes Stanton authored a .266/.343/.509 (127 wRC+) batting line with 38 homers and +4 WAR (according to both FanGraphs and Baseball Reference). An extremely productive season, that is. It's also a bit of a disappointment relative to his 2017 season, though it was always unfair to expect him to be that good again. But still, going into 2018 his career batting line was .268/.360/.554 (145 wRC+), and Stanton fell short of that.
Two prolonged slumps — one right at the start of the season and one late in the season — combined with an ugly final at-bat seem to make Stanton's inaugural season in the Bronx feel worse than it really was. He was very productive. And, fairly or unfairly, his season was short of expectations. Let's review Stanton's first season in New York.
A Slump Early, A Slump Late
Remember how Stanton started his season? Of course you do. Two homers on Opening Day. One against future Yankees teammate J.A. Happ (in his first at-bat as a Yankee) and one against two-time former Yankee Tyler Clippard. One to the opposite field — at 117.3 mph, it is the hardest hit opposite field homer of the Statcast era — and one to dead center field. Stanton went 3-for-4 with two homers and a double in the Game One win.
Giancarlo hit the skids after that, going 4-for-37 (.108) with 19 strikeouts in his next nine games, including in an ugly 0-for-5 with five strikeouts game in the home opener. That earned him
some
many boos from the Yankee Stadium faithful. Stanton had a separate 2-for-27 (.074) seven-game rut later in the April and he closed out the season's first month with a .230/.313/.425 (100 wRC+) batting line and a 33.6% strikeout rate.
"I was awful today. You put up a performance like that you should get some boos," he said following the five-strikeout home opener. No. 4 hitter Didi Gregorius hit two homers and drove in eight runs batting behind Stanton in the same game and Giancarlo quipped, "That's what a cleanup hitter does. You clean up the garbage in front of you."
The second prolonged slump of Stanton's season came in the second half and doesn't fit neatly into one single month. It spanned August 19th to September 19th. In those 27 games Stanton hit .154/.270/.260 (49 wRC+) with 35.3% strikeouts. Between the April and August/September slumps, that is 55 games worth of .194/.292/.346 (75 wRC+) with 34.4% strikeouts. That's one-third of the season. One-third of the season split in half and months apart, but 55 games is one-third of the season, and that was one-third of the season of well-below-average production.
Between those two slumps, Stanton was a monster. Legitimate MVP caliber production. Stanton hit .301/.363/.581 (150 wRC+) with 27 homers in 94 games from May 1st through August 18th. That's a 47-homer pace. Giancarlo did still strike out a bunch during those 94 games (28.3%), but the guy did hit .301 with a ton of homers, and he did much of that while playing on a tight left hamstring. At one point he started 85 consecutive games. Even with the hamstring, the Yankees couldn't take him out of the lineup. He was too productive and the offense was shorthanded.
Early on Stanton struggled against righties and at home, but that soon evened out, and he finished the season with a 112 wRC+ against righties and a 106 wRC+ at home. He was much better against lefties (174 wRC+) and on the road (147 wRC+) though. Ask Michael Kay and he'll say Stanton's Signature Moment™ came on June 20th, when the Yankees erased a 5-0 deficit against the Mariners and Giancarlo clocked a walk-off home run.
Believe it or not, Stanton was second in baseball with six four-hit games this year, one behind Mookie Betts and two more than every other AL player. He also hit .371/.423/.700 with six doubles and five homers in 18 regular season games against the Red Sox, and even though it didn't make a difference in the AL East race, the effort was certainly appreciated. And finally, Stanton also hit his 300th career home run on August 30th.
He was the fifth fastest and ninth youngest to the milestone
.
First impressions matter and, even with two dingers on Opening Day, Stanton's first impression was a strikeout-filled slump in April. He struggled again late in mid-August through mid-September, and, of course, Stanton's final at-bat of the year was a hideous strikeout in the middle of the Yankees' failed ninth inning rally against Craig Kimbrel in ALDS Game Four. A great Opening Day, a bad extended first impression, an ugly end, and an awful lot of production in between.
"I don't want to just experience the postseason. I want to win it all," said Stanton following the ALDS Game Four loss. "I'm just as disappointed as the guys that went further last year and came up short. I'm feeling some of their pain here but they got two years in a row … We're going to come together and use this as fuel for next year."
A Decline In Plate Discipline, An Increase In Grounders
Three numbers from Stanton's first season with the Yankees really jump out at me. One, his strikeout rate, which jumped from 23.6% last year to 29.9% this year. That 29.9% strikeout rate is not out of the ordinary for Stanton. He had a 29.9% strikeout rate in 2015 and a 29.8% strikeout rate in 2016. The 23.6% last year is the outlier. Giancarlo closed up his stance in the middle of last season …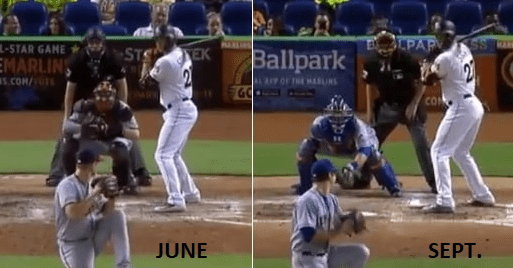 … and the hope was the adjustment meant the improved strikeout rate was permanent. Closing up his stance like that allowed Stanton to better read and react to those down-and-away sliders from right-handers, the bane of pretty much every right-handed hitter.
Instead, Stanton's strikeout rate climbed back up to its pre-2017 levels this year, and, perhaps not coincidentally, Stanton did open up his stance a little bit this season.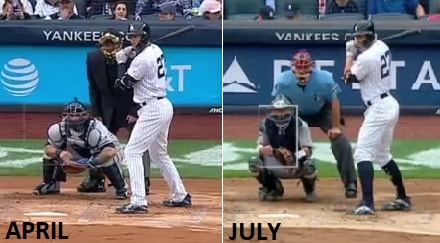 Whatever the reason, Stanton's strikeouts climbed this year. His 211 strikeouts are a new franchise record (Judge had 208 last year) and the sixth highest single-season total in baseball history. Giancarlo didn't lead the league in strikeouts though. He can thank Yoan Moncada (217 strikeouts) for that. Yay?
Anyway, the second number that jumps out is Stanton's walk rate. It went from 10.6% in 2016 to 12.3% in 2017 to 9.9% in 2018. It was his lowest walk rate since 2012. Stanton's chase rate did climb this season and again, it merely returned to its pre-2017 levels rather than jump to new highs. His chase rates from 2015-18: 30.8%, 31.9%, 27.9%, 30.9%. More chases out of the zone equal more strikeouts and few walks. Pretty obvious there.
The third number? His ground ball rate. Stanton had a 45.0% ground ball rate this season, his highest since 2011, and that is far higher than what you'd like to see from a dude with his power. Giancarlo still hit the ball extraordinarily hard this season. He had a 42.3% hard contact rate and a 93.7 mph average exit velocity, both of which place in the 99th percentile. Stanton crushes the ball. He just put it on the ground too often this year.
In fact, Stanton hit so many grounders this year that he set a new career with 24 (!) infield hits. He had 24 infield hits combined from 2015-17. Then he had 24 in 2018. Same number as Brett Gardner and right behind dudes like Dee Gordon (26), Mallex Smith (26), and Trea Turner (25) on the leaderboard. Stanton's hard contact plays into that. Per Statcast, the average third baseman positions himself 112 feet from home plate. With Stanton in the box, it's 121 feet. The third baseman has that much farther to go when Giancarlo hits a weak tapper up the line, hence the infield hits.
The increase in strikeouts and grounders and decline in walk rate are likely attributable to several things rather than one specific thing. The fact Stanton opened his stance a bit midseason suggests he was trying to find better mechanics. He was seeing lots of new pitchers. He was undoubtedly pressing to some degree with his new team. There's a lot that goes into it. Hopefully Giancarlo is more comfortable in Year Two as a Yankee and, even if the strikeout rate remains at its pre-2017 levels, the walks tick back up and grounders tick back down.
The Move To Left Field
Stanton was a career right fielder with the Marlins and the Yankees already had a pretty good right fielder in Judge. Squeezing those two plus Gardner and Aaron Hicks into the lineup meant someone would have to DH and someone would have to play left field whenever Gardner sat. Stanton wound up doing both. He led the team with 85 DH starts (Judge was second with 19) and also played 36 games in left field. They were the first 36 left field games of his career.
Going into Spring Training, Aaron Boone said the Yankees would figure out which outfield alignment worked best during camp, but it seemed they'd already decided it would be Stanton to shift over to left, not Judge. Judge did not see a single Grapefruit League inning in left field. It was Stanton who did the work out there. And, in his first spring game as a left fielder, this happened:
"I felt all right," said Stanton after the game. "I got some bad balls that didn't help the team at all. Got to find a way to get behind them or do something with those. But I felt all right. The routes and everything were good. The rest, not as."
When you do that on literally the first ball hit your way at a new position, the "he struggles out there" narrative tends to stick. And Stanton was understandably rough around the edges in left field at first. He'd never played out there. But, once he got the hang of it, he was fine. More than fine, really. The defensive stats liked him (+4 DRS and +4.6 UZR) and I thought he looked pretty good by midseason, based on the eye test.
I don't know what the Yankees' plans are, but I'd like to see Stanton get more left field time going forward. That allows the team to limit Gardner's playing time and also rotate some other players (Judge, Hicks, etc.) in at DH to give them a little break. There is definitely something to be said for having a set DH who mashes like David Ortiz or Nelson Cruz. I feel like so much time at DH wastes Stanton's defensive ability though. Use it before he gets old and slows down. Some more left field time (outfield time in general) going forward works for me.
What's Next?
Not a whole lot to say here. Stanton will be back next season in likely the exact same role as this season, that roving corner outfielder and DH role. Any speculation about a trade to the Dodgers is just that, speculation. It is mostly coming from frustrated fans and the corner of the media that likes to speculate about such things. Stanton is a very good player. A flawed player, no doubt, but a very good one who is right smack in the prime of his career and on a fair contract. The Yankees are trying to win right now. Worry about ugly years at the end of the contract when they come. The goal is to win now, with this core in place, and Stanton helps accomplish that.