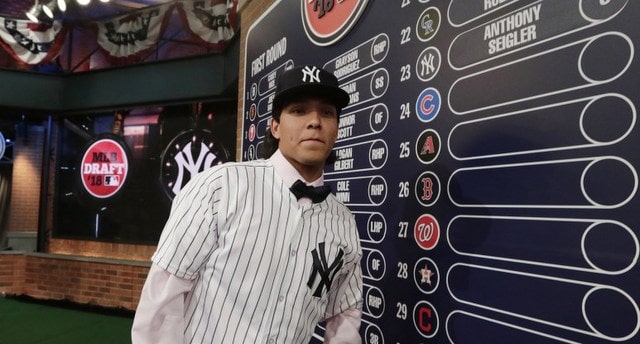 Winter prospect ranking season is underway and, last week, Baseball America (subs. req'd) released their latest top ten Yankees' prospects list. "The Yankees' farm system is as deep and diversified as a well-planned investment portfolio … It has so many talented young pitchers and enough athletic and strong hitters that the team is well-equipped to make trades while retaining a strong core of prospects for the future to continue to build around," says a separate write-up.
The list and scouting reports are behind the paywall, but the list is all over Twitter, so I don't feel too bad about sharing it here:
LHP Justus Sheffield
OF Estevan Florial
RHP Jonathan Loaisiga
OF Everson Pereira
C Anthony Seigler
RHP Mike King
RHP Deivi Garcia
RHP Roansy Contreras
OF Antonio Cabello
RHP Albert Abreu
Seven of the ten names are the same as my most recent top ten list. I was lower on Garcia (15th), Cabello (31st), and King (unranked). King being unranked on my August list is egregious. Big blunder by me. I'm always slow to run young international kids like Cabello up the rankings. Garcia? Eh. The difference between 7th and 15th isn't that big. Anyway, some thoughts on Baseball America's rankings.
1. The Yankees have some stud 17-year-olds. And Pereira is the most impressive. "He doesn't have any 70- or 80-grade tools, but some scouts were confident enough to put future plus grades on his hit, run and raw power already. They also saw a defender in center field with plus range and instincts with an average throwing arm," says the scouting report, and again, we're talking about a 17-year-old. Periera hit .263/.322/.389 (88 wRC+) with three homers and a 32.8% strikeout rate with rookie Pulaski this year, so he didn't blow the doors off the Appalachian League, but he was basically a high school junior in a league with college kids from this year's draft, high schoolers from last year's draft, and international signees from two years ago. The scouting report gives Pereira four potential plus tools (hit, power, run, field) and another average tool (arm) and that's awfully exciting. He has a very long way to go to get the big leagues. The present ability is very good compared to other 17-year-olds. Pereira is among the guys I'm most excited to follow in the coming years.
2. Seigler's intangibles are off the charts. With Miguel Andujar graduating to the big leagues, Seigler is my favorite prospect in the system at the moment. A switch-hitting catcher with some thump and good strike zone knowledge — Seigler had more walks (14) than strikeouts (12) in his 24-game pro debut this year — who projects to be an above-average defender behind the plate is my jam. Seigler was also praised for his makeup and grinder mentality before the draft, with Baseball America (subs. req'd) saying "he is consistently referred to as one of the toughest players in the prep class" in their pre-draft scouting report. The top ten write-up says Seigler went "so far as to request a Spanish-speaking roommate so he could work on learning the language" this summer. Pretty awesome. The advantages of being bilingual go beyond the catcher-pitcher relationship. It helps in the clubhouse too. Cliques form in baseball. The Latin American kids, the relievers, the veterans, whatever. It's only natural for a population to split into groups. Anything that helps bridge the language gap and bring groups together in the clubhouse is a big plus in my book.
3. No one really knows what to expect from King. King, who came over in the Caleb Smith trade last winter, had an undeniably excellent season in 2018. He threw 161.1 innings at three levels with a 1.79 ERA (2.76 FIP) with 24.4% strikeouts and 4.7% walks. King reached Triple-A Scranton and is all but certain to get a look in Spring Training as a non-roster invitee. "In the six years I've done this system, I think he has given me the widest range of outcomes. I've heard anything from seventh inning reliever to Roy Halladay-lite," said Josh Norris in the Yankees' top ten podcast. The scouting report says "plus command" helps King's arsenal play up, which is good, because "none of King's pitches is truly a knockout." He's a sinker/cutter/changeup/slider guy. I'm not really sure what to make of him. Maybe he's an Adam Warren type? Or maybe it will work as a starter in the AL East? We'll find out soon enough. The scouting report calls King "one of the safest bets to have a big league career" among pitchers in the system, and considering what the Yankees gave up to get him, turning two fringe 40-man roster guys into a big league anything is a pretty good outcome.
4. Cabello is a potential star.
Cabello is one of those many impressive 17-year-olds in the farm system. The converted catcher — he is simply too fast and too athletic to keep behind the plate, so the Yankees moved him to center field — authored a .308/.427/.522 (168 wRC+) batting line with 19 extra-base hits in 46 rookie ball games before he dislocated his shoulder diving for a ball in the outfield. Cabello did need surgery and is expected to be ready for Opening Day. Anyway,
Baseball America posted the entire scouting report on Twitter
, so make sure you check it out. They say Cabello has a "chance to be a true impact bat in the middle of the order," and, on the podcast, Norris compared his hitting acumen to Vlad Guerrero Jr.'s and Juan Soto's at the same age. Huh. That is some very high praise. That is presumably another reason for the position change. The bat is going to be ready far sooner than the defense behind the plate. As with Pereira, Cabello has a very long way to go given his age, but the fact these two are getting such strong reviews so early in their careers is exciting. The Yankees still have a strong farm system and both guys landing in the top ten tells you they are well-regarded.
5. German has already added velocity. In a separate write-up (subs. req'd), Norris reviewed the Yankees' 2018 draft class, and he notes fourth round pick RHP Frank German was "up to 98 mph with his fastball as a pro after sitting 92-94 during a dominating junior season." So the Yankees have already worked their "add a bunch of velocity" magic with their fourth rounder. Pretty cool. It's all about the arm action, apparently. I've read the Yankees (and Dodgers) scout specific arm actions because they know how it works and know how to use it to add velocity. German showed a promising slider and curveball in college, and, in his pro debut, he threw 30.1 innings with a 2.08 ERA (1.39 FIP) and excellent strikeout (34.2%) and walk (5.0%) rates. We'll see how the newfound velocity holds up over a full season next year. The fact German's already raised his stock in his short time as a pro is pretty fun though.