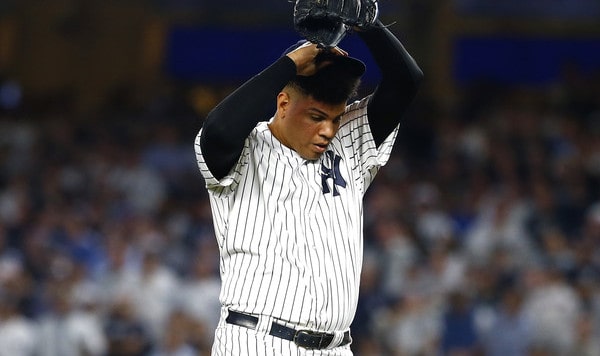 On an individual player level, the most satisfying part of the 2018 season to me was Dellin Betances going back to being Dellin freaking Betances. Betances was a deserving All-Star in 2017. It's so easy to forget that. But his control deteriorated so much down the stretch that he was unusable late in the season and into the postseason. It was ugly.
This past season Betances corrected his mechanical flaws and got back to being one of the most dominant relievers in the game. One of the most dominant relievers of his generation, really. He's right up there with Craig Kimbrel and Aroldis Chapman and Kenley Jansen. Betances was great all season and, in the biggest moments in October, he was the guy Aaron Boone wanted on the mound.
Quite a turnaround from last season. Betances is on the short list of my all-time favorite Yankees and watching him rebound from that miserable finish last year to again be dominant this year felt awfully good. I'm happy for Betances personally and I'm happy for the Yankees too, because Good Dellin is about as impactful as a reliever can get. I hope he finishes his career in pinstripes and throws the pitch that clinches the team's 28th World Series title.
Next season is Betances' final season of team control (MLBTR projects a $6.4M salary) and, as seems customary with the Yankees, the two sides have not discussed a multi-year contract extension. The Yankees have been very stingy with extensions over the years. It's not surprising they've yet to talk about a long-term deal with Dellin even at this point, with free agency a year away.
"One more year and he is a free agent. He has one more year of control and you can talk about one year or talk about multi-years. Nothing has transpired," Brian Cashman said to George King earlier this week. "Dellin is a great Yankee and has done a tremendous job in all aspects. We haven't had any discussions (about an extension)"
Betances gave the default "I'm focusing on next year" answer when asked about an extension — "I let (my agent) handle everything. I have to get ready for the upcoming season and help the team to win," he said to King — but I assume he'd be open to the possibility. Everyone likes money, and if the Yankees want to give Dellin lots of money, I'm certain he'd at least hear them out.
While there's always a number that makes sense, at this point, with free agency a year away, the best course of action for the Yankees may be to wait a year rather than sign Betances now. I mean, if he's willing to take a sweetheart deal, they should jump all over it. But, historically, players who sign extensions one year before free agency get free agent dollars. There's no discount. And here are last year's notable free agent deals:
Wade Davis: Three years, $52M ($17.3M annually)
Brandon Morrow: Two years, $21M ($10.5M annually)
Bryan Shaw & Jake McGee: Three years, $27M ($9M annually)
That's where the relief market is nowadays. Established closers are getting $17M per season. High-end reclamation project types are getting more than $10M annually. Good middle relievers and setup guys are at $9M a year. To me, Betances fits in somewhere between Morrow and Davis. As good as Morrow was in 2017, he was nearly out of baseball from 2013-16. Betances struggled late in 2017, for sure, but he was never as far down as Morrow.
The biggest reason to hold off on an extension with Betances is not necessarily the price. It's the volatility. I love the guy. Like I said, Betances is an all-time favorite. But he is unpredictable and his 2017 control issues weren't entirely out of character. He's had control problems in the past — extreme control problems at that — and chances are he'll have control problems again in the future. That's just who he is. The control issues come and go.
And, with his 31st birthday a few weeks away, Betances is closing in on his inevitable decline years, and Dellin is a dude who needs his Grade-A stuff to succeed. He doesn't outsmart hitters and paint the corners. He out-stuffs hitters. Any loss of stuff could take a significant bite out of his effectiveness. Waiting a year for an extension buys the Yankees more time to evaluate a very volatile reliever. How's the stuff look now that he's in his 30s? Is the control holding up? So on and so forth.
Again, there's always a point where an extension makes sense now. If Betances and his representatives go to the Yankees today and say they'll take the Shaw/McGee contract because he wants peace of mind, great, do it. But, if he's holding out for something between Morrow and Davis money, say three years at $13M a season, then it might be worth playing out 2019 and reevaluating next year. Dellin's the man and I hope he stays a Yankee forever. I also don't blame the Yankees one bit for not wanting to rush into a long-term marriage.