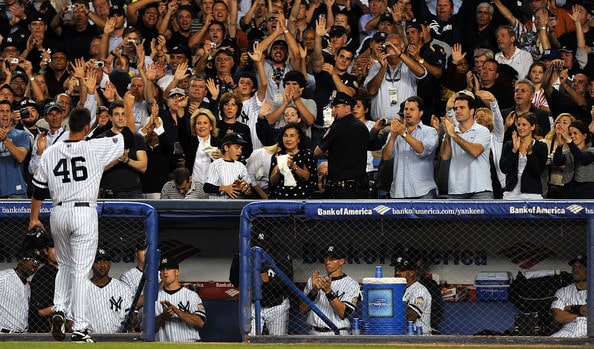 In four weeks and five days MLB and the BBWAA will reveal the 2019 National Baseball Hall of Fame class. Mariano Rivera is a lock for induction. Edgar Martinez seems like a good bet for induction in his tenth and final year on the ballot. Rivera and Martinez going in the same year is kinda funny seeing how Edgar is pretty much the only hitter who solved Rivera (.579/.652/1.053 in 23 plate appearances!).
Among the many players on the ballot who will not receive enough votes for induction into the Hall of Fame next year is Andy Pettitte. As of this writing Ryan Thibodaux's ballot tracker says Pettitte has appeared on only 11.3% of submitted ballots — that is eight votes on 70 public ballots — well below the 75% needed for induction. Pettitte should clear the 5% needed to remain on the ballot another year. Induction won't happen in 2019 though.
And that's fine. Pettitte is, clearly, on the very short list of all-time great Yankees pitchers. He is the franchise leader in strikeouts (2,020) and tied with Whitey Ford for the franchise lead in starts (438). Pettitte is top three in pitching WAR (+51.4), wins (219), innings (2,796.1), and a bunch of other things. And he was a key component of five World Series championship teams. He didn't just come along for the ride and win a ring as a bystander.
The Yankees retired No. 46 for Pettitte three years ago and deservedly so. The Hall of Fame standard is much higher than the "the Yankees should retire his number" standard though, and, to me, Pettitte doesn't meet that Hall of Fame standard. I can sum this up in three points.
1. Pettitte had the longevity but not the peak. Let's do the ol' blind comparison test, shall we? Mystery Pitcher here is a fellow lefty who pitched in the same era as Pettitte.
| | G | W-L | IP | ERA | ERA+ | K% | BB% | bWAR | fWAR |
| --- | --- | --- | --- | --- | --- | --- | --- | --- | --- |
| Pettitte | 531 | 256-153 (.626) | 3,316 | 3.85 | 117 | 17.4% | 7.3% | 60.7 | 68.9 |
| Mystery Pitcher | 518 | 214-160 (.569) | 3,283.1 | 3.81 | 117 | 13.6% | 5.4% | 60.3 | 51.9 |
Give up? Mystery Pitcher is Mark Buehrle. Buehrle was really good! Had he not spent most of his career on some crummy White Sox teams, he'd have more wins and more postseason appearances to his credit, but that's not really his fault. He did his part. His teammates didn't. Does anyone think Buehrle is a Hall of Famer? Nah. A Hall of Very Good pitcher through and through, and gosh, it sure is tough to tell him apart from Pettitte, statistically.
For all intents and purposes, Pettitte was a consistently above-average pitcher for a very long time but he was never top of the league and on the short list of the game's best. Seventeen times in 18 big league seasons Pettitte posted at least a 100 ERA+. Only six times in those 18 seasons did he best a 112 ERA+, however, and in three of those six seasons he made no more than 22 starts. Andy's career is one of longevity, not top of the game dominance, and you typically need both to land in Cooperstown.
2. His postseason resume doesn't boost his candidacy much. Five World Series rings is crazy impressive, and Pettitte is the all-time leader in postseason wins (19 — leads by four) and innings (276.2 — leads by 58.1), but his overall postseason body of work was more really good than great. He has a career 3.81 ERA in October, which more or less matches his regular season 3.85 ERA. Pettitte's had some postseason gems (like this one and this one) but also some postseason stinkers (like this one and this one).
There is definitely something to be said for just how much Pettitte pitched in the postseason. The addition of the LDS round in 1995 and the fact the Yankees were so good for so long allowed Andy to rack up those postseason innings and he did answer the bell. I mean, a 3.81 ERA in 276.2 postseason innings is pretty bonkers. That's more than an extra season's worth of innings in his career. So perhaps knocking him for being merely very good and not truly great in October is wrong. It just seems to me there's not enough October excellence to push Pettitte into Cooperstown.
3. It doesn't matter that he's better than someone who's already in. With the Hall of Fame, it's very easy to fall into the "well if this guy is in then that guy should be in" trap, and, with Pettitte (and others), the Jack Morris comparisons are inevitable. Pettitte compares very favorably to Morris statistically — he has him beat handily in both versions of WAR (60.7/68.9 to 44.0/55.8) despite throwing roughly 500 fewer innings — so, if Morris is in, Pettitte belongs to be in too, right?
Well, no. That's the wrong way to look at this. For starters, Morris maxed out his 15 years on the BBWAA Hall of Fame ballot and was not voted into Cooperstown. The Modern Era committee had to vote him in last year. Yeah, he passed, but only because the teacher gave him an extra credit assignment. Secondly, Morris has the highest ERA (3.90) and third lowest ERA+ (105) among full-time pitchers in the Hall of Fame. A case can be made he's the least accomplished pitcher in Hall of Fame. Morris was great! But this shouldn't be the standard for induction.
When that's the sort of comparison that has to be made to get Pettitte into Cooperstown — Andy would have the second highest ERA among Hall of Famers should he get voted in — well, it's a losing argument. The voters would be doing a disservice to fans and the Hall of Fame by lowering the standards for induction based on a handful of players who probably shouldn't be in but are in. Morris is one of them. Pettitte would be as well.
* * *
Personally, I don't get too upset about performance-enhancing drugs, but many voters do, and Pettitte is an admitted human growth hormone user. There is definitely selective outrage with PEDs — generally speaking, we only get outraged when the players we don't like use them — but some Hall of Fame voters undoubtedly will hold it against Pettitte when the time comes to submit their ballot.
In Pettitte's case, this wouldn't be PEDs keeping a surefire Hall of Famer like Roger Clemens or Barry Bonds out of the Cooperstown. Pettitte is more of a borderline candidate. The current (small sample) voting totals make it clear the voting body doesn't consider him a strong candidate. Even without the PED stuff — lots of people seem willing to gloss over that with Andy anyway — he wouldn't be a lock for induction. The performance doesn't make an overwhelming case for Cooperstown.
There's nothing wrong with being an all-time great Yankee and something short of a Hall of Famer. It doesn't take away from what Pettitte accomplished and it certainly doesn't change the way I feel about him or how I felt watching him pitch. Those memories aren't tarnished. Maybe Pettitte will pull a Morris and get voted into Cooperstown somewhere down the line. If he does, cool. If not, I'll live. He's still the greatest Yankees starter I've ever seen and a huge part of my formative years as a baseball fan.