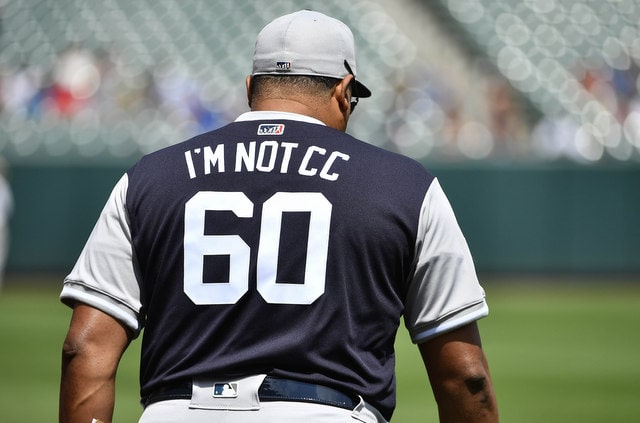 Along with a new manager came a (mostly) new coaching staff in 2018. And similar to their new manager, the Yankees went young and inexperienced with their coaching staff. Veterans Tony Pena and Alan Cockrell were let go and Yankees lifer Rob Thomson was allowed to join the Phillies after being passed over for the manager's gig. Five of the seven coaching positions were turned over — the five new coaches combined for six years of prior MLB coaching experience — and an eighth was added.
Evaluating coaches is almost impossible from the outside. Generally speaking, all we do is project player performance onto the coach. So much of a coach's work — all of the coach's work, really — takes place behind the scenes. With the manager, we look at lineups and bullpen moves. With coaches we look at, uh, player performance? That's really it. And coaches are coaches, not miracle workers. They can do all the teaching in the world. Ultimately, it's up to the player to listen and execute. So, with that in mind, let's review the year in the coaching ranks.
The Holdovers: Larry Rothschild & Mike Harkey
Pitching coach Larry Rothschild and bullpen coach Mike Harkey were the only holdovers from Joe Girardi's staff. The only holdovers who remained in the same role, I should say. I thought Harkey was a goner for sure. He and Girardi have been extremely close dating back to their days as players with the Cubs. They're tight and I assumed — incorrectly — that Harkey would be shown the door once Girardi was cut loose. Instead, Harkey remained.
There was never any talk about replacing Rothschild. In fact, it was made clear Rothschild would remain pitching coach no matter who the Yankees hired as manager. The Yankees love the way he blends hands-on instruction with analytics. Rothschild has been the pitching coach since 2011 and, since then, the Yankees lead all teams in pitching WAR (+167.1) and they're third in park adjusted ERA (93 ERA-). This season's ranks:
ERA: 3.78 (10th in MLB)
FIP: 3.63 (3rd)
ERA-: 87 (4th)
FIP-: 82 (2nd)
K/BB: 3.31 (5th)
WAR: +26.6 (3rd)
Yankee Stadium is very hitter friendly — very home run friendly, more accurately — and that inevitably skews numbers. Adjust for the ballpark and the Yankees were again among the top run prevention teams in the game in 2018. They allowed the fifth fewest run in the American League this past season. Every year, without fail, the narrative is the Yankees need pitching. And, also every year, they manage to finish with some of the best run prevention numbers in the game.
Rothschild and Harkey are a team. The bullpen coach does a lot more than answer the phone. They both have a role implementing strategies — the anti-fastball plan is one of the most extreme pitching philosophy shifts in recent memory — and helping pitchers through inevitable bumps. Some struggles are uglier than others. Getting Luis Severino on track is a top priority going into next season. By and large, the Yankees get good work on the mound, yet much of the time all the talk is about the Yankees needing pitching.
The Promoted Coaches: Marcus Thames & P.J. Pilittere
The Yankees have been grooming Thames for their big league hitting coach job for years now. His playing career ended in 2011 and he joined the Yankees as a coach in 2013. His roles over the years:
2013: High-A Tampa hitting coach
2014: Double-A Trenton hitting coach
2015: Triple-A Scranton hitting coach
2016-17: Yankees assistant hitting coach
2018: Yankees hitting coach
Thames worked his way up the coaching ladder and along the way he worked with the organization's top young players, from Aaron Judge to Gary Sanchez to Greg Bird. The same is true with Pilittere, who joined the Yankees as a coach after his playing career ended. He was the hitting coach one level below Thames these last few seasons and followed him up the ladder:
2012: Gulf Coast League hitting coach
2013: Low-A Charleston hitting coach
2014: High-A Tampa hitting coach
2015-16: Double-A Trenton hitting coach
2017: Triple-A Scranton hitting coach
2018: Yankees assistant hitting coach
The Yankees were second in baseball with 851 runs scored this season and they almost certainly would've been first (the Red Sox scored 876 runs) had Judge and Sanchez not missed so much time. The team's park adjusted 111 wRC+ tied the Dodgers for the best in baseball. The Yankees combined baseball's second highest walk rate (10.0%) with a league average strikeout rate (22.7%) and absurd power numbers this year. Why? Because of the players. Not so much the coaches. Thames and Pilittere have extensive experience with the team's core young players and that's an obvious plus.
The New Bench Coach: Josh Bard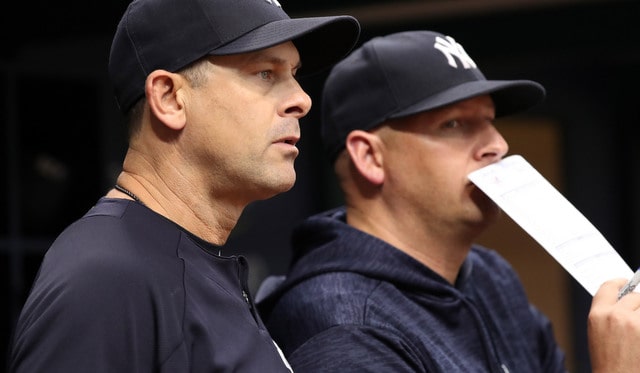 The Yankees hired Bard away from the Dodgers to be Boone's right-hand man and he checked all the boxes. He's a former player, he has front office experience (special assistant with the Dodgers from 2013-15), and he has coaching experience (Dodgers bullpen coach from 2016-17), so he's done a little of everything. He can relate to players and fellow coaches on several different levels. Bard is seen as a rising star in the coaching and managerial ranks.
His first season as bench coach went … okay? I guess? How could anyone tell? There was some thought Boone would benefit from an having experienced bench coach, but if the Yankees wanted someone experienced pulling the strings, they would've hiring an experienced manager. The information that flows from the front office to the coaching staff has to be dissected and disseminated to the players. Some players like data. Some hate it. Bard helps provide that personal touch to get through to everyone. How'd his season go? Seemed okay to me. Shrug.
The New Third Base: Phil Nevin
Finally, a coaching performance we can kinda evaluate statistically. Nevin and Boone grew up together but this wasn't a case of the Yankees hiring the manager's buddy. Nevin managed several years in the minors and was the Giants third base coach last season. He'd interviewed for several managerial jobs in the past too. Nevin was more than qualified for the job.
So anyway, what does the third base coach do? He sends or holds runners rounding third, for the most part. There are some other job requirements but that's the most visible one. The Yankees had 19 runners thrown out at the plate this past season and that was right in the middle of the pack. Fifteenth most in baseball. What about his holds and sends though? Some numbers:
Yankees
MLB Average
Runner on second stops at third on a single
39.0%
37.3%
Runner on second scores on a single
57.3%
58.9%
Runner on second thrown out at home on a single
3.7%
3.8%
Runner on first stops at third on a double
53.3%
54.8%
Runner on first scores on a double
44.1%
42.5%
Runner on first thrown out at home in a double
2.6%
2.7%
Average across the board. A percentage point or two away from average in either direction equals average to me. It's not a big difference. So, on one hand, Nevin did a good job not getting Yankees thrown out at home more than they should've. On the other hand, Nevin didn't really get the Yankees any extra runs with his sends. He was, well, average.
A case could be made Nevin should be more conservative going forward, meaning he should hold runners at third at a higher rate than the league average because the Yankees sock so many dingers that it's not worth the risk of having a runner potentially thrown out at the plate. Personnel obviously matters (Brett Gardner has a better chance to score from first on a double than Gary Sanchez, for example) but that's the idea. Play it safe and let 'em swing away.
That said, we're only talking a handful of baserunners here. Again, the Yankees had 19 runners thrown out the plate this past season. That's not many in the grand scheme of things. Holding five or six of them might lead to a few extra runs over the course of a season, but probably not. Point is, the Yankees did not have an exorbitant number of runners thrown out at the plate in Nevin's first season as third base coach. They were as average as can be.
Personally, my favorite Nevin moment came in April after the Joe Kelly-Tyler Austin brawl at Fenway Park. When asked about the brawl, Nevin said "I'm going to wear less layers tomorrow because geez I look fat with my sweatshirt, my jersey, and all that" after the game (video link). Love it. Others enjoyed Nevin laying into the team in the dugout for sloppy play in an August game. It didn't do anything — the Yankees lost that game and the next four — but it was the thought that counts.
Nevin is an old school baseball dude. He is the ying to Boone's and Bard's yang. They're the new age analytic types. Nevin is the opposite. It's good to have that balance on the coaching staff, I think.
The New First Base Coach: Reggie Willits
Willits spent several years in the farm system as an outfield and baserunning instructor and the Yankees elevated him to the big league staff this year. The first base coach times the battery for basestealing purposes. He literally times the pitcher's delivery. That combined with the catcher's pop time tell you whether attempting to steal with a certain runner makes sense. The Yankees went 63-for-21 (75%) stealing bases this year. The league average stolen base success rate was 72.1%. So I guess Willits did a good job there.
Moreso than the stolen bases as first base coach, Willits had two big projects as the outfield instructor this year. One, he had to prepare Giancarlo Stanton to play left field. Stanton had some noticeable blunders early, thankfully all in meaningless Spring Training games, but by midseason he looked comfortable out there. I didn't think it would take Stanton long to adjust and it didn't. I'm sure Willits helped with that adjustment to some degree.
And two, Willits had to give Neil Walker a crash course in the outfield. Judge and Clint Frazier were hurt in August and Stanton was nursing his hamstring injury, plus Shane Robinson wasn't cutting it, so the Yankees threw Walker into the fire in right field. He had 14 career games worth of outfield experience at the time, all in Triple-A in 2010. Walker did about as well as the Yankees could've hoped. He caught the balls he was supposed to catch and not much else. Willits was in charge of making it happen.
The New Quality Control Coach: Carlos Mendoza
The Yankees added a new coaching position this season. Officially, the title is Quality Control Coach/Infield Instructor. A few teams these days have a Quality Control Coach, whatever that is. The Yankees promoted Mendoza, their longtime minor league infield coordinator, into that role. Similar to Willits and Mendoza and Pilittere, Mendoza had been in a farm system for a few years and had worked with many young Yankees.
His primary focus this season was working with Gleyber Torres and Miguel Andujar on their defense. Gleyber was still relatively new to second base when he was called up and, well, Andujar needs a lot of help. Mendoza was out on the field every single afternoon working with Andujar. In my limited time as a BBWAA dude, I've never seen a player take that many ground balls before games. Mendoza was very persistent, if nothing else.
What's Next?
The entire coaching staff is coming back next season. Brian Cashman confirmed that a few weeks ago. Well, the Orioles still don't have a manager or coaching staff (for real), so I suppose Baltimore could pry one the Yankees' coaches loose, but it seems unlikely. Not much more to say than that, really. The Yankees were quite good this season and, as far as I can tell, the coaches did fine work.