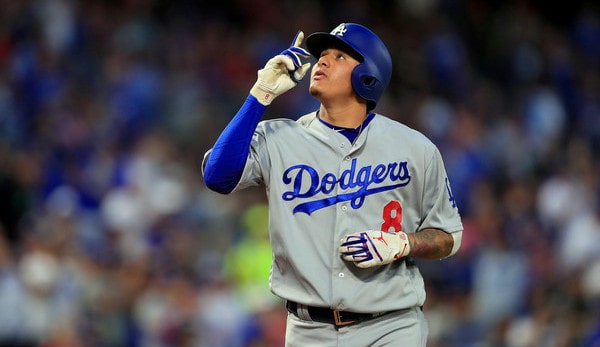 There are less than two weeks to go in 2018 and the Yankees are still searching for a Didi Gregorius replacement and bullpen help. At least they've got their rotation sorted out. Anyway, here are the latest hot stove rumblings.
Machado visits Yankees
As expected, Manny Machado visited Yankee Stadium yesterday as part of his free agent tour. Here's the obligatory scoreboard photoshop. He visited the White Sox on Monday and is visiting the Phillies today. George King and Jon Heyman report Machado met with Randy Levine, Brian Cashman, Aaron Boone, and new special advisor Carlos Beltran — CC Sabathia was also at the ballpark, though he works out there in the offseason, and I'm not sure whether he actually met with Machado — and everyone went out to dinner last night. Same deal as Patrick Corbin a few weeks ago, basically.
The Yankees and Hal Steinbrenner have made a pretty big deal about Machado having to explain his non-hustle comments when they meet face-to-face, so I assume that happened during the 90-minute meeting at Yankee Stadium yesterday. I have no idea what he could've said to make everyone happy, but whatever. Machado is certainly familiar with the ballpark from his time as a division rival — he's the first and still only player to hit a ball into the camera row in center field — so the visit wasn't so much about touring Yankee Stadium. He knows the park already. The meeting was about both sides getting to know each other in a way they couldn't as opponents.
Yankees scouted Tulowitzki at workout
The Yankees were among the eleven teams on hand earlier this week to watch Troy Tulowitzki work out in Southern California, reports Tim Brown. Tulowitzki fielded ground balls at shortstop and took batting practice during the workout. "I have no idea (what teams are interested). I don't control that. My job's to be accountable, to play the game. Time will tell. Talk is talk," he said. Tulowitzki hasn't played since July 2017 due to various injuries.
According to Brown, Tulowitzki said he's willing to play second or third base, but he has no interest in being a utility guy. He wants to start. The Yankees could offer Tulowitzki a middle infield spot until Gregorius returns — I'd rather put Tulowitzki at second than short at this point of his career — though it's awfully risky given his injury history and the fact he hasn't hit at a league average rate since 2016. In a vacuum, signing Tulowitzki makes sense. In reality, it seems the Yankees need more of a sure thing and Tulowitzki needs a stronger playing time guarantee.
Teams convinced Yankees want to trade Andujar
Rival executives are convinced the Yankees want to trade Miguel Andujar this offseason, according to Ken Rosenthal (subs. req'd). The Padres are seen as a potential landing spot. Keep in mind this is a secondhand rumor. Rosenthal's passing along what he's heard about the Yankees from other teams, not the Yankees directly. We heard last week the Yankees are open to moving Andujar, though that was as part of the reported J.T. Realmuto-Noah Syndergaard three-team blockbuster.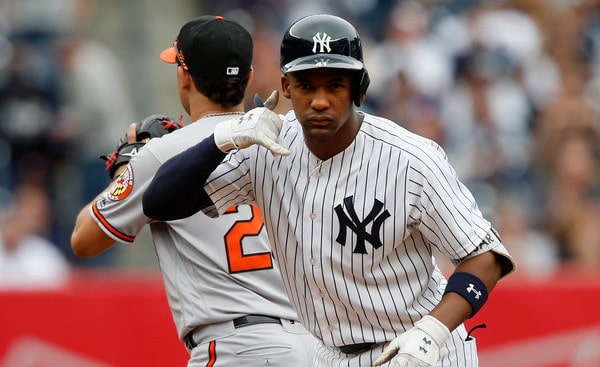 I am open to trading Andujar in the sense that I am open to trading pretty much any player in the right deal, and for a guy like Miggy, the right deals mean getting an absolute stud in return. Trading Andujar simply because they don't believe he'll ever improve defensively would be a mistake. The offensive potential is special. Keep all the young bats. All of 'em. Build around the young bats and spend money on pitching. If you spend money on a pitcher and he breaks, so what? The Yankees print money. Trade a young bat for a pitcher and he breaks, well, you're not getting that bat back.
Yankees have checked in on Loup
The Yankees have checked in on free agent lefty reliever Aaron Loup, reports Dan Martin. Interestingly enough, Loup was among those high spin, high swing-and-miss rate relievers I identified earlier today, so I guess it makes sense that they checked in on him. Loup owns a career 3.49 ERA (3.49 FIP) with a 21.7% strikeout rate in 322.2 innings, almost all with the Blue Jays. He's a pure situational reliever who's been much better against lefties (.278 wOBA) than righties (.329 wOBA).
A few years ago I would've been cool with signing Loup as a left-on-left matchup guy. Not so much now though. Lefty specialists are starting to disappear because using a precious roster spot on a player with such limited utility doesn't make a whole lot of sense. Starting pitchers are throwing fewer and fewer innings with each passing season and teams are carrying eight full-inning relievers nowadays. Guys like Loup, who is a good but not truly great matchup guy, are becoming harder to find. I'd be surprised to see the Yankees carry someone like Loup next year.
Happ turned down three years to return to Yankees
According to Rosenthal (subs. req'd), lefty J.A. Happ turned down at least one contract offer with three guaranteed years to return to the Yankees. It's unclear which team made that offer. The Phillies and Braves were said to be in the mix, as were the Angels, who Jeff Fletcher says offered two years and $28M with a third year vesting option. Happ returned to the Yankees on a two-year, $34M contract with a $17M third year option that vests with 27 starts or 165 innings in 2020.
"The chance to win was high on (my) list. I feel like this was a place that you come to the ballpark to win every day. I really appreciated that. I feel like it was a good fit to come back," said Happ to Bryan Hoch earlier today. There have been a few instances of players taking less money to sign with the Yankees in recent years — Andrew Miller turned down more money from the Astros and Chase Headley turned down more money from an unknown team — and it seems Happ did the same. (Surely the three-year offer was worth more than $11.1M per year, right?) The $17M annual salary did seem a little high to me, and I assume the Yankees traded a few extra bucks to avoid that third guaranteed season. I'm cool with that. I didn't love the idea of guaranteeing Happ's age 38 season in 2021.