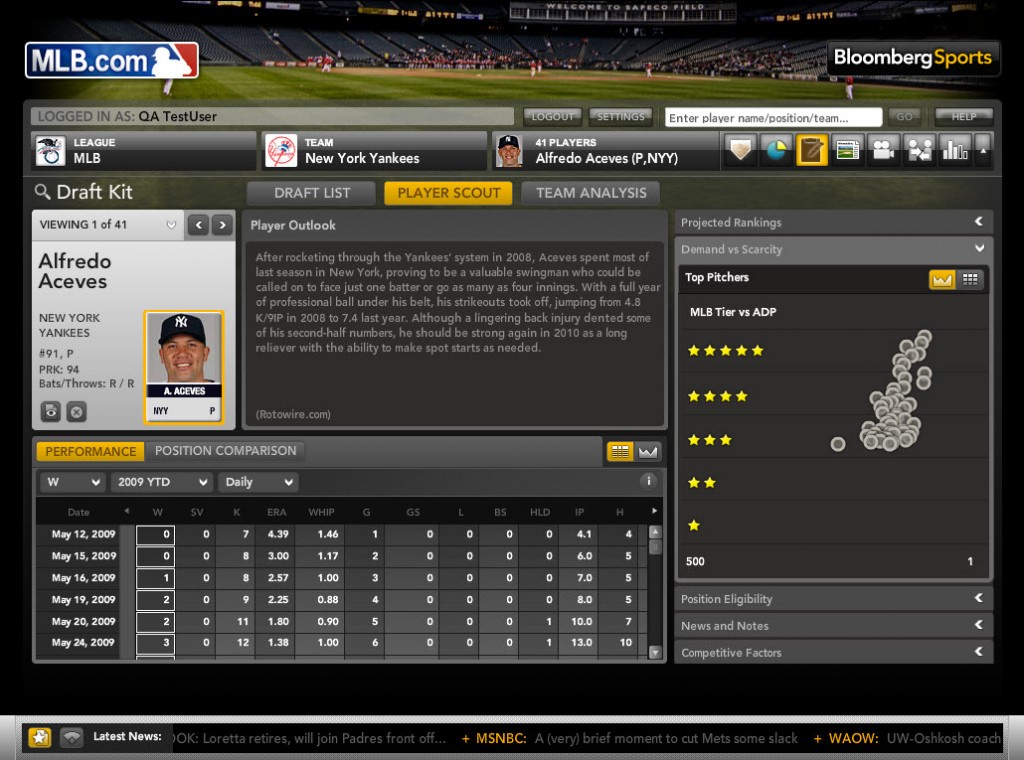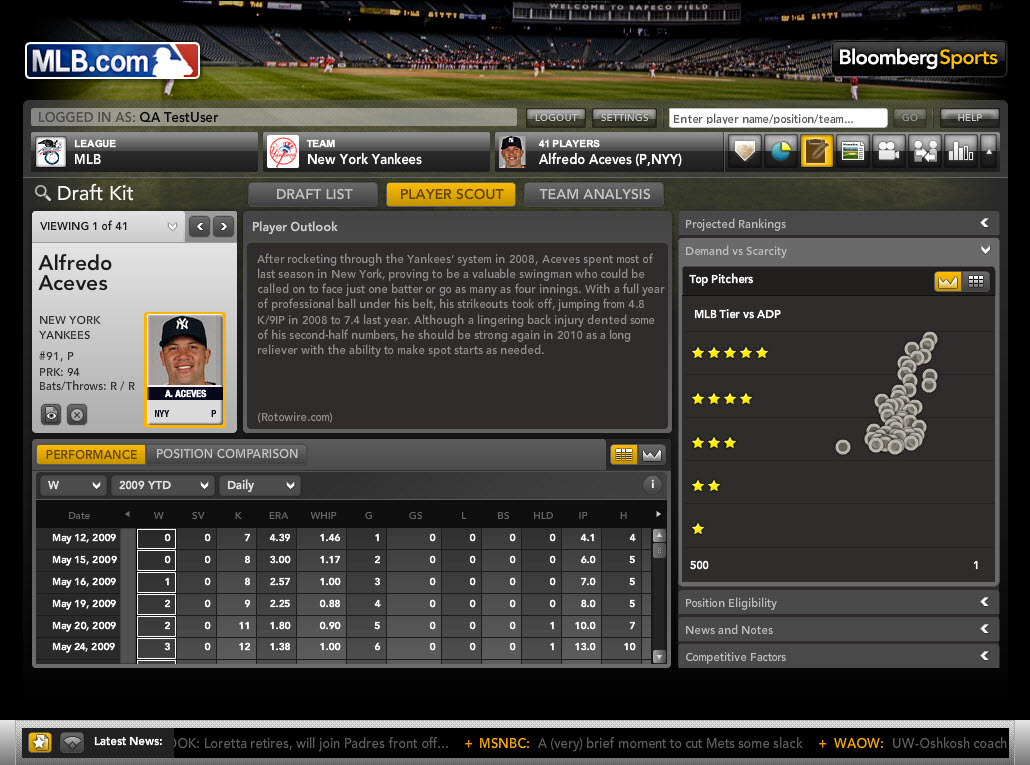 On a blustery, cold January day amidst a dry sports weekend, I spent my afternoon on the seventh floor of the Bloomberg News offices in midtown. With many familiar bloggers — the guys from Fack Youk, Jason from It's All About the Money, numerous others — we were dazzled by the latest offering from the financial information giant. It is, as The Times reported a few months ago, a foray into the world of fantasy sports and baseball numbers.
The nitty-gritty is pretty straight forward. For $19.95, fantasy players can buy access to a pre-draft tool, and for $24.95, fans can access the in-season toolkit. For $31.95, a consumer gets both products, and all three options come with access to Bloomberg's exclusive content headed by Jonah Keri and a team of writers to be announced later. But what are these tools?
For the most part, the subscription gives a fantasy baseball player access to a wealth of stats and rankings and a supposed leg up. The Bloomberg suits who spoke to us said they want this to become the "most compelling sports analysis tool around."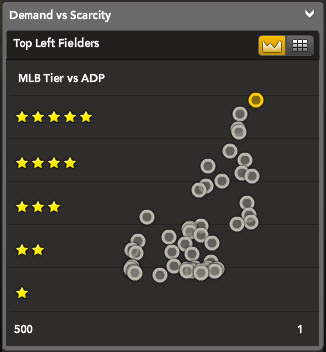 The basic selling point is league integration along with statistical visualization. Take, for example, the image on the right. This chart takes Bloomberg's typical demand vs. scarcity presentation and graphs it onto a chart showing MLB Tier vs. average draft position. For pre-draft analysis, information such as this is very helpful.
Beyond that, what we saw doesn't offer up much original material right now. Bloomberg is using a proprietary B-Rank tool to establish player rankings, and it's not yet clear how much this differs from anything Yahoo! Sports or ESPN put forward. The visuals look great, and the information — such as it appears this spider chart — is great for fantasy sports but lacking for other analytical abilities.
Where the product really excels, however, is in the pro version. David Appelman has photos from the presentation, and the spray charts, strike zone info and Pitch F/X analysis are where this tool emerges as something drool-worthy. On Fangraphs, take a look at the third photo of a pie chart. It's Bloomberg's traditional market returns chart grafted onto pitchers. The inner band features Chris Carpenter's first pitch, and the outer bands show the progression of pitches. It enables us to see, for example, the odds of a slider after a first-pitch fastball.
Unfortunately, this pro tool — great for bloggers — is only available for teams. It's part of the relationship between MLB.com and Bloomberg, and right now, Bloomberg is selling it so that only the 30 clubs can buy it. Authentication requires a Bloomberg terminal with the ability to read a biometric scanner. Maybe one day, the rest of us will have access to the parts that promise to be a gold mine of information.
In a few weeks, Joe and I will get our complimentary subscription to the fantasy tools, and we'll have a more in-depth look at the offerings. For now, Bloomberg has developed a flashy — and Flash-based application — that can help fantasy owners in their drafts. If it can move beyond that initial offering to become the game-changer Dan Doctoroff and others told us about today, the financial giant stands to become a major player in the world of sports analysis. And, oh yeah, they give out sweet t-shirts.
For more images from the product, check out this gallery. I'm happy to answer any other questions about the screenshots anyone may have.