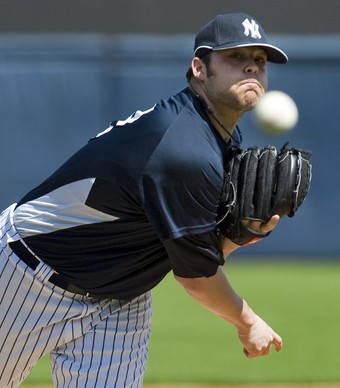 All eyes are going to be on Joba tonight, especially after his poor performance in his two previous starts. He's faced eleven batters this spring, walking four and allowing four hits while retiring just three, none via the strikeout. Is it a big start for Joba? No, not really. It's March 10th for cryin' out loud. Compared to where the rest of the rotation is right now, this should be his preseason debut. It would be nice to see some vintage Joba though.
As you can see, the Yanks are trotting out the A team:
Gardner, CF
Damon, LF
Nady, RF
Matsui, DH
Ransom, 3B
Molina, C
Miranda, 1B
Berroa, SS
Pena, 2B
Scheduled Pitchers: Joba Chamberlain, Kei Igawa, Chris Garcia, Phil Coke, Mike Dunn, Anthony Claggett
YES is carrying the game, first pitch is set for 7:15. Hooray for the first night game thread of the year.
Photo Credit: Steve Nesius, Reuters Pictures