Gah. I'd rather lose a game 8-1 than have a comeback fall short and lose 8-7. The Yankees did exactly that Saturday afternoon. They nearly erased an 8-1 deficit and instead were saddled with an 8-7 loss to the Blue Jays. This one was chock full of "if only this had gone differently they could've won!" moments. At the moment, the Yankees are one game up in the loss column on the Athletics for the top wildcard spot, though the A's are playing Tampa as I write this, so that could change. Go Rays! (barfs)
CC HR Sabathia
So, after going 33 straight innings without allowing a home run, CC Sabathia allowed three home runs in the span of ten batters Saturday afternoon. Randal Grichuk tagged him for a long leadoff home run in the second inning, then Grichuk and Kevin Pillar went back-to-back in the third inning. All solo shots. Home run rate regression is never fun.
After Grichuk's second inning home run, the Blue Jays tacked on two runs with a rally that looked like most rallies against Sabathia. It started with an infield single and continued with a bloop single into the triangle in shallow left-center. The exit velocities: 80.8 mph and 67.9 mph, respectively. Death by soft contact. Aledmys Diaz followed with a single through the 5.5 hole to score a run, and then Lourdes Gurriel Jr. did the same. The placement on Gurriel's:
Just outta Neil Walker's reach and just outta Didi Gregorius' reach. If either guy knocks it down, it saves a run because Jansen has to stop at third base. Sabathia was pulled after the back-to-back homers and the 2.1 innings made for his shortest start of the season. Only the sixth time in his 27 starts this season that he allowed more than three earned runs. Similar to last time out in Seattle, Sabathia struggled getting his cutter in on righties: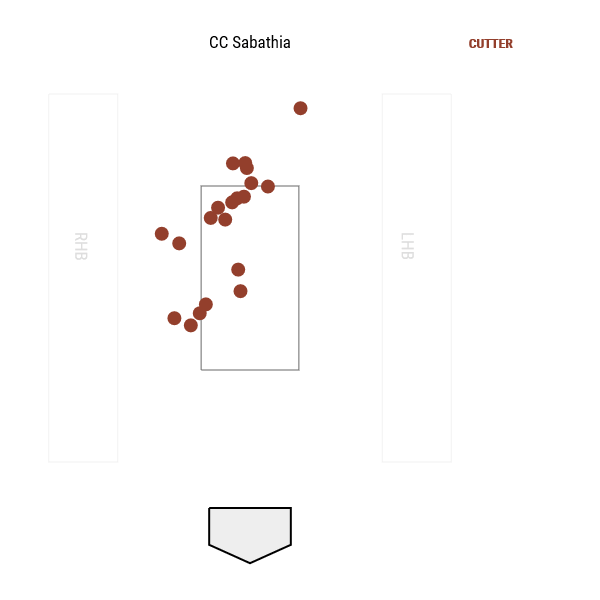 Against the Mariners, Sabathia eventually got his cutter to behave and threw five quality innings. He never did figure it out against the Blue Jays. His final line: 2.1 IP, 7 H, 5 R, 5 ER, 0 BB, 2 K, 3 HR on 50 pitches. Three good starts (seven runs in 17 innings) and two not-so-good starts (ten runs in 5.2 innings) for Sabathia since returning from the disabled list.
RI(S)P
How are the Yankees so bad with the bases loaded? I just don't understand it. They went into this game hitting .243/.285/.400 (83 OPS+) with the based loaded on the season. They were 20th in AVG, 24th in OBP, 18th in SLG, 20th in OPS+. And, at least prior to Saturday, it wasn't even a strikeout problem. The Yankees had the fifth lowest strikeout rate (19.1%) with the bases loaded. So frustrating.
Well, Saturday the Yankees had a strikeout problem with the bases loaded. Immediately after Toronto took a 3-0 lead in the top of the second, the Yankees loaded the bases with no outs in the bottom half on two walks (Gregorius and Gary Sanchez) and an infield single (Gleyber Torres). The Torres infield single had some double play potential. Gurriel made a nice diving stop behind the second base bag, but his flip went over Richard Urena at the bag. Everyone was safe!
Then strikeout, strikeout, strikeout. Walker swung over top of a slider, Luke Voit got caught looking at a backup slider, and Brett Gardner swung through a fastball. The Yankees swung through Sean Reid-Foley's fastball all afternoon. He threw 62 four-seamers, the Yankees swung at 27 of them, and they missed 12 times. Most swings and misses on the four-seamer any pitcher has generated against the Yankees this year. Justin Verlander had been the leader with eleven. Now it's Reid-Foley.
A leadoff single and a one-out walk in the third were wasted. A one-out walk in the fourth was wasted. In the sixth, Gregorius socked a leadoff solo homer to get the Yankees on the board, then the Yankees loaded the bases on a hit-by-pitch (Torres), a single (Voit), and a pinch-hit walk (Miguel Andujar). Bases loaded again! Tying run to the plate! Andrew McCutchen struck out on three pitches to end the inning. Four at-bats with the bases loaded, four strikeouts. The Yankees raised their season strikeout rate with the bases loaded from 19.1% to 20.9% in one afternoon. They better go like 12-for-15 with nine grand slams with the bases loaded in the postseason.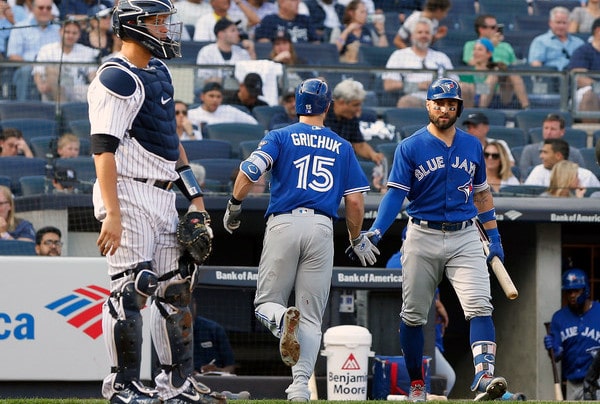 Giving Up Too Soon
Aaron Boone did that thing where he basically gives up on a game again. Down four runs with three innings to play against the garbage Blue Jays bullpen in Yankee Stadium? Time to use Tommy Kahnle against the middle of the lineup, apparently. That's even after David Robertson warmed up in the previous inning in case McCutchen cashed in with the bases loaded to trim to deficit. Down four with a well-rested bullpen is Kahnle time!
Single, double, walk, bases loaded with no outs. Kahnle did almost get out of it though. Hernandez grounded out to second (force out at home) and Jansen struck out on an elevated fastball. Then Diaz shattered his bat and dunked a bloop single to center to score two runs and turn a 5-1 game into a 7-1 game. It was the kind of hit the Yankees never seem to get with the bases loaded. Another run-scoring single followed to give the Blue Jays an 8-1 lead. That single came against Stephen Tarpley, which meant Boone really was really mailing it in.
Naturally, immediately after the September call-up relievers put the game out of reach, the Yankees started socking dingers. Giancarlo Stanton went deep and Gregorius went deep in the seventh inning. Both solo shots to get the Yankees to within 8-3. That was only the start. With two outs in that seventh inning, Torres doubled and Walker and Voit both drew walks. Bases loaded again! This time the Yankees did not strike out.
Andujar's grand slam — his second grand slam of the season (both against Toronto) — turned an 8-3 game into an 8-7. Six runs on two walks, a double, and three home runs in that seventh inning. You're not making up a seven-run deficit with singles and doubles, folks. At some point someone needs to hit one in the seats and put a bunch of runs on the board in a hurry. Andujar did exactly that.
Alas, the comeback attempt ended there. Aaron Hicks worked a one-out walk in the eighth and moved to second on a wild pitch, but Gregorius popped up in foul territory and Sanchez struck out, and that was that. The Yankees didn't have another baserunner the rest of the game. Ken Giles threw three fastballs right by Gary to end the eighth and Voit went down looking to end the game. Who would've guessed they'd regret not scoring after loading the bases with no outs in the second?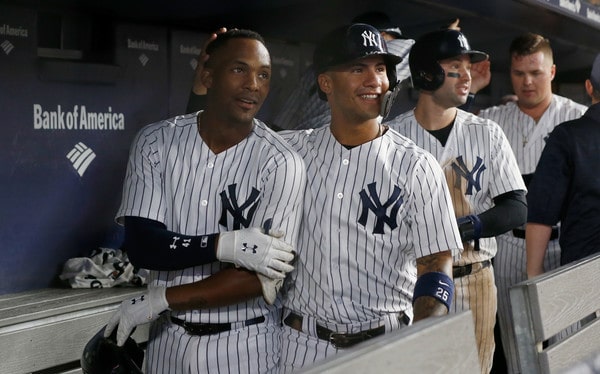 Leftovers
A season-high 2.1 innings and a season-high 44 pitches for Chad Green. The Yankees are clearly stretching him out a bit in advance of the postseason. He threw two innings and 31 pitches last time out, his biggest single-game workload since the All-Star break. I'm not sure how much further they'll go with him (three innings and 50 pitches?), but I love it. Green is at his best as a multi-inning guy who makes fewer appearances. Lots of one-inning appearances doesn't seem to agree with him.
After Andujar's grand slam, Boone went to Dellin Betances and Zach Britton in a one-run game. Both tossed scoreless innings and Dellin extended his American League record to 40 straight relief appearances with a strikeout. Kahnle and Tarpley: 1 IP, 4 H, 3 R, 3 ER, 1 BB, 1 K. The other relievers: 5.2 IP, 5 H, 0 R, 0 ER, 0 BB, 6 K. Sigh. Just … sigh. Boone is way way way too quick to go to his non-elite relievers, especially at this point of the season.
Andujar joined Hideki Matsui, Shane Spencer, Yogi Berra, and Russ Derry as the only rookies in franchise history with multiple grand slams. Didi's two homers were his 25th and 26th of the season. That's a new career-high and, also, the most homers by a shortstop in a single season in franchise history. Gregorius broke his own record, which he set last year.
Two hits for Gregorius (homers), two hits for Gleyber (infield single, double), and one hit apiece for McCutchen (single), Stanton (homer), Voit (single), and Andujar (homer). Eight walks for the Yankees on the day. Hicks and Walker had two each. Seventeen baserunners, three homers, seven runs … and a loss? Rough.
Box Score, WPA Graph & Standings
ESPN has the box score and updated standings, MLB has the video highlights, and FanGraphs has the postseason odds. Here's our Bullpen Workload page and here's the loss probability graph:

Source: FanGraphs
Up Next
The Yankees and Blue Jays will wrap up this series and their season series Sunday afternoon. Veteran northpaw Lance Lynn and rookie southpaw Thomas Pannone are the scheduled starting pitchers for that one. It's a 1pm ET start.