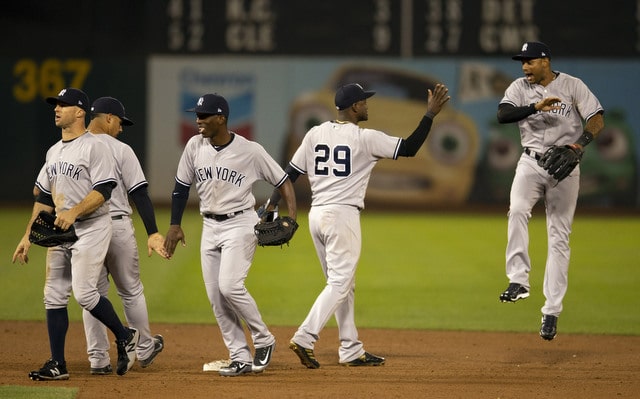 Pretty big win last night. The Athletics are coming after the Yankees for homefield advantage in the wildcard game and, after getting shut down for five innings, the Yankees rallied late against a good bullpen. Good response after Monday's loss. Here are the current wildcard standings:
Yankees: 87-52
Athletics: 83-57 (4.5 GB)
——————————
Mariners: 77-62 (10 GB)
Rays: 75-63 (11.5 GB)
The same as two days ago, basically. Which is good for the Yankees because there are two fewer games on the schedule now. The series ain't over yet though, and tonight's game will determine whether the Yankees go into tomorrow's off-day with a 3.5-game lead or a 5.5-game lead. Go win the series. Here are tonight's lineups:
New York Yankees
1. LF Brett Gardner
2. DH Giancarlo Stanton
3. RF Andrew McCutchen
4. CF Aaron Hicks
5. C Gary Sanchez
6. 1B Luke Voit
7. 3B Neil Walker
8. SS Adeiny Hechavarria
9. 2B Gleyber Torres
RHP Luis Severino
Oakland Athletics
1. CF Ramon Laureano
2. 3B Matt Chapman
3. 2B Jed Lowrie
4. DH Khris Davis
5. 1B Matt Olson
6. RF Stephen Piscotty
7. SS Marcus Semien
8. LF Chad Pinder
9. C Josh Phegley
RHP Mike Fiers
Another chilly evening with clear skies in the Bay Area. Great night to spend at the ballpark. First pitch is scheduled for 10:05pm ET and you can watch on YES locally or MLB Network out-of-market. Enjoy the game, folks.
Injury Update: Didi Gregorius (heel) went through another full day of workouts and will "probably" be activated Friday, according to Aaron Boone … Aaron Judge (wrist) hit off a tee for the third straight day and again reported no issues. His rehab plan is still being mapped out, but he's making progress … Clint Frazier (post-concussion migraines) suffered a setback and is unlikely to return this season. Poor kid. He was preparing to join Double-A Trenton for the postseason when his symptoms flared up again. Get healthy, Clint. See you in Tampa in a few months.