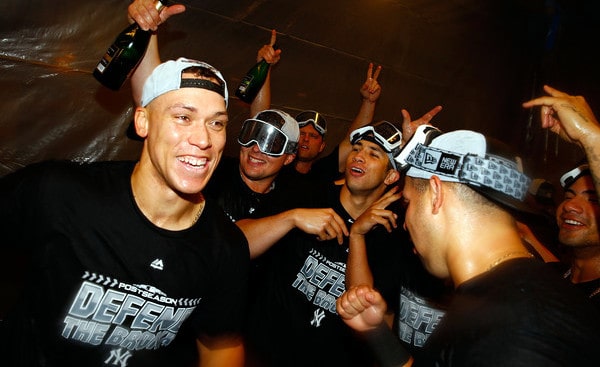 The Yankees are going to the postseason. They clinched a spot yesterday, but their work isn't done. They still have to secure homefield advantage in the Wild Card Game and that might take a while because the Athletics keep winning. With eight games to play, the magic number for homefield advantage in that Wild Card Game is six because the Yankees hold the tiebreaker.
There is where I note that, when I mentioned the magic number to clinch the tiebreaker over the A's was four yesterday, I was wrong. My bad. The Yankees have the tiebreaker clinched already. It's not possible for the two teams to finish with the same overall record while the A's win enough intradivision games and the Yankees lose enough intradivision games for the A's to take over the tiebreaker. Long story short, there are three possible scenarios now:
Yankees finish with the better record and have homefield advantage.
Athletics finish with the better record and have homefield advantage.
Yankees and A's finish the same record and the Yankees get homefield advantage through the tiebreaker, which is intradivision record because they tied the season series.
That's it. It's mathematically impossible for the Yankees and A's to finish with the same record and the A's to hold the tiebreaker. So that's one less thing to worry about. The magic number for the top wildcard spot is six with eight games to go. Let's get that wrapped up as quickly as possible, mmmkay? Here are the lineups for the final home game of the regular season:
New York Yankees
1. LF Andrew McCutchen
2. RF Giancarlo Stanton
3. DH Luke Voit
4. 2B Gleyber Torres
5. 3B Miguel Andujar
6. 1B Neil Walker
7. C Gary Sanchez
8. SS Adeiny Hechavarria
9. CF Brett Gardner
LHP J.A. Happ
Baltimore Orioles
1. CF Cedric Mullins
2. 2B Breyvic Valera
3. SS Jonathan Villar
4. 1B Trey Mancini
5. DH Tim Beckham
6. 3B Renato Nunez
7. LF Joey Rickard
8. C Austin Wynns
9. RF John Andreoli
RHP Alex Cobb
Cloudy and chilly in New York today. Fall weather. First pitch is scheduled for 1:05pm ET and you can watch on YES locally and TBS out-of-market. Enjoy the game. Could be the last time you'll see Yankee Stadium until next year!
Injury Updates: Aaron Hicks (ankle) is sore but tests showed no break after he fouled that pitch into his ankle last night. He's expected back for the Tampa series.