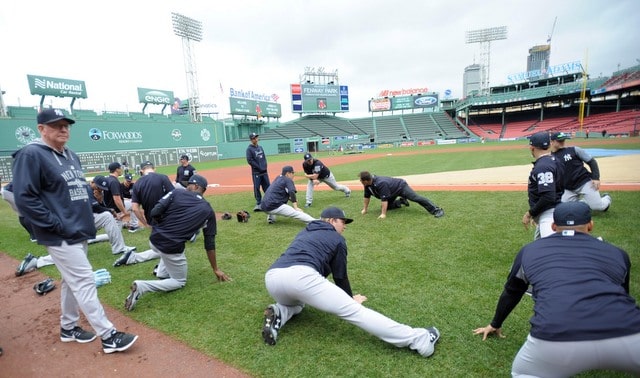 Homefield advantage in the Wild Card Game has been clinched. The Yankees took care of business last night and they've clinched everything they can clinch. They'll be the home team in the Wild Card Game, the road team in the ALDS and ALCS, and the home team in the World Series. It's all been clinched.
That means the Yankees have nothing to play for this weekend. These last two games are meaningless. They won't change anything with regards to the postseason. That said, the Yankees still have two things to accomplish this weekend:
Win their 100th game of the season. They're 99-61 at the moment.
Hit their 265th home run to set a new single-season record. They're sitting on 264.
Two milestones. A win total in the 100s always looks better than a win total in the 90s, and, as for the home run record, that's just cool. The Yankees are tied with the 1997 Mariners for the most homers in history and they did that without anyone having a monster season. They've done it with power spread out up and down the lineup. Pretty cool.
I know it's Yankees vs. Red Sox and these games are always intense, but today's game and tomorrow's game are meaningless. Enjoy the stress-free baseball before the postseason begins Wednesday. Here are today's lineups:
New York Yankees
1. LF Brett Gardner
2. RF Andrew McCutchen
3. CF Aaron Hicks
4. DH Giancarlo Stanton
5. SS Didi Gregorius
6. 3B Miguel Andujar
7. 1B Greg Bird
8. C Austin Romine
9. 2B Gleyber Torres
RHP Domingo German
Boston Red Sox
1. LF Andrew Benintendi
2. SS Brock Holt
3. DH J.D. Martinez
4. 3B Rafael Devers
5. 1B Mitch Moreland
6. 2B Ian Kinsler
7. CF Jackie Bradley Jr.
8. RF Blake Swihart
9. C Christian Vazquez
RHP Nathan Eovaldi
The internet tells me it is a spectacular afternoon in Boston. Sunny with temperatures in the low 70s and a nice breeze. Good day for a meaningless ballgame. First pitch is scheduled for 1:05pm ET and FOX will have the broadcast. FOX and FOX alone. Guessing they picked up this game back when it looked like it still might mean something. Also, MLB.tv is free this weekend. Just sign up for a (free) MLB.com account and you can watch any game. Blackout restrictions still apply though. Well, whatever. Enjoy the game.
Rotation Updates: So there's been a change in this weekend's pitching plans now that the Yankees have clinched homefield advantage in the Wild Card Game. First, Lance Lynn will pitch out of the bullpen today rather than make the start as scheduled. The Yankees are preparing him for a potential bullpen role in the postseason. Secondly, Luis Severino will not start tomorrow. He could pitch out of the bullpen and make a tune-up appearance at some point instead. Aaron Boone said the Yankees will discuss the Wild Card Game starter in earnest later today. Pulling Severino from tomorrow's start keeps him in play for the Wild Card Game start.