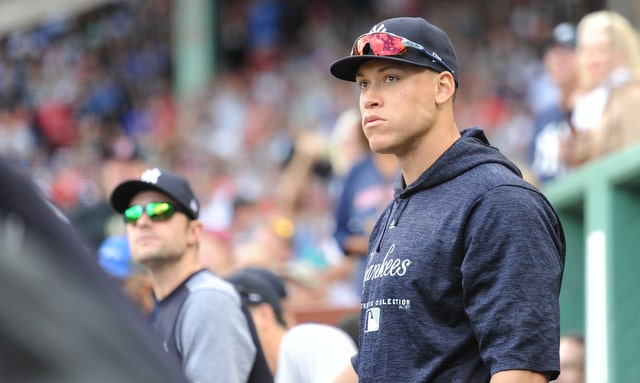 The long journey that is the regular season comes to an end today. The Yankees have already clinched everything they can clinch. We know they'll play the Athletics at Yankee Stadium in the AL Wild Card Game on Wednesday, and, should they advance, they'll be the road team in the ALDS and ALCS, and the home team in the World Series no matter who they play. Today means nothing in the standings.
Furthermore, the Yankees have already set a new single-season home run record, and they've already won their 100th game, which are two nice milestones. Know what's on the line today? The season series against the Red Sox. The two teams have split their 18 games this season. A win today means the Yankees will have at least .500 record against every team they've played this season. It also means the Red Sox will have lost the season series to the A's, Astros, Indians, and Yankees. That should go over well on the sports media circuit in Boston. Here are the final lineups of the regular season:
New York Yankees
1. LF Brett Gardner
2. RF Aaron Judge
3. CF Aaron Hicks
4. DH Miguel Andujar
5. 1B Luke Voit
6. C Gary Sanchez
7. 2B Gleyber Torres
8. 3B Neil Walker
9. SS Adeiny Hechavarria
RHP Luis Cessa
Boston Red Sox
1. RF Mookie Betts
2. LF Brock Holt
3. DH J.D. Martinez
4. SS Xander Bogaerts
5. 1B Mitch Moreland
6. 3B Eduardo Nunez
7. 2B Ian Kinsler
8. C Sandy Leon
9. CF Jackie Bradley Jr.
RHP Rick Porcello
It is cool and sunny in Boston today. Great afternoon to spend at the ballpark. Today's regular season finale begins at 3:05pm ET and you can watch on YES locally and TBS out-of-market. Enjoy the stress-free game. The real fun begins Wednesday.
Injury Updates: The regulars who are not in today's starting lineup are all fine. Just a rest day. That includes Didi Gregorius, who's played a game and a half since his wrist injury. Giancarlo Stanton was originally in today's lineup before the Yankees decided to give him the full day off rather than only the late innings off.
Rotation Update: The Yankees still have not selected a starter for the Wild Card Game. Or at least they haven't announced a starter, I should say. They may've made a decision internally already. Today will be a true bullpen game. Luis Severino will not pitch at all today.