In the battle of the opener vs. opener strategy, the Yankees came out victorious in the first game of the series at the Trop. They not only won the game, but also the magic number for clinching the top Wild Card spot is down to four, and they knocked the Rays out of the playoff race. We will be watching the A's vs. Mariners score, but for tonight, the Yankees did what they could control: win a ballgame.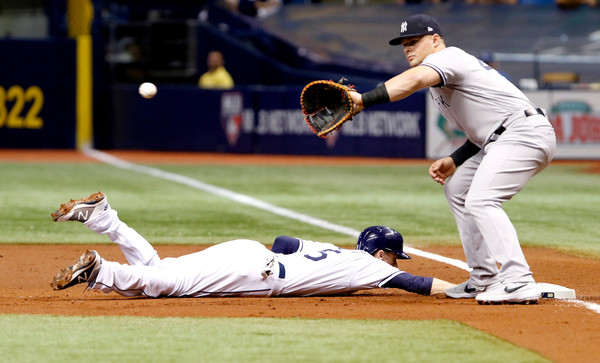 The runs
The Yankees got on board against the second Rays pitcher Hunter Wood. With one out in the third, Andrew McCutchen got a fastball right down the middle and crushed it over the left field fence. Wood had fed him nothing but a steady diet of fastballs and he got a perfect mistake pitch. 1-0 Yankees.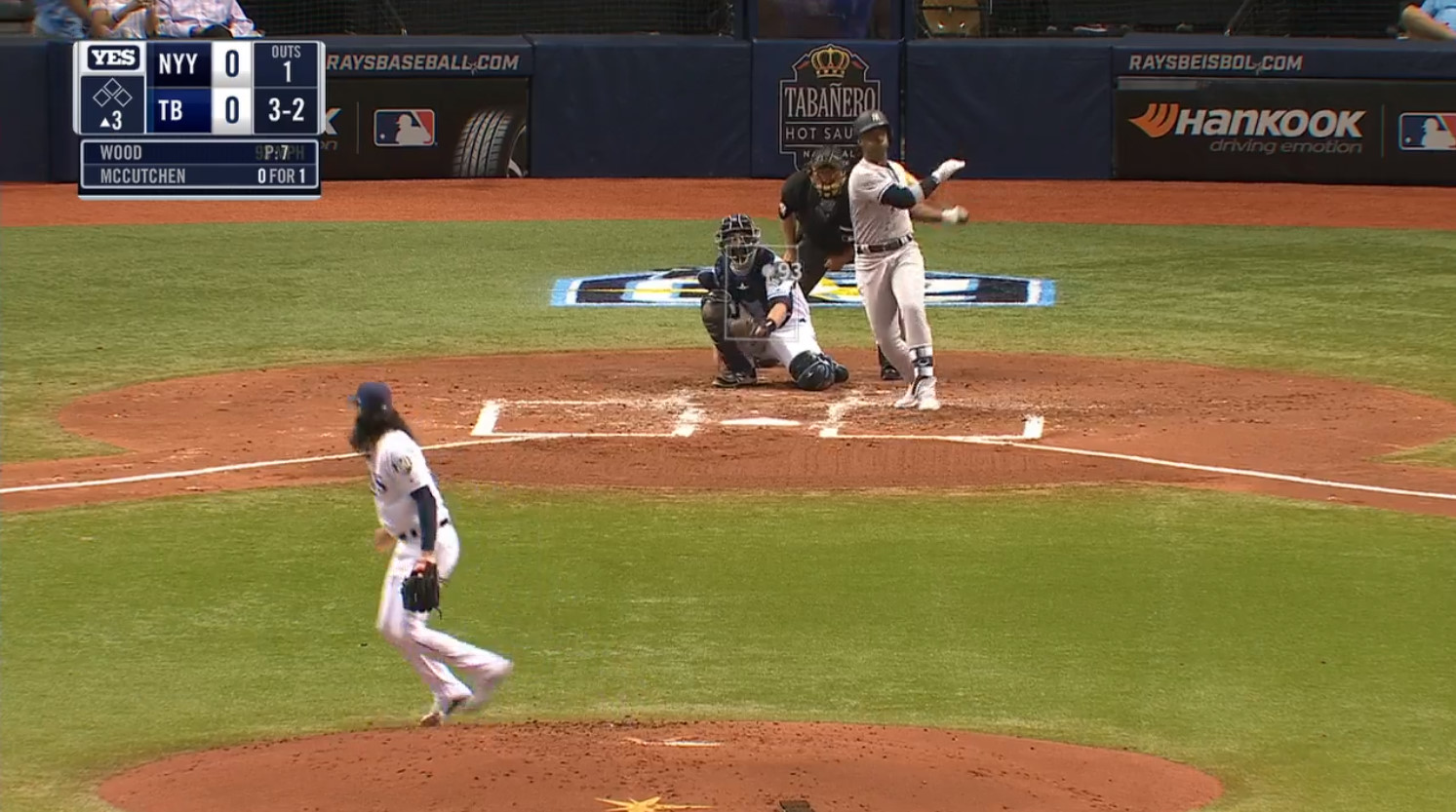 93 up in the zone. Big league hitters can crush that.
Heading into the bottom of the fourth, the Yankees lifted Aaron Hicks for Brett Gardner in center field. Uh oh. The Yankees have Didi Gregorius out (for now) with an injury and, because we are nearing the postseason, any sign of injury is a much bigger deal than usual. It turned out that Hicks has a tight left hamstring, so let's hope it's precautionary.
In a better news, Gardner was involved in a two-run rally in the fifth. With two outs, Aaron Judge worked a walk and advanced to second on a wild pitch. Gardner got a hold of Ryan Yarbrough sinker low in the zone for an RBI single to make it 2-0 Yanks. Giancarlo Stanton followed it up with a double to deep left, scoring Gardner from first to make it a two-run lead. Stanton did get thrown out at third trying to stretch it into a triple, but the damage was done.
The Bombers added another against Yarbrough in the seventh. With one out, McCutchen and Judge hit back-to-back doubles to put another one on board. This has been repeated in the website, but adding McCutchen has been such a good move for the lineup. We've known his pedigree of being a good hitter with the Pirates, but at the leadoff spot, McCutchen has seen tons of pitches. Tonight alone, he saw 34 of them in 5 plate appearances (6.8 pitches per PA), which is insane. Add his ability to see pitches with, well, Aaron Judge, who seems to be in full-count in any given at bat. The Yankees will hope that those two will be catalysts in elevating pitch counts in the postseason.
The pitchers
The Yankees used 8 pitchers total tonight, which, I guess, was expected using the opener strategy. Here is the list:
Jonathan Holder (1st inning) – Stephen Tarpley (2nd inning) – Sonny Gray (3rd and 4th innings) – Chad Green (5th inning) – David Robertson (6th inning) – Aroldis Chapman (7th inning) – Dellin Betances (8th inning) – Zach Britton (9th inning)
Here are some notes:
I have no idea how Stephen Tarpley will develop as a major league pitcher. He doesn't have the high relief pitching prospect pedigree that guys like Chapman or Robertson did. However, he has chance to be useful. There's always a spot in bullpen for guys that live off a sinker-slider combo. Since is ML debut earlier this month, when he allowed three earned runs against the Tigers, Tarpley has yet to allow another. Tonight's outing may have been the crispest, as the lefty pitched a three-up, three-down inning with a strikeout.
How about the late inning guys? Green, Robertson, Chapman, Betances and Britton combined for 5 no-hit innings with 9 strikeouts. That's the kind of collaborative effort that the Yankees hoped for when they assembled this group. I would imagine that they will run these arms frequently during the postseason (assuming they win the AL Wild Card game as well).
Regarding Aroldis Chapman – eye test-wise, his command looked better than that of his previous outings after coming off the DL. The problem is velocity. It's weird to be concerned about a guy who topped out at 98.1 mph in an outing, but he did average at 97 mph tonight, which is a tick or two below his usual. He did get two swinging strikeouts on sliders, which is a positive for the Yanks. Earlier this season when Chapman was doing well, he was able to command his slider in the zone or to induce whiffs, regardless of how his fastball fared. It would be a boon for the back of the bullpen if he can jack his fastball velocity closer to 100 and be able to use his slider the way he did tonight.
 Zach Britton looks really good. I think there's a possibility that the Yankees assign closing jobs by committee in the playoffs, but Britton has made a solid case to pitch in more save situations. In 9 September appearances, Britton has allowed zero earned runs and zero walks. The further removed he is from the Achilles surgery, the better he looks.
Now, enjoy this catch by Gardner that saved two runs for the Yankees in the sixth.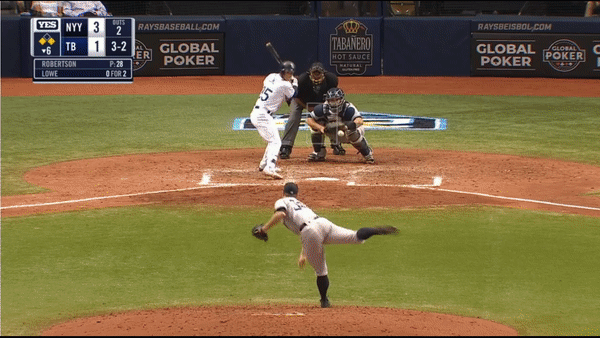 Box score, highlights, standings and WPA
Here's tonight's box score, video highlights, updated standings and WPA.

Source: FanGraphs
The series at Trop continues tomorrow at 7:10 pm EST. Luis Severino will be on the mound for the Yankees against Jake Faria.