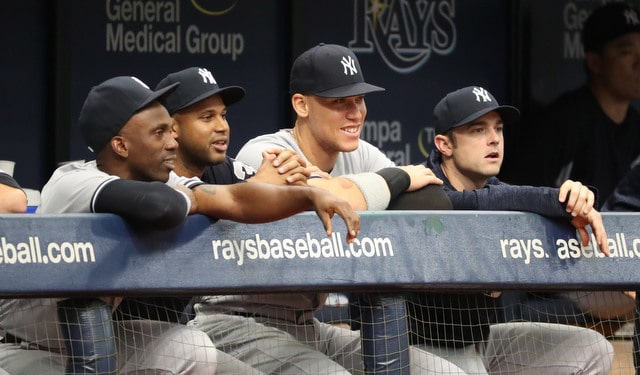 The 2018 regular season is over. Well, no. Not technically. The Brewers and Cubs, and Dodgers and Rockies, are playing a pair of Game 163 tiebreakers today. That's fun. The regular season is over for the Yankees though. They went 100-62 with a +182 run differential. Pretty great. Their biggest mistake was not being the Red Sox. Anyway, I have some thought on things, so let's get to 'em.
1. The Yankees won 100 games and hit an MLB record 267 home runs despite getting so little from Gary Sanchez and missing Aaron Judge for nearly two months. Also, Giancarlo Stanton had a very good season but not an all-world season. Prior to 2018, five teams in history hit at least 250 home runs in a season, and all five had at least one 40-homer hitter plus another 30-homer hitter. Three of those five teams had a 50-homer hitter. The Yankees had none of those things. Stanton led the team with 38 homers. No one else had more than 27 homers. But you know what? The Yankees had five players with at least 27 homers (Judge, Stanton, Miguel Andujar, Didi Gregorius, Aaron Hicks) and an MLB record 12 players with at least ten homers. They have power up and down the lineup. Power in every lineup spot and power at every position now that Andrew McCutchen is the starting left fielder. I guess this is my long way of saying that I find it crazy impressive the Yankees won 100 games and hit a record number of home runs while not staying completely healthy and not getting that monster career season from anyone. The Yankees had ten +1 WAR position players this year, the most in baseball. Pretty awesome.
2. One of those ten +1 WAR players: Luke Voit. Where would the Yankees be without him? Not playing the Wild Card Game in Yankee Stadium, I don't think. Yesterday's home run put him at .333/.405/.689 (194 wRC+) in 148 plate appearances with the Yankees. Yeah, it's only 148 plate appearances, but they were 148 high impact plate appearances. They happened. They won games. August 24th was the day Voit took ownership of the first base job. That's the day he hit two home runs in Baltimore. Prior to that day the Yankees received a .207/.282/.375 (76 wRC+) line from their first basemen. Only the Royals (74 wRC+), Angels (73 wRC+), and Orioles (55 wRC+) were worse. That is unplayable. First base is an offense position and the Yankees weren't getting much. Since that (admitted cherry-picked) date, the Yankees have received a .331/.403/.729 (202 wRC+) line from their first basemen. Only the Dodgers (211 wRC+) have been better. That is quite the turnaround. Voit's power is legit. He doesn't hit the ball on the ground (34.4% grounders) and he ranks among the league leaders in average exit velocity (92.9 mph) and hard contact rate (47.8%). The power's not a fluke. Will the league find a hole in his swing and exploit it going forward? Maybe! Voit might be Shane Spencer 2.0. But you know what? Spencer had some pretty big moments in the 1998 postseason. I get the feeling Voit's going to do something memorable in October.
3. I think the lineup we saw Friday night is the lineup we'll see in the Wild Card Game on Wednesday. Said lineup:
LF Andrew McCutchen
RF Aaron Judge
CF Aaron Hicks
DH Giancarlo Stanton
1B Luke Voit
SS Didi Gregorius
3B Miguel Andujar
C Gary Sanchez
SS Gleyber Torres
That was against a left-handed pitcher, so maybe Voit and Gregorius switch places, but I don't that'll be the case. That lineup spreads the lefties out a little bit and that seems to be a thing the Yankees value. Point is, wow does that lineup look awfully impressive. The weak spot is Sanchez, who hit a ball a mile Friday night and can do it again in any given at-bat. Tons of power, tons of patient hitters who work the count, and also contact guys in McCutchen, Hicks, Gregorius, Andujar, and Torres. The days of Shane Robinson and Neil Walker in right field feel like a lifetime ago.
4. This is the sorta thing that's easy to overlook, but Aaron Boone had several delicate clubhouse matters to deal with this year, particularly in the second half. Greg Bird and Brett Gardner have been moved to the bench. That's not nothing, especially in Gardner's case given who he is and how important he's been to the team over the years. Bird absolutely stunk and deserved to be benched. That doesn't mean he should've been happy about it. These guys are competitors and they want to play. We didn't hear any complaints or anything like that. In fact, it's been the opposite. Bird and Gardner have said they want to play and will be ready to play, but understand why their roles were reduced, and will do whatever they have to do to help the Yankees win. (Gardner's been productive in the fourth outfielder role.) Andujar getting pulled for defense regularly falls into this category too. It wouldn't take much for a rookie to get discouraged when his most glaring flaw is called out like that. If Andujar is unhappy about it or feeling down on himself, it's impossible to tell. He raked started to finish. His on-field performance didn't suffer at all. We see the lineups and bullpen moves every single day. Those are the most visible parts of a manager's job. This in-house stuff though, like Gardner and Bird being benched and massaging egos? That's where a manager really makes his money.
5. I have to think Luis Severino is starting the Wild Card Game. Skipping his start completely yesterday was pretty telling. If the Yankees were penciling him in as a bullpen option for the Wild Card Game, I think Severino would've thrown a tune-up inning or two yesterday. Instead, nothing. He'll go into the Wild Card Game with seven days of rest. That's a lot. I also don't think it'll be a huge deal. Adrenaline will kick in early and Severino's made several starts this season on extended rest as the Yankees controlled his workload. Three times he started on seven days rest this year. Seventeen times he started with extra rest. He'll be fine. I thought not pitching him at all yesterday was a indication he'll get the ball against the Athletics. I think the Yankees wanted to start Severino in the Wild Card Game all along because he's been their best starter the last two years and he's most capable of providing dominance. Severino's last two starts were his best starts of the second half, and that makes it easier for the Yankees to give him the ball. And you know what? No matter who starts Wednesday, the leash is going to be very short. The bullpen is going to fire up at the first real sign of trouble. The Yankees have to get 27 outs in the Wild Card Game. I'll be surprised if the starter gets 15 of them.