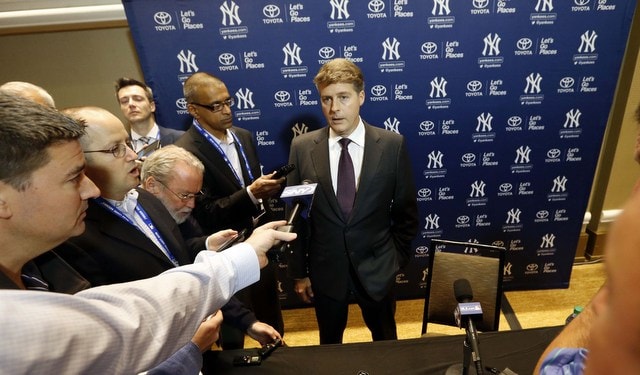 It will be 2019 in exactly two weeks. Pretty crazy, huh? The Winter Meetings are over and the hot stove is kinda sorta starting to heat up, but there's still a lot that needs to happen between now and Opening Day. That goes for the Yankees and the other 29 teams out there as well. Anyway, here are some miscellaneous thoughts.
1. It is becoming increasingly clear that tanking (or rebuilding or whatever you want to call it) is a significant problem for baseball. I count seven teams that will go into next season with no real shot at contention: Mariners, Marlins, Orioles, Padres, Rangers, Royals, Tigers. The Diamondbacks, Blue Jays, Giants, Reds, and White Sox could make it 12 teams depending how the rest of their offseasons go. More than one-third of the league! First and foremost, that many teams not trying is straight up bad. It equals too many meaningless games throughout the season and it gives fans an easy reason to tune out. Secondly, tanking has completely broken free agency. Not only are those rebuilding teams not willing to spend big on free agents, but now contending teams have started to address their needs by trading for players rebuilding teams are giving away. The Yankees traded for James Paxton. The Phillies traded for Jean Segura. The Mets traded for Robinson Cano and Edwin Diaz. The Cardinals traded for Paul Goldschmidt. So on and so forth. Why spend money on a free agent when you can trade prospects, most of whom will flame out anyway, to get a cheaper player? Maury Brown reports 18 teams — 18! — reduced payroll in 2018. How is that okay? It is December 18th and only 15 free agents have signed a deal worth at least $10M this offseason. There are still over 140 unsigned free agents and they're not all Bryce Harper or Manny Machado. A lot of those dudes are going to be jobless come Spring Training because a third of the league isn't trying and the other two thirds aren't spending money because the luxury tax is effectively a salary cap, and because they're addressing their needs through trades. I don't know what the fix is here, but tanking has become a plague on the sport.
2. Am I the only one who thinks it's kinda weird new Mets GM Brodie Van Wagenen is so open to trading Noah Syndergaard, his former client? The Mets just made that big win now trade for Robinson Cano and Edwin Diaz, they signed Jeurys Familia and Wilson Ramos, and they were in the hunt for J.T. Realmuto prior to signing Wilson Ramos. I understand you have to be open to anything at all times, but keeping a guy like Syndergaard seems like a no-brainer given their current plan and situation. I can't help but wonder whether Van Wagenen has some inside information that is pushing him to trade Syndergaard, and I don't mean the typical "a team knows more about their player than everyone else" information. I mean privileged information he acquired in confidence as Syndergaard's agent. It doesn't necessarily have to be something nefarious like Syndergaard pitching through an injury and his arm is about to give out. Maybe Van Wagenen knows Syndergaard's contract demands will make keeping him long-term impossible, something like that. This is almost certainly me reading too much into things because, after all, it sure looks like the Mets are going to keep Syndergaard now. It's just that, when that three-team rumor popped up last week, giving up three years of Syndergaard to get two years of Realmuto made no sense to me, and I couldn't help but wonder whether Van Wagenen knew something about Syndergaard none of us did.
3. The Yankees really need to tone down their talk about the Red Sox this offseason. I get it, they're being asked about Boston nonstop, but their answers are pretty dumb. Here's what Randy Levine told Ken Davidoff two weeks ago:
"I think we're as good as the Red Sox right now. I think they had a better postseason than us … I said that postseason could have gone either way with a couple of innings. They have a great team and they're going to be a really great team for a long time, but I think we're as good as they are."
Aaron Boone said pretty much the same thing at the Winter Meetings last week. "We feel like we're very much on level ground with them," he said. No. Just no. Even if you think the Yankees are as good as the Red Sox, and you could easily argue they are, the "we're as good as the Red Sox" talk just sounds silly after they embarrassed you in the ALDS — the Red Sox handed the Yankees literally the most lopsided postseason loss in franchise history — and won the World Series. Sorry, but you have no choice but to take the L after that. Those are the rules. The tough talk comes off as hollow at best and desperate and pathetic at worst. "We feel very good about our team, but they were better than us last year and it's up to us to prove we're better than them next year." See how easy that is? It's been hard for me to do anything other than roll my eyes and laugh at the comments the Yankees have made about the Red Sox this offseason. When it comes to grabbing the back page, George Steinbrenner these guys are not.
4. I sorta love the idea of Francisco Liriano as a long reliever/spot starter even though he wasn't very good for the Tigers this past season, throwing 133.2 innings with a 4.58 ERA (5.11 FIP) as a starter. Liriano has a history of above-average swing-and-miss and ground ball rates, and he's started and relieved throughout his career. That includes pitching out of the bullpen for the 2017 Astros en route to a World Series championship. Liriano strikes me as the kinda guy who could benefit from the Yankees' anti-fastball philosophy. He's always had a great slider and a great changeup …
… and, at age 35, his fastball is more 91-93 mph than 94-96 mph these days. This past season he threw 55% fastballs. Get him down to 40% heaters and Liriano might find a second wind, so to speak, and carve out a role as a strong complementary piece. Liriano pitched on a one-year deal worth $4M this past season. Would he take similar money to be a long man/spot starter in 2019? Maybe! I'm sure this is just one of those random "wow I really like this player oh well nevermind" offseason phases that lasts a week or two, but Liriano seems like a decent fit for the last bullpen spot.
5. Not counting my weird Francisco Liriano fantasy, my hunch is the Yankees will sign one top reliever and acquire one surprise second or third tier reliever. Trading Sonny Gray for a similar reclamation project bullpen arm could be in the cards as well. By top bullpen arm, I mean one of David Robertson, Andrew Miller, or Adam Ottavino. Zach Britton seems like a good bet to get big closer dollars and I don't think the Yankees will go there. Robertson, Miller, or Ottavino in the $10M to $12M per season range is my guess. As for the surprise reliever, I could see a deal with David Phelps, who is on his way back from Tommy John surgery and was very good in a short relief role before his elbow gave out. One name I keep coming back to: Yoshihisa Hirano. The 34-year-old right-hander threw 66.1 innings with a 2.44 ERA (3.69 FIP) and a very good ground ball rate (50.3%) with average strikeout (22.5%) and walk (8.8%) rates. He pitched in all sorts of high-leverage situations too. The D'Backs are rebuilding, the Goldschmidt trade made that clear, and Hirano has one year left on his contract at $3M. Could be a sneaky good pickup. Well, anyway, my hunch is the Yankees sign one of the top setup men and add an under-the-radar second bullpen arm. I don't see two top relievers happening. Three eight-figure relievers in one bullpen doesn't seem likely.
6. I feel like the Yankees will replace Didi Gregorius in one of two ways. Either they'll go big and sign Manny Machado or they'll go super cheap with an all-glove/no-bat guy. Nothing in between. Among those all-glove/no-bat guys, I think I've talked myself into Freddy Galvis being the best among a group that includes Adeiny Hechavarria and Jose Iglesias. I look it this way: All three will give you comfortably above-average defense and all three will likely post a sub-.300 OBP, but Galvis is only one with a chance to hit double-digit home runs. He hit 13 homers with the Padres this past season and has 45 home runs the last three years. Hechavarria and Iglesias have 32 homers combined the last three years. Also, for what it's worth, Galvis is said to be an incredibly popular clubhouse guy who mixes well with young players. That's not nothing. Galvis, Hechavarria, and Iglesias are pretty close to interchangeable. They're all standout glovemen who don't provide much with the bat. Galvis has some power though, which means he'll have a real impact on the game that many more times than Hechavarria or Iglesias. I don't love Galvis so much that I'll be upset if the Yankees don't sign him. But, if they go with an all-glove guy, he'd be my pick over Hechavarria and Iglesias.