T-minus three weeks until pitchers and catchers report to Tampa and begin Spring Training. Pitchers and catchers reporting is the biggest non-news days of the year — pitchers and catchers show up to the complex and take their physicals, and that's pretty much it — but it is the start of the new season, and that's exciting. We're only three weeks away. Anyway, here are some scattered thoughts.
1. I don't have a whole lot to say following the Hall of Fame announcement. I'm stunned and thrilled Mariano Rivera was a unanimous selection. I didn't think it would happen. Then again, it is close to impossible to make a case against him, so if anyone was ever going to get in unanimously, it would be Rivera. I suspect we'll see another unanimous Hall of Famer before long now that the barrier has been broken. I'm also happy Mike Mussina made it into the Hall of Fame and, even though he is responsible for the first time baseball crushed my soul, I'm glad Edgar Martinez got in as well. Man could that dude hit. I don't think either Barry Bonds or Roger Clemens is getting in at this point. They've hit a wall the last few years and haven't gained much support, and they only have three years to go on the ballot. Andy Pettitte getting such little support (9.9%) surprised me. I don't think he's a Hall of Famer, but I thought he'd get north of 30%. Shows what I know. There aren't many slam dunk Hall of Famers set to join the ballot in the coming years. Derek Jeter hits the ballot next year, David Ortiz and Alex Rodriguez will be eligible in three years, Carlos Beltran in four years, and Adrian Beltre in five years. If Bonds and Clemens don't get in, A-Rod won't get in, so at best four potential first ballot Hall of Famers will join the ballot in the next five years. That means that many more voting spots will be available for other players. Curt Schilling, Omar Vizquel, and Larry Walker seem most likely to benefit from that in my opinion, though next year is Walker's final year on the ballot. We'll see. As for this year, I'm thrilled Mussina got in and I'm thrilled Rivera was unanimous. Two all-time favorites right there.
2. Given the bullpen, the Yankees should use an opener this coming season. They don't have to do it every game. Just select games based on matchups. Why not let Dellin Betances face the top of the lineup when you still have Zach Britton, Aroldis Chapman, Chad Green, and Adam Ottavino available for the late innings? I wouldn't bother using an opener with Luis Severino or James Paxton. When they're on, they can dominate any lineup. Ride those horses. CC Sabathia is an obvious candidate for an opener though. The problem there is he has a very specific and longer than usual warmup routine because of his knee, and I'm not sure it's something he could do in the bullpen during the first inning rather than on the field before the game. It would take an adjustment to his specialized warmup routine and veteran pitchers hate that. To me, J.A. Happ is the best candidate for an opener. He has some experience pitching in relief, mostly early in his career but it's more than everyone else in the rotation combined, and it doesn't seem like there would be any issues with his warmup routine. If the Yankees can use an opener to avoid letting Happ (or Sabathia, if possible) face the top of the lineup one time per start, it's worth doing. They can use a shutdown reliever against the top of the order in that first inning, use Happ (or Sabathia) two and a half times through the lineup, then go to the bullpen. The reliever is either going to pitch in the first inning or in the later innings. In the first inning, at least the Yankees know they'll get the matchup they want, and they'll know the game will (most likely) be close on the scoreboard. The Yankees don't have to use an opener three times each turn through the rotation like the Rays. Every once in a while will work though. Maybe 25-30 times a season?
3. We are now entering top 100 prospect list season. Baseball America's top 100 list comes out today and apparently the Yankees will be shut out. That's weird. Are there really 100 prospects in baseball better than Estevan Florial? A 20-year-old with those tools puts up a .354 OBP and a 110 wRC+ in 75 High-A games around wrist surgery and goes from No. 38 on last year's top 100 list to unranked this year? Seems like an overreaction, but whatever. To each his own. I suspect the Baseball America list will be the outlier. I expect to see Florial and Jonathan Loaisiga on most top 100 lists this spring. Someone like Anthony Seigler or Deivi Garcia or even Mike King could sneak on to a random top 100 list as well, though I'd bet against it. Florial is a clear top 100 caliber prospect to me. Loaisiga has top 100 stuff and command but not top 100 health. The injury history is what prevents him from being a tippy top prospect. Anyway, Baseball America's top 100 list comes out today and MLB.com's comes out this weekend. Keith Law and Baseball Prospectus will release their top 100 lists soon as well. I expect to see Florial on all non-Baseball America top 100 lists and Loaisiga on some top 100 lists. After having six or more top 100 prospects the last few years, the Yankees are down to one or maybe two, and that is perfectly fine with me because so many of those former top 100 prospects are now wearing pinstripes and having an impact. That's the best reason for a farm system to decline in quality.
4. The Yankees have signed five free agents this offseason (Britton, Happ, Ottavino, DJ LeMahieu, Troy Tulowitzki) and none of the five contracts are guaranteed beyond three years. Britton's deal includes that funky two-year club option/one-year player option, but the Yankees control the fourth year, not Britton. The Yankees did not go beyond three guaranteed years this offseason. The current Collective Bargaining Agreement expires in three years, in December 2021, and it seems to me the Yankees are trying to leave themselves as much roster and payroll flexibility as possible going into the next CBA. Chances are I'm overthinking this. It's not like other teams are handing out long-term contracts. In the Yankees' case though, they're a World Series contender in the game's largest market, and they've already passed on one high-end free agent (Patrick Corbin) and are poised to pass on two others (Manny Machado and Bryce Harper) even though they are such obvious fits for the roster. They didn't want to give Corbin a sixth year covering his age 35 season and instead opted to sign Happ for his age 36-37 (and possibly 38) seasons. Hmmm. The upcoming CBA could change baseball's economic system dramatically — I'm not entirely sure that will that happen, but it could — and it seems the Yankees want to make sure they have as much financial freedom going into the new CBA, hence the short-term contracts. I think that was at least part of the reason the Yankees went with the "spread the money around" approach this offseason rather than going for big money deals.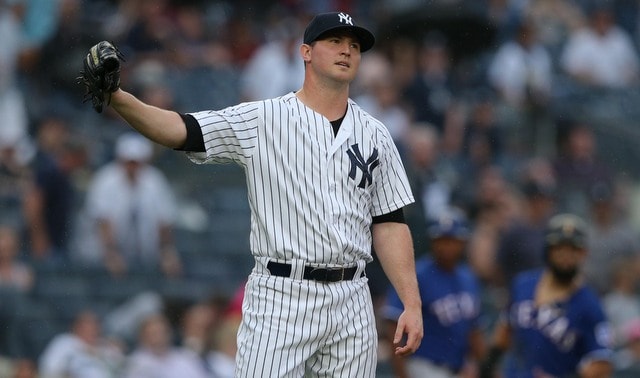 5. The Yankees don't have much money coming off the books next offseason. It's Sabathia ($8M) and Brett Gardner ($7.5M), and three guys the Yankees should try to sign long-term in Betances ($7.25M), Didi Gregorius ($11.75M), and Aaron Hicks ($6M). That's pretty much it unless Chapman opts out. No other large money contracts expire after this season. The Yankees will have to pay or replace Gregorius, Dellin, and Hicks next winter and give Aaron Judge a potentially record-breaking first year arbitration salary. There's a long way to go between now and then and so much will change. Right now, with so little money coming off the books after the season, it makes me wonder if the Yankees are in for a quiet 2019-20 offseason. Maybe not quiet, but devoid of big money acquisitions. The payroll clears up in two years when LeMahieu, Tanaka, Jacoby Ellsbury, and maybe Happ and Britton come off the payroll. Next offseason the Yankees could be cash-strapped and limited in their spending though. The moves this offseason are as much about 2020 as they are 2019. There might not be much maneuverability next winter.
6. Remember two years ago when the Yankees held that fun Winter Warm-Up event? It was a series of events, really. Players participated in events throughout the city for a week, then there was a big town hall with top prospects. Here's a recap. By all accounts the Winter Warm-Up was a smashing success. Fans and players alike loved it. Then the Yankees decided to never do it again, apparently. Nothing the last two winters. That is disappointing. It seems pretty clear now the Winter Warm-Up was intended to get fans excited about the future (hence prospects being involved) because the Yankees had missed the postseason three of the previous four seasons, and they didn't expect to be good in 2017. They called it a "transition" year, remember. They didn't expect Judge to become an instant MVP candidate and the young players to carry the team to Game Seven of the ALCS. Once that happened, the Yankees apparently determined they no longer need to do any fan outreach because the team being good is enough. Other teams throughout the league are holding caravan events this month and I see it all on social media, and it amazes me the most popular team in the sport does nothing like it. Actions speak louder than words, and the Yankees are making it pretty darn clear fan outreach and cultivating young fans is a secondary concern. Running a caravan event when you're expecting a down season and then nothing at all when you know you're good is kinda insulting, no? Fans aren't important enough for a caravan event when the Yankees are good. Only when the team is expecting a lean year and doesn't want to lose ticket sales and television ratings. How so very lame.
7. Another thing the Yankees don't do that I wish they did is play a spring prospects game. I could've sworn they played one years ago but I can't find anything on the ol' google machine. I think I might be confusing it with the West Point game. Anyway, the idea is the big league Yankees play an exhibition game against their minor leaguers to close out Spring Training rather than a game in Atlanta or Miami or Washington. (They went to SunTrust the last two springs and they're going Nationals Park this spring). The could play the game right in Tampa, or maybe even go to Scranton or Trenton or Staten Island. Wouldn't that be fun? The Cardinals will close out their spring schedule with an exhibition game against their Triple-A affiliate in Memphis this year. They've been doing that for a while now. The Reds play what they call the Reds Futures Game each spring, which is big leaguers vs. prospects. They play it in a different minor league affiliate ballpark each year. That seems pretty cool, no? Imagine Deivi Garcia vs. Judge, or Florial stealing a hit away from Gleyber Torres in the gap. I don't know about you, but a spring prospects game sounds awfully fun to me. I am pro-fun and I am trying to come up with ways to make the Yankees more fun. A winter caravan event and a prospects game would be a good start.
Update: I knew I wasn't crazy. The Yankees did play a spring prospects game in 2010. It was called the Yankees Futures Game. Here's the box score. There's some serious prospect nostalgia in there.
8. I was never a huge football fan and these last few years my football fandom has whittled down to nothing. I watched maybe an hour of regular season NFL football this year. I do watch the playoffs though, and wow, Tony Romo is some announcer, huh? He explained what happened (in some cases, he explained what would happen) and why it happened in a way a casual fan like me could understand, and it increased my enjoyment of the game. Also, Romo is genuinely enthusiastic about the sport. It's a shame it's gotten to the point where that is noteworthy. So many baseball announcers spend the broadcast complaining about the game and the longing for the old days. John Smoltz in the World Series was as bad as it gets. A fan new to baseball would've thought the sport is broken beyond repair given Smoltz's open contempt for the modern game. Baseball needs more broadcasters like Romo. Someone who loves the modern game and can explain it. I think Yankees fans are pretty lucky with the YES Network broadcast team, honestly. Michael Kay can get annoying when he goes into radio show mode, but it's obvious he loves the game and his job. David Cone understands analytics and is very good at blending "this is baseball now" with "this was baseball when I played." Ken Singleton as well. He's fantastic. I know it's cool to hate on the local broadcast crew, but believe me, I watch a ton of baseball and the YES Network has a comfortably above-average broadcast team. Lots of other fans are stuck with Smoltz facsimiles. Guys who complain about the game and long for the old days. That is bad for baseball. MLB desperately wants a younger fan base. The good way to develop one is finding broadcasters who love baseball and tell you why the game is great, not why it was better in their day.