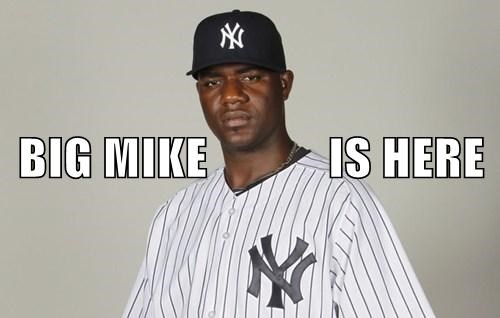 Even though the offense is not yet completely out of its funk, the Yankees are, incredibly, on the version of finishing their first sweep of the 2016 season. They've won the first two games of this series against the Rays, and this afternoon they send big Michael Pineda to the mound against left-hander Drew Smyly. The rotation has a 3.44 ERA and is averaging a touch over six innings per start over the last six games, which is pretty awesome.
I'm curious to see whether Joe Girardi pushes Dellin Betances and/or Andrew Miller for a third straight day this afternoon, something he doesn't like to do. Betances and Miller have had very low pitch counts the last two days — Miller has thrown 21 pitches in his two games, Dellin 24 — so Girardi might be able to push it if the Yankees need either guy today. My guess is he stays away this early in the season. Here is the Rays' lineup and here is the Yankees' lineup:
1. CF Jacoby Ellsbury
2. LF Brett Gardner
3. RF Carlos Beltran
4. 1B Mark Teixeira
5. DH Alex Rodriguez
6. C Brian McCann
7. 3B Chase Headley
8. 2B Starlin Castro
9. SS Didi Gregorius
RHP Michael Pineda
Pretty great weather to end the homestand today. It's sunny and there are no clouds in the sky at all. Picture perfect afternoon to go to a ballgame. Today's game will begin a bit after 1pm ET, and you can watch YES. Enjoy.