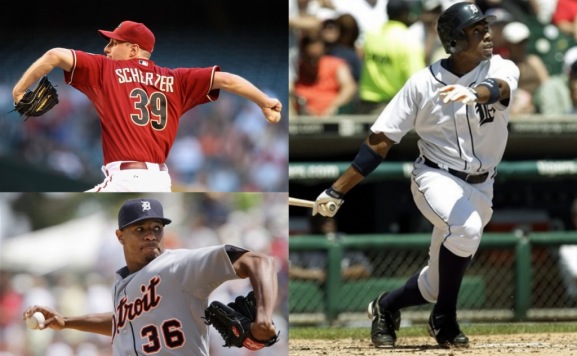 Updated 12:15 a.m.: It looks like Monday was a busier day for the Yankees than we thought. According to Ken Rosenthal and Jon Paul Morosi of FOX Sports, they discussed a three-way trade with the Tigers and Diamondbacks that would have sent Curtis Granderson to New York and Edwin Jackson to Arizona. Talks, however, reached an impasse. The D-Backs are pushing hard, but the deal "was rejected by at least one of the other two teams."
I originally thought that team to be the Yankees, and Joel Sherman confirmed as much a few minutes ago. The Yanks thought the costs were too high, and the Tigers were lukewarm on their returns as well. Although the three-way talks are dead, the Yankees are still very much interested in Granderson, not least because their interest could drive Johnny Damon's price down.
So what then were the costs to this proposed deal? The Yankees would have lost Ian Kennedy, Mike Dunn, Phil Coke, and Austin Jackson in the trade and gotten back Granderson and "one or two prospects from the Diamondbacks." The Diamondbacks would have sent the Tigers Matt Scherzer and another prospect or two for Edwin Jackson. So, even though they'd be losing two to four prospects in the deal, the Diamondbacks were the ones pushing for this. It made the situation a bit more interesting.
We can forget about Dunn and Coke, because they're not the ones who were holding up this deal. I doubt Kennedy was, either. If the Yanks are the stalling party, it's likely over Austin Jackson. He's still developing, and his lack of power in 2009 is concerning, but he's still a good prospect, probably the second best in the Yankees system. The Yankees are reluctant to deal him, and for good reason. If that power tool comes around, he could be a very good MLB center fielder.
Granderson is attractive for a number of reasons, as I outlined in this post. He's trended downward since his breakout 2007 season, but as with Nick Swisher's 2008, 2009 could have just been a bad season for Granderson. As I noted, he hit way, way more fly balls than normal, which led to a lower BABIP and, accordingly, batting average. I can definitely see Granderson recovering to his 2008 form, which would be great news for the Yankees. He could instantly replace Johnny Damon in the outfield and in the two-hole.
Getting two prospects back from the Diamondbacks would have helped soften the blow of losing Jackson, but we still don't know which prospects were under discussion. Without mentioning prospects, the Diamondbacks are getting both Kennedy and Edwin Jackson and giving up only Scherzer. Maybe both the Tigers and the Yanks get a B-prospect from the D-Backs. So is Granderson and a B-prospect worth Austin Jackson?
As with most rumors, I discussed this one with both Ben and Mike for a while before even starting to write. All three of us are on the fence. If the Yanks pulled the trigger, we'd welcome the new center fielder. If they didn't, we'd maintain hope for Jackson. It's nice not to be disappointed either way. But, gun to my head, I do the trade. I have faith that Granderson can recover, and while I do want to see Austin Jackson grow into his pinstripes, there are some situations where trading prospects makes sense. I can see this being one of those situations.