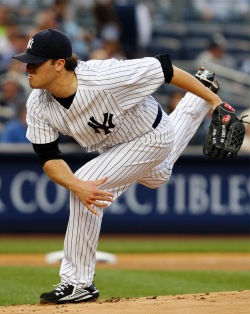 As Mike discussed yesterday morning, last night was the first time this season that Phil Hughes faced a team for the second time. He basically blew away previous opponents, even surviving on pure stuff when he didn't have great command against Baltimore. Last night his stuff was undeniable, but he had his share of troubles. Once J.D. Drew took him deep in the fifth, it became, by far, his worst start of the season.
Hughes's problems started in the first. Though he retired the Red Sox 1-2-3, he required 19 pitches to do so, including 10 pitches to J.D. Drew. It took a monster 96 mph fastball to finally retire him. Still, he put himself in a tough position going forward. He'd have to keep his pitch count down in order to last longer than six innings. Things got so bad that he wouldn't even start that inning.
The second inning actually lasted longer, 21 pitches, and included two hits, including one that allowed a run to score. That wasn't too devastating, considering the Yanks had already put five runners across the plate. Adrian Beltre actually hit a pitch out of the zone to drive in Youkilis, so maybe it wasn't all on Phil. A few hits will mean a few extra pitches in the inning, but we've seen pitchers settle down after a few long innings and still get through six or seven.
The Ortiz homer in the fourth was a bit annoying, but that didn't compare to the fifth. Hughes started out quickly, retiring Jeremy Hermida and Darnell McDonald on just three pitches. He then got ahead of Marco Scutaro 1-2, but failed to retire him on two fastballs and a cutter. The final fastball led to a single up the middle. He got ahead of Dustin Pedroia 1-2 but again couldn't put him away. Pedroia fouled off two fastballs, a cutter, and a curve before working the count full and then doubling on a cutter right down the middle.
Most frustrating, though, was Drew's at-bat. Hughes actually got ahead 0-2 on Drew, but couldn't finish him off. Drew fouled off an outside fastball before hammering a cutter inside. Both home runs came off cutters, so I think it's fair to say that the pitch wasn't exactly working for him. Or maybe the Red Sox had a better idea of what to expect. The two cutters in question were inside enough, but belt high. So maybe it was a problem with location.
Mostly, though, his problem was his inability to put away hitters. He only walked one, and threw 68 percent of his pitches for strikes. Problem was, they weren't necessarily good strikes. In fact, here's the breakdown of those 71 strikes: 20 called strikes, 28 foul balls, 18 in play, and only 5 swinging strikes. Coming into the night he had a 9.7 percent swinging strike rate (that is, percentage of strikes that are of the swing and miss variety). Last night it was down to 7 percent. The foul balls were the real killers, as they ran up his pitch count and gave hitters longer lives. A few of them, like Pedroia, proved to be trouble.
This isn't to say that Phil will have problems going forward. He didn't seem his sharpest last night, and it showed when hitters fouled off pitches that, on better nights, they'd miss completely. That changes the game from a pitcher's standpoint. The high number of balls in play didn't help, either. Hughes faced 22 batters, and 18 of them put the ball in play. That's well above his normal rate. Again, it goes back to all the fouls. He couldn't put guys away, so instead of setting them down on strikes he had to rely on his fielders. While the Yanks defense is by no means bad, allowing so many balls in play can hurt from time to time. It's the nature of the game.
I wouldn't worry about Phil, though. This start almost ended well for him. By the end, though, as his pitch count ran into the 90s in just the fifth inning, he might have been tiring. That doesn't excuse the performance, but instead gives him something to build on. His next chance comes over the weekend against the Mets.