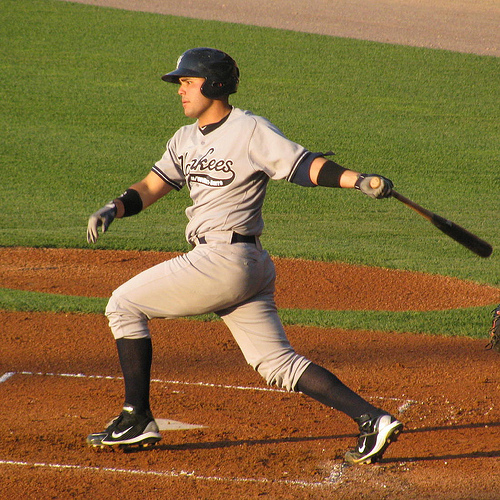 All 30 big league teams are off today, with the Yankees even getting to enjoy one extra day off before returning to work on Friday. That doesn't mean we'll have to go without real live baseball though, because the Triple-A All Star Game is being played this evening in b-e-a-utiful Allentown, PA.
Three Yankee farmhands made the International League squad: Jesus Montero (right), Eduardo Nunez, and Jon Albaladejo. Nunez was voted in as a starter by the fans, Montero was selected as a reserve. The Yanks' top prospect is hitting .312/.380/.550 in his last 30 games, helping erase any concerns about his slow start to the season. It just took the 20-year-old Montero a little time to adjust to Triple-A pitching, that's all.
Albaladejo has been nothing short of fantastic this season, but I'm willing to bet he'll handle the all important 8th inning tonight while Scott Mathieson of the hometown Lehigh Valley Iron Pigs gets the 9th inning glory. The game doesn't mean anything, it's just a matter of deferring to the hometown guy. I'm actually looking forward to seeing Albie again, just to see how much he's changed since we last saw him. Supposedly he's scrapped the sinker/slider approach and has gone with a four-seam fastball/curveball approach. Curious about how true that is.
Here is the rest of the roster, and here's the team the Pacific Coast League is sending. The game starts at 7pm ET and can be seen on the MLB Network. You can talk about it here, or anything else you want in tonight's open thread. You guys know what to do, so have at it.