The Yankees walked away from the trade deadline having upgraded three roster spots with Lance Berkman, Austin Kearns, and Kerry Wood, and we know they wanted to add a utility infielder as well. They can still do that through a waiver trade in August, so the door isn't closed on replacing Ramiro Pena, who unsurprisingly was unable to maintain his career best .312 wOBA from last year (seriously, his best full-season wOBA in the minors was .303 with Double-A Trenton in 2008). What is surprising is one of the players the Yanks targeted for that reserve infielder spot: Mike Lowell.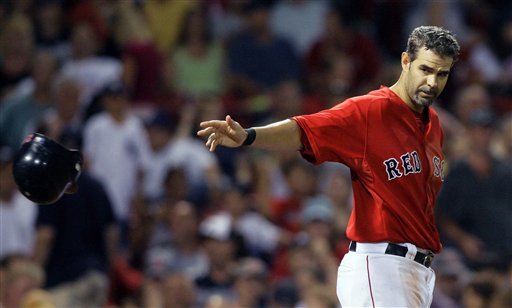 Ken Rosenthal said yesterday that the Yanks tried to pick up the former Bomber indirectly from the Red Sox on Friday. He says it would have been a three team swap involving the Rangers, who have long had interest in Lowell as they searched for a righthanded hitting first baseman, but didn't elaborate on any other players that would have been involved in the deal. I can't imagine it would've been much. The Red Sox were aware that Lowell would have ended up in the Bronx, and the Berkman trade did not alter the Yanks' plans at all.
This isn't the first time the Yankees have had interest in Lowell, as I'm sure you remember. After Alex Rodriguez opted out of his contract in 2007, Lowell – that year's World Series MVP – became an obvious target to fill that third base void. Even after A-Rod re-signed, the Yanks still had interest in Lowell as a first baseman, reportedly offering him a four year deal worth upwards of $60M. Thankfully that ended up being untrue, because it would have been a massive albatross if Lowell accepted (there would have been about $20.4M still left on said deal), assuming his hip issues were inevitable.
I know there have been several studies showing that "contract years" are largely a myth, but Lowell's 2007 season sure looks like one hell of a salary drive. After 1,189 plate appearances of .319 wOBA ball in 2005 and 2006, he rebounded to post a .377 wOBA in '07 with his usually stellar defense, a season worth 5.2 wins above replacement. It was the best season of Lowell's career, surpassing his 4.6 win season back in 2004. He certainly took advantage of Fenway Park during that contract year, hitting to a .426 wOBA at home and just .330 on the road.
Lowell predictably regressed back to a .344 wOBA and 3.0 WAR in 2008, solid numbers but not what he had produced the year before. Following the season he required surgery to repair a torn labrum in his hip, though he was ready in time for Spring Training and remained productive at the plate, putting up a .346 wOBA. His defense, like we saw with A-Rod, dropped off considerably after surgery, as his UZR dropped to -10.7 because of what FanGraphs has as a 21.7 run decline in his range from 2008. A-Rod's defense has certainly gotten better as he's gotten further away from surgery, but Lowell really gotten a chance to show us similar improvement because he hasn't played much.
This season, with Adrian Beltre and Kevin Youkilis having MVP caliber seasons and David Ortiz finding the Fountain of Youth in mid-May, Lowell simply hasn't played. He hit the disabled list in June after coming to the plate just 76 times in April and May (.306 wOBA). Sporadic playing time equals sporadic results, though ZiPS rest of the season projection calls for what I think is an optimistic .338 wOBA. One thing to keep in mind is that over the last two years Lowell has a .296 wOBA away from the Green Monster (.383 at home). Even worse than the production are the nagging hip issues, which includes a pair of DL stints due to inflammation and several individual days missed.
Even going beyond the performance issues, Lowell really doesn't fit the Yanks' needs in the grand scheme of things. He's not a true utility infielder because he can't fill in at short (and less importantly, second base), so Ramiro Pena would have to remain on the roster. The Yanks would essentially be swapping out Marcus Thames (.373 wOBA vs. LHP) with Lowell (.352 wOBA vs. LHP over the last two years), sacrificing a little offense for third base insurance should A-Rod's hip act up. Insurance with his own hip issues, mind you.
Of course, the only way the Red Sox are moving Lowell at this point is by eating basically everything left on his contract, which is about $4.22M at the moment. Considering that they're on the hook for $11.15M still owed to Julio Lugo, Alex Gonzalez, Boof Bonser, and Billy Wagner, eating another $12M for Lowell while getting just 0.1 WAR out of him this year seems like it would be a tough pill to swallow, but at this point they have no choice. Jed Lowrie and Bill Hall will be the backup infielders once Dustin Pedroia is healthy, and a smart organization like Boston won't sit on a dead roster spot with Lowell just to avoid eating his salary.
The Red Sox will try to trade Lowell, but chances are they're just going to end up releasing him at some point. And that's what Lowell wants. He wants to be able to choose his next team where he can actually play and audition himself for next year. The Rangers, long considered a perfect suitor, now have their righty first baseman in Jorge Cantu. The Yanks became a more realistic landing spot for Lowell once that trade went down. I'm not saying I want Lowell on the Yankees, but based on their history with him I would not at all be surprised if he ends up in pinstripes sometime this month.