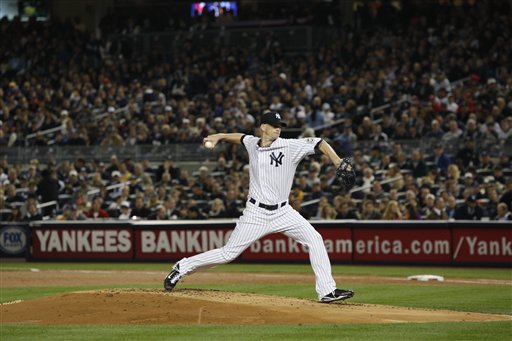 What everyone assumed was made official yesterday: the Yankees are going to use a four man rotation in the ALCS, and the fourth starter will be A.J. Burnett. It's not clear which game he'll start, but the smart money's on either Game Four or Five. The schedule actually allows them to use only three starters if they're willing to start CC Sabathia on short rest twice and both Andy Pettitte and Phil Hughes on short rest once. Given Andy's recent groin and back issues plus Hughes' career high workload, it's easy to understand why they didn't go this route.
So that leaves us with Burnett. As a whole his regular season was awful; he set new career worsts in ERA (5.26), FIP (4.83), xFIP (4.66), K/9 (6.99), AVG against (.279), WHIP (1.51), swinging strike rate (7.9%), contact rate (81.8%) … the list goes on and on. It was the worst season of his career by a considerable margin, and according to bWAR he was below replacement level (-0.1). Burnett did have some stretches of brilliance during the season (1.99 ERA in his first six starts, 2.00 during July) as he tends to do, but he finished the year with a 6.61 ERA in his last dozen starts. Opponents hit .300/.380/.494 off of him during that stretch, which is hard to believe.
And yet the Yankees are giving the ball to Burnett for a few reasons, but one that sticks out more than the others: the simply don't have a better option. Javy Vazquez, the guy that was supposed to be the fourth starter back in April, was been even worse than Burnett in 2010 and was left off the ALDS roster entirely. Dustin Moseley did an admirable job filling in while Pettitte was hurt, but he's not a realistic option because he doesn't strike anyone out and had a 5.29 ERA in his nine starts. Ivan Nova had his moments in September, but he struggled big time with men on base and was prone to that one big inning, a recipe for disaster in the postseason.
For all his warts, Burnett gives you something Moseley and Nova do not: the potential to dominate. Sure, it's unlikely given his performance this year, but the ability is still tucked in there somewhere, and when you're picking between three mediocre (or worse) options, go with the one that at least offers some upside. Anything can happen in one game, the regular season goes right out the window in October.
A.J. had a 5.27 ERA in his five postseason starts last year but he was dominant in his three home starts, allowing just ten hits and five runs while striking out 19 in 19.1 innings. He was also better at home this year, posting a 4.59 ERA (4.56 FIP) with 7.51 K/9 and 3.70 BB/9 in 80.1 innings (14 starts). Burnett was better at home last season too. His 2010 ALDS start will come at home regardless if he pitches in Game Four or Five, so at least he has that going in his favor. If he starts Game Four it's likely to come against the other team's fourth starter, another thing that'll make A.J.'s life a little easier.
No one feels comfortable starting the 2010 version of A.J. Burnett in a playoff game, but it's a necessary evil at this point. They don't need him to be excellent, just good enough to keep them in the game and hand the ball over to the four main setup guys. Admittedly, that's not something he was able to do on a consistent basis this season. Burnett is going to start next round, and while you don't have to like it, you'd be foolish not to at least root for him.