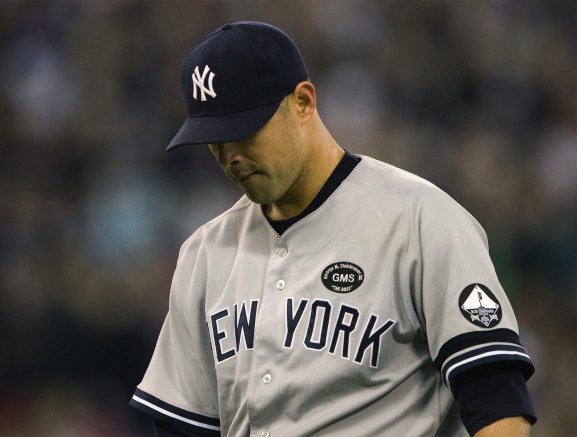 As Joe detailed this morning, the Yanks' decision to offer salary arbitration to Derek Jeter is a no-brainer. Unfortunately, their other key free agent made things difficult when he had an utterly terrible 2010. Still, I'd be willing to run the risk of extending a salary arbitration offer to Javier Vazquez.
The Javier Vazquez story begins last year when the Yanks decided to trade for him. In a deal I now call the Boone Logan Trade, the Yanks sent Melky Cabrera, Michael Dunn and Arodys Vizcaino to the Braves for Logan and Vazquez. What made the deal so appealing was Vazquez's contract status. With just one year left, the Yanks assumed he would maintain his recent success and his Type A status. The team would offer arbitration, and he would probably reject it. Had he accepted it, the Yanks would have had a quality pitcher at a reasonable rate.
Instead, Javy pitched himself all the way to Type B status. Javy went just 10-10 with a 5.32 ERA and threw only 157.1 innings. His strike outs dropped by 3 per 9 IP, and his walk rate doubled while his fastball velocity dipped well below 90. It was an utterly disastrous season, and the Yanks have a tough decision to make.
A few weeks ago, Mike went on the record with his view on the Javy issue. He wrote:
Javy Vazquez is a no-brainer. He's a Type-B who made $11.5M in 2010, and of course he was awful (-0.2 fWAR) due to stuff that deteriorated as the season progressed. The best course of action is to simply cut ties and walk away. I know the Yanks considered two draft picks to be part of the deal (he was a Type-A once upon a time), but things didn't work out. No sense in trying to force the issue, let Javy walk with no stings attached.
I disagree. The Yankees should offer Vazquez arbitration, and I doubt he would accept it. They could salvage something of this deal after all.
This move should come down to three factors. The first is Javy's need to get out of New York. He's still only 34 years old and ostensibly wants to keep pitching. To continue with his career — a career that saw him average 200 strike outs and 216 IP from 2000-2009 — he needs to pitch somewhere in which he is comfortable and can succeed. As much as I'm hesitant to believe that some players just don't have the je ne sais quois to pitch in New York, Javy seems to fit the bill.
Furthermore, other teams are interested in him. The Nationals are interested in Vazquez, and the Marlins have met with him as well. Javy himself wants to pitch for the Marlins and appears to have interest from five other teams.
Finally, the Hot Stove League's rumblings and grumblings suggest that Javy wants more than a one-year deal. Low-level rumors have Vazquez shooting for a three-year contract, and with a high level of interest among fringe teams, he should be able to secure a multi-year commitment. Considering these factors, the odds are slim that he'd accept arbitration.
But let's assume that the Yankees offer him arbitration, and he accepts. The two sides could agree on a one-year deal followed by a trade or the two sides could go to a hearing. Since Javy would probably lose the hearing, the Yankees could wind up paying him under $10 million next year. While holding out hope in Javy might just be a fool's errand, he could justify such a meager investment. After all, he was a 5-win pitcher in the AL as recently as 2008, and unless his arm is totally shot, he's due for a bounce-back year in 2011.
Still, though, I'd put the odds of his accepting arbitration at no greater than five percent, and for the chance to secure a draft pick and salvage the trade, those are odds I would play. The Yankees have been risk-averse when it comes to their arbitration offers to free agents on the bubble, and I would be more surprised to see them offer arbitration to Javy than not. If they're willing to roll the dice though, they just might make a move that proves to be both risky and smart.