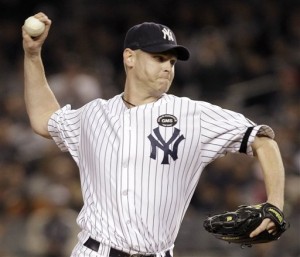 The free agent signing period officially starts this Sunday, but free agency won't begin in earnest until later this month when we know which players will force teams to give up a draft pick to sign them. Some are obvious; the Cliff Lees, the Carl Crawfords, the Jayson Werths, those are the ones we don't have to think about. They're going to cost you. But with players like Paul Konerko, Carl Pavano, and Frank Francisco, it's not so obvious. That's why we have to take the wait and see approach.
Quick primer on the rules: If a team offers one of their free agents arbitration and he signs elsewhere, they'll receive two draft picks if he's a Type-A (the signing team's top pick and a sandwich rounder pulled out of the air) or just one if he's a Type-B (the sandwich rounder). Of course the player has to decline that arbitration offer for the team to be entitled to that compensation, which is no longer a given these days. Salaries are coming back down to Earth and teams are shying away from older players, so the chances of these guys accepting arbitration has gone up considerably in recent years. But you knew that already.
The Yankees haven't offered arbitration to any of their free agents in the last two offseasons, and there's really no reason to expect them to alter that practice now. The last compensation pick they received for losing a free agent came way back in 2008, when they gained a supplemental first round pick for losing Luis Vizcaino (they used the pick on Jeremy Bleich). Yeah, it's been a while.
Derek Jeter, Mariano Rivera, and Andy Pettitte all qualified as Type-A free agents, and we know that it's pretty much Yankees or bust for those three. Since the chances of them signing with another club are tiny, I don't see the point in offering them arbitration. There's nothing to be gained by it, and an offer would put all of the risk on the Yankees. There are worse things in the world than having those three on well, well above-market rate one-year deals, but I don't think that's enough of a reason to assume the risk given the tiny chances of the reward. Perhaps you feel differently.
Javy Vazquez is a no-brainer. He's a Type-B who made $11.5M in 2010, and of course he was awful (-0.2 fWAR) due to stuff that deteriorated as the season progressed. The best course of action is to simply cut ties and walk away. I know the Yanks considered two draft picks to be part of the deal (he was a Type-A once upon a time), but things didn't work out. No sense in trying to force the issue, let Javy walk with no stings attached. That leaves two more decisions to be made…
Lance Berkman
When the Yanks acquired Berkman at the trade deadline, he waved his no-trade clause under the condition that they would not pick up his $15M option for 2011. Usually it's the other way around, the player wants the option picked up in exchange for agreeing to the deal. I guess that means Puma really doesn't want to stick around and plans on exploring the open market this winter.
Under normal circumstances, there's no way you'd offer Berkman arbitration given his bloated salary and declining production (yes, I know he was pretty good with the Yanks, but his .345 season wOBA was the worse of his career), but this isn't a normal situation. Berkman's demonstrated a desire to get out of town by demanding that they decline his rather lucrative option, and unless he's had a change of heart over the last few months, I think they should offer Fat Elvis arbitration and hope he declines.
Yeah, it's very risky given his salary and the team's not infinite payroll, but I think there's enough writing on the wall to risk it. Granted, it's not my money, so what do I know. If Berkman was a Type-A instead of a Type-B, I definitely wouldn't offer because a team is unlikely to give up a high pick to sign him. But since that's not the case, I say go for it. Be bold.
Kerry Wood
Wood earned $10.5M this year, which is a boat load for a reliever, even a closer (which he was at the start of the year). In fact, he was the seventh highest paid relief pitcher in baseball this season, just ahead of B.J. Ryan. Yeah, the Blue Jays are still paying that guy.
Anyway, Wood (a Type-B like Berkman) will probably be able to find a job closing games somewhere, but he's not going to sniff that kind of annual salary again. Remember, he was on the disabled list twice before the trade, and his 26 innings with the Yankees were unfathomable lucky (6.23 BB/9, .235 BABIP, 98.1% strand rate). Considering those three things (improbability of finding that much money on the market, his health track record, and unsustainably good performance), I'd wish Kerry good luck and decline to offer him arbitration. If he accepts and you're stuck with a $11-12M setup man … yikes. The Yanks have money, but that doesn't mean they should spend it stupidly. Sorry Kerry.
* * *
So assuming the Yanks offer arbitration to Berkman and Berkman only, they'll receive one extra draft pick next year if/when he declines. Not much, but it's better than nothing in a stacked draft class, especially when the Yanks are expected to forfeit their first round pick to sign a Type-A free agent of some kind. The deadline to offer arbitration is Nov. 23rd and players then have seven days to accept or decline, so this is going to sneak up before we know it.