Not long after the 2010 season came to an end, Brian Cashman let it be known that he's looking to add a second lefty reliever behind Boone Logan next year. Damaso Marte won't start throwing until after the All Star break because of shoulder surgery, nevermind rejoin the team and be productive. For all intents and purposes, the Yanks should consider him a non-factor for 2011. If he manages to contribute anything down the stretch, it's a bonus.
Since the Yankees already have $4M committed to Marte and what could end up being another $1M committed to Logan (he's arbitration eligible for the second time), I don't expect them to go for a big name lefty reliever. Scott Downs (Type-A), Arthur Rhodes (A), Brian Fuentes (B), and Pedro Feliciano (B) figure to be the top names thrown around, but Rhodes was the cheapest of that group last year at $2M. There's no reason to think any of them will take a pay cut after how they performed in 2010, and all but the 41-year-old Rhodes will likely get a multiyear deal this winter. There's little benefit to signing a middle reliever for several guaranteed years; the Yankees have learned this the hard way with Kyle Farnsworth, Steve Karsay, and of course Marte.
I was originally planning to look at some of the second and even third tier free agent LOOGY options in this post, but after my initial research I came to an unsurprising conclusion: they all suck. Seriously, pretty much all of them. Joe Beimel can't miss a bat to save his life, Dennys Reyes puts way too many guys on base, Bruce Chen is Bruce Chen, Mike Hampton … you get the point. There's only player that stood out from the pack, and it's an old buddy of ours.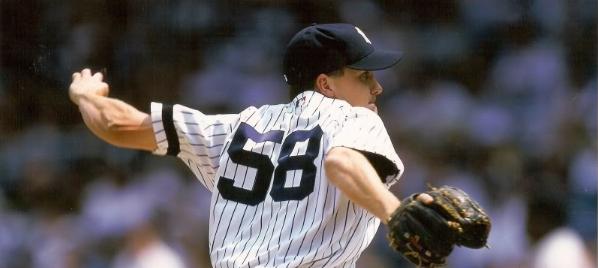 Now 35 years old, Randy Choate originally broke in with the Yankees way back in 2000 after they selected him in the fifth round of the 1997 draft. He was often miscast as a long reliever under Joe Torre's watch, which is why 231 (or 57.9%) of the 399 batters he faced in his Yankee career were righthanded. Choate bounced between Triple-A and the big leagues from 2000 through 2003, eventually being dealt to the Montreal in the first Javy Vazquez trade.
The Expos didn't keep him long, trading him to the Diamondbacks for John Patterson during Spring Training the next year. Choate spent parts of four seasons in Arizona, again going back and forth between Triple-A and big leagues without being able to establish himself. The D'Backs cut him after the 2006 season, and he signed minor league deals with the Twins, D'Backs again, and Brewers. It wasn't until he landed in the Rays organization (on another minor league deal) that things started to break his way.
Tampa started Choate in Triple-A last year, but they quickly called him up in May and made him a bullpen mainstay. Unlike Torre and whoever was running the show in Arizona, Joe Maddon seemed to understand that a side-arming lefty with a mid- to high-80's fastball probably isn't the guy you want to face righty batters. Eighty-three of the 142 batters Choate faced in 2009 (58.5%) were left-handed, and he held them to a .190 wOBA, setting down more than a quarter of them on strike three. When lefties did manage to put in play again him, 68.5% of them hit it on the ground.
The Rays gave Choate his first guaranteed big league contract in half-a-decade last winter, signing him to a one-year deal worth $700,000 to avoid arbitration. Maddon wisely used him primarily against lefties again this year, this time to an extreme. Of the 187 batters Choate faced in 2010, 138 of them (73.8%) were left-handed. Choate again did a great job of keeping them in check, leading the league with 85 appearances and holding lefties to a .261 wOBA with 9.17 K/9. Again, his ground ball rate was an astronomical 61.8%, far above league average. It's not often that balls beat into the ground go for extra base hits.
For the first time in his career, Choate now hits the free agent market on a high note. He's got two very good seasons behind him, and teams are perpetually searching for quality left-handed relievers. Choate's familiar with the Yankees and the AL East and the Yankees are familiar with him, so perhaps that prior relationship gives Cashman a bit of an advantage. Strikeouts and ground balls are very desirable in the New Stadium, so there's a pretty good fit here. He's almost certain to be a more cost effective option than guys like Fuentes or Feliciano.