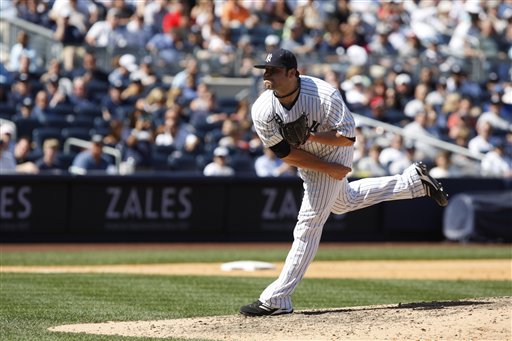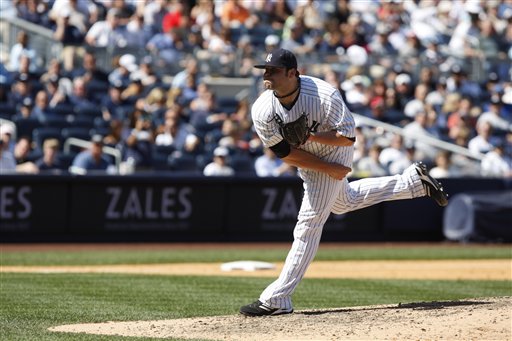 Over the past four seasons, few Yankees have inspired as much analysis, hand-wringing and debate than Joba Chamberlain. He seems to embody both the impossibly high expectations the Yankees and their fans place on young players and the ways in which the organization seemingly cannot get out of its own way when it comes to developing young pitchers. In that latter sense, then, Joba's 2010 campaign is a microcosm of his career. Joba made 73 appearances, and the results should have been better than they were.
By now we know the Joba story. Drafted out of Nebraska in 2006, Joba rocketed through the system in 2007 as a starter and made his Yankee debut in August of that year as a reliever when Kyle Farnsworth could not be trusted. Limited by the Joba Rules, Chamberlain dazzled out of the pen, and his initial success set himself up for inevitable failure. Transitioned into the starting rotation in 2008, he was excellent until a shoulder injury in Texas derailed his season, and while he showed flashes of brilliance in 2009, he didn't regain his velocity. When the team again instituted a variety of rules at the end of last year, the Yanks seemed to consider him a lost soul at the ripe old age of 24.
Heading into Spring Training in February, the Yankees had reportedly planned to host a competition for the fifth starter spot, but it was an unfair one from the start. Before camp began, Joel Sherman reported that the rotation spot was Phil Hughes' to lose, and Joba stumbled through Grapefruit League play. Destined for the bullpen, Joba inherited the eighth inning role and seemed to excel.
Through mid-May, Joba was as good as we could have hoped. He struck out 21 over his first 16.2 innings and allowed just four runs on 12 hits and five walks. But after giving up a combined seven earned runs in back-to-back appearances on May 16 and 18, the wheels fell off. From May 16-July 25, Joba pitched to an 8.42 ERA as opponents hit .348/.408/.500. Stick Joba on the mound, and everyone became Albert Pujols.
Over that span of 26 appearances, Joba gave up runs in 11 of them, and he did so in spectacular fashion. He allowed four runs to Boston in the 8th inning of a game the Yanks were winning and then choked away a six-run lead against the hapless Indians two weeks later. His nadir came on July 10 when he came in with a 1-0 lead and gave up a grand slam to Jose Lopez.
But through it all, the numbers just didn't add up. Over those 25.2 innings, Joba had a FIP of 3.49, a mark nearly 5 runs per 9 innings lower than his actual results. He was still striking out more than a batter an inning, and the home run to Lopez was just the second he had surrendered all season. We were waiting for the market correction to come, and it finally did in late July.
Over the final two months of the season, Joba returned to form. In 29.1 innings, he struck out 30, walked just five and gave up seven earned runs on 20 hits for a nifty 2.15 ERA and a FIP — 2.89 — nearly to match. Joba saw limited playoff action in 2010 but gave up just a run in 3.3 innings against the Rangers.
So what do we make of this? On the one hand, Joba's 9.7 K/9 IP was his best mark since 2008; his 2.8 BB/9 IP was his lowest since his debut season in 2007; and he showed a marked improvement in keeping the ball in the park. On the other hand, at times, he just didn't have the confidence in his stuff. He threw too many 3-2 sliders and seemed tentative. Even though his velocity seemed to return to pre-shoulder injury levels and improved as the season wore on, he went through stretches where he fooled no one.
The numbers too bear out these struggles. Fewer than half of his pitches were inside the strike zone, and only 9.4 percent of his strikes were of the swinging variety. In 2007, he notched an impressive 16.7 percent mark in that category. His fastball, a whopping negative 20 runs below average last year, rebounded to 2.8 runs above average while the slider dipped from 7.6 runs above average to just 3.6. Perhaps the league has caught on to Joba's approach and his stuff. Perhaps he'll never be as consistently good as he was for a few months in 2007.
Going forward, the Yankees seem intent on keeping Joba in the bullpen. "We consider him a bullpen guy in the back end of the bullpen," Joe Girardi said last month. Even though Joba's stuff seems to be rebounding, even though he can gets the outs and could be a more valuable member of the pitching staff, the Yanks like his stuff in the pen and clearly view him as the heir apparent to Mariano Rivera if he can keep his head in the game.
And so I'm left without a word to put into the blank. Did Joba's season go wrong because of his mid-summer struggles? Did it go right because it validated the Yanks' decision to put him in the pen and saw his strike out abilities return? Whatever the answer, Joba remains an enigma who just might not be as good as we all hoped and dreamed he would be.