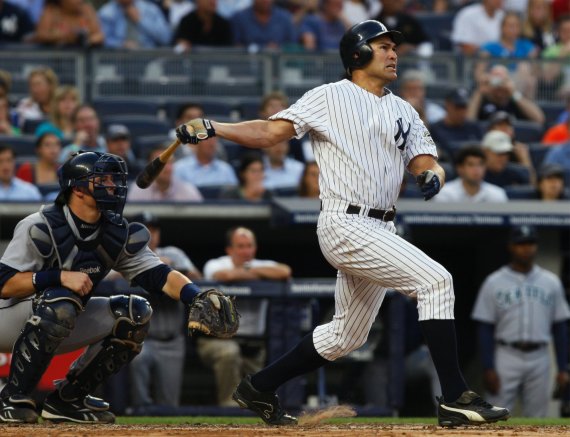 Yesterday evening Newsday's Ken Davidoff reported that the Yankees "have been communicating with free agent Johnny Damon about a possible return to the Yankees for 2011." A few minutes ago, Mark Feinsand said Damon "won't rule out" a return to the Bronx but wants a full-time job somewhere. If Damon could be convinced to return to the Bronx, should the Yankees take him back?
As a fan, the answer is easy. Do I want Johnny Damon back in pinstripes? Sure I want Johnny Damon back in pinstripes. Despite a blip at the beginning of 2007 he was everything the Yankees could have hoped for when they signed him to a four-year, $52 million contract before the 2006 season. During the life of the contract he produced 12.3 WAR, 18th among MLB outfielders in that span, but it was in the last two years that he really shined. In 2008 and 2009 he produced 7.1 WAR, fifth best among LFers. And, most importantly, his career-high 24 homers in 2009 helped lead the Yankees to a world championship.
As someone interested in how the Yankees perform in 2011, the answer is a bit different. Damon played his last contract at ages 32 through 35. He'll play the 2011 season as a 37-year-old. Plenty changes at that age, especially for ballplayers. If Damon's skills have declined, or we can forecast his skills to decline, then it doesn't matter what he did in his previous stint. All the Yankees care about now is whether he can help the team in 2011. I propose that he can. The only problem might be convincing him to take on a reduced rule.
It's true that Damon's numbers suffered in 2010. After moving from Yankee Stadium to Comerica Park he had a season that looked more like 2007 than it did 2008 or 2009. In fact, his batting lines were nearly identical: .270/.351/.396 in 605 PA in 2007 and .271/.355/.401 in 613 PA in 2010. Park adjustments helped him a bit, but his 2010 was certainly below the bar he set in his final two seasons with the Yankees. He also played just 268.1 innings in the field, likely because he developed a reputation as a poor defender in 2009. While I won't ignore this evidence, I do think there might be factors that help explain the dip, and might also mean a bounce back for Damon in 2010.
First, take a look at this image.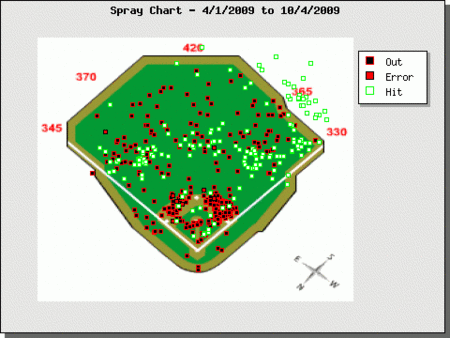 This might appear a bit damning. You can clearly see that Damon didn't hit with nearly as much power to right field. That's his bread and butter. If he can't do that any more, then of what help is he to the Yankees?
I don't think this is the case. While there is a clear drop-off in distance on balls to right field, there might be good reason for that. At Yankee Stadium Damon had the porch 318 feet away. The left-center field alley might be 399 feet away, but there is plenty of space where the wall is far, far closer. Damon clearly used that to his advantage and popped plenty of balls over that wall. In Comerica the right field line is 345 feet away, and while it extends to only 370 in left-center, it continues back to 420 feet in dead center. Many of the home runs Damon hit in 2009 would have been fly outs in 2010 at Comerica. It's my position that he adapted his style to the park.
My only supporting evidence is on the left side of the batted ball chart. You'll notice that Damon hit quite a few balls deeper to left field in 2010 than in 2009. I can't be completely certain, but it does appear to be the result of a slightly different approach at the plate. If he knows he can't just pop flies over the wall, why try for that? I think that a return to Yankee Stadium could mean a return to his short porch swing, which could again lead to bigger power numbers. He won't do what he did in 2009, but if he does what he did in, say, 2006, he'd be worth having on a one-year contract.
If the Yankees did re-sign Damon it would be as a fourth outfielder, with the possibility for more playing time should something go wrong. In other words, he's Brett Gardner and Jorge Posada insurance. While I doubt there will be vocal opposition to the latter, the former might make some people cringe. The story during 2009 was Damon's tenuous defense in left field, and that reputation followed him into the off-season. I'm not sure that his deficiencies are as pronounced as we had originally thought. Yes, he did look lost out there at times, but I also think that he did get better as the year went along. As regards his defensive numbers, they're really not all that bad.
Before some changes to the UZR output, Damon had something like a -16 UZR in left — though I'm not sure of the exact number. To correct for a few deficiencies the formula was tweaked, and it gave quite a different answer this time: -4.4 UZR. DRS had him at just -1. Total Zone actually liked his defense, giving him +6. If we combine the last three years of data, and we weigh it by giving last year more precedence than the years before, I think we'd come out somewhere around league average. That's all the Yanks really need from a fourth outfielder, especially if he can fit.
If the plan is to sign Damon and then trade Gardner for a pitcher, well, that certainly changes things. I'm not sure that Gardner is tradable, anyway, because of his wrist. But if that is the plan upon acquiring Damon, I'm not sure I like it. It puts Damon into a necessary role, and I'm not quite that high on him. As a fourth outfielder and insurance policy, I think he's worth a slight overpay on a one-year deal. With plenty of available funds I think it's a decent signing. If he regains some power at Yankee Stadium it will be a worthy deal. If he doesn't, then he's the fourth outfielder for a year and moves on. I don't see much downside to this.