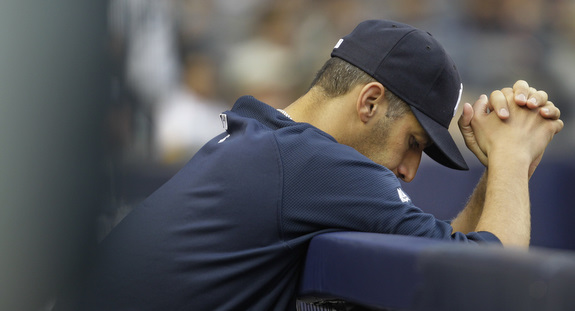 The 2008-2009 offseason was a memorable one for Yankees fans. The team kicked it off by trading spare parts for Nick Swisher before going for the kill in December, signing CC Sabathia, A.J. Burnett, and Mark Teixeira for a total of 20 contract years and $423.5M. Those moves would turn just about any team into a contender, but the Yankees still had one order of business left to finish heading into the new year: Andy Pettitte remained unsigned.
Pettitte, 37 at the time, was coming off his worst season in a decade. An achy shoulder hampered him throughout the second half of the season, and it saw him post a 6.23 ERA in his final eleven outings. He lost 14 games on an 89 win club, and his 4.54 season ERA was the second highest of his 14-year career. All that came at the cost of a $16M salary.
Similar to the Derek Jeter situation, the Yankees negotiated with Pettitte through the media. Also just like Jeter, a legion of fans were irate that the team wouldn't give Andy what he wanted just because he was Andy Pettitte. The Yanks did offer the lefty a one-year deal worth $10M, but it was eventually rejected. If the Yanks had offered that much money to another 37-year-old pitcher with a PED past and a recent shoulder issue that was coming off his worst season in ten years, we'd be livid. But because it was Andy Pettitte, it wasn't enough.
Negotiations carried on well into January, and in the middle of the month we heard that Pettitte's return was less than 50-50, something that sounds all too familiar these days. The two sides eventually came to terms on January 26th, two years ago today. The new one-year deal guaranteed Pettitte just $5.5M, and he admitted that the pay cut stung.
"Heck, the bottom line is I'm a man, and I guess it does take a shot at your pride a little bit," said Andy during a conference call with reporters soon after the deal was announced. "But when you put all that aside, I wanted to play for the New York Yankees and, you know, that was the bottom line.
"I know I could have made a lot more money than what I signed for (somewhere else), but if you want to play for one team you're going to have to make sacrifices. If it means me taking a pay cut, then it means me taking a pay cut."
Of course Pettitte ended up making much more than his $5.5M base salary that season. Incentives tied to innings pitched and days on the active roster put another $4.75M in his pocket, so his total earnings in 2009 climbed to $10.25M, more than the contract he turned down earlier in the winter. Then there's another $365,000 from his World Series share.
As much as we'd like to make this date another anniversary for Pettitte, it's extremely unlikely to happen. We're all still waiting for Pettitte to give definitive word about his plans for 2011, but the Yankees have assumed the worst. Brian Cashman has maintained all offseason that they are not counting on Andy and are working under the assumption that he's staying home for the season, something he reiterated at yesterday's WFAN breakfast. Waiting and being patient is nothing new for these two parties, but now we're venturing into uncharted territory.
Note: This post was originally published this morning, but quickly got buried by the Bartolo Colon news. I'm just moving it back up to make sure no one misses out.