Games like last night's happen throughout the course of a 162-game season, but that doesn't make them any less frustrating. The Yankees are still in first place and (more importantly) still have the second best run differential (+39) in the league. It hasn't been pretty over the last few weeks, so let's break out the old complaint box…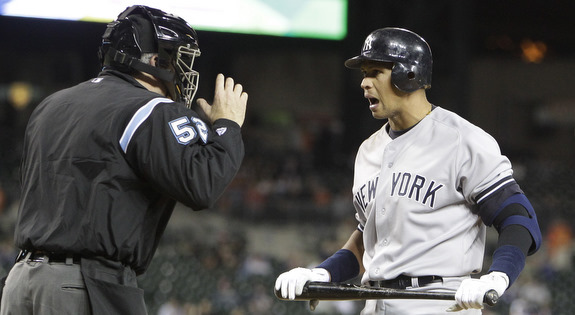 .208/.330/.299
That's what the Yankees are hitting with men in scoring position over the last two weeks or so, since the second game of the Detroit series*. I usually don't put an overwhelming amount of stock in performances with RISP since it's generally a small sampling of plate appearances (just 90 over that time, which is nothing in context of the entire team), but that doesn't mean the Yankees' failures in those spots don't drive me insane. Last night was the epitome of RISPFAIL, as they went just 2-for-16 with men on second and/or third and stranded 15 runners in 11 innings. Just awful.
A-Rod's Slump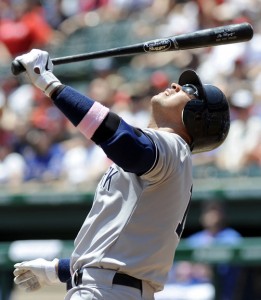 The newer, slimmed down version of Alex Rodriguez was a monster at the outset of the season, hitting .385/.500/.821 with four homers in his first 13 games before missing one game and part of another with a stiff back/oblique. He just hasn't been the same since, hitting .194/.260/.269 in his 17 games back. The grand slam in his first game back against the Orioles seems like a distance memory. It's clear that Alex's timing is off at the plate; he's fouling off pitches he should crush and completely whiffing on others he should at least hit hard somewhere.
Other slumps of note: Robinson Cano (six for his last 30), Russell Martin (six for his last 40), and the year-long ugliness of Jorge Posada (.162/.273/.352) and Nick Swisher (.217/.336/.296).
David RoBBertson
I had some fun with David Robertson's knack for pitching out of other people's messes yesterday, but you know what? The guy has a serious walk problem. He's always been a little wild, sure, but this year he's unintentionally walked nine men in 14 innings (5.79 uIBB/9), and that includes eight walks in his last 5.2 IP. Robertson's walked at least one batter in his last six appearances after walking just two in his first ten games. Is it possible that warming up practically every game in April is taking a toll on his arm now? He's never been known as a control freak, but the sudden spike in free pass rate is a nice piece of anecdotal evidence. That leads me to this…
Innings Roles
I hate 'em. Mariano Rivera in the ninth? Perfectly fine with me, no issue there whatsoever. $35M setup man in the eighth? Fine, I can live with that. But having a designated seventh inning guy? Now we're really pushing the envelope of common sense. There needs to be more flexibility with Joba Chamberlain, David Robertson, and even Boone Logan in those spots, if for no other reason than to avoid wearing one or all of them out given all these close games the Yankees have been playing.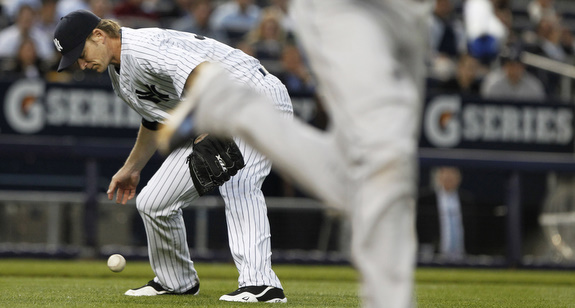 Fundamentals
How many rundowns have we seen the Yankees botch this season, especially when pitchers are involved? Whatever the number is, it's too many. Rundowns have to be viewed as guaranteed outs, and they've not only failed to convert a number of them, but they've often ended up costing the team runs. We've also seen instances of pitchers forgetting (or being too lazy) to cover first base, or just muff balls grounded to their area. Did they just skip PFP in camp because four-fifths of a rotation is made up of veteran guys? Whatever it is, the sloppy play needs to be cleaned up.
* * *
These are just a few of the more … annoying aspects of the team right now, but there's certainly several others. Those include the heavy use of the sacrifice bunt, Buddy Carlyle's presence on the roster, Logan's general inability to get out lefties, Cano's hackiness, so on and so forth.
* Cherry-picking at its finest.