Just a heads up, we're getting lots and lots of Joba Chamberlain-related questions into the inbox. So much so that I might do a Joba-specific mailbag on Monday, once the dust settles and we're all thinking clearly. Plus I just didn't have enough time to do one for today. So anyway, here is this week's mailbag. Use the Submit A Tip box in the sidebar to send in your questions, as always.
Daniel asks: Do you think Matsui has anything left as bench bat and part-time DH? By the trade deadline, the A's should be even further back and might want to shed the remaining ~ $2M or so on his deal. With his current level of production, can't imagine it'd take much more than a C level prospect no?
You have to remove the name when talking about guys like this, because Hideki Matsui's status as a True Yankee™ will certainly create biases and cloud judgment. Do the Yankees have a need for a left-handed hitting, part-time designated hitter/bench bat? Not, not really. They already have one in Jorge Posada. Here, look…
Posada in 2011: .203/.311/.366, .303 wOBA, 87 wRC+
Nameless Player: .215/.265/.337, .264 wOBA, 65 wRC+
Posada vs. RHP in 2011: .234/.331/.435, .342 wOBA, 114 wRC+
Nameless Player vs. RHP: .210/.267/.297, .249 wOBA, 55 wRC+
Posada with RISP in 2011: .171/.356/.257, .290 wOBA, 78 wRC+
Nameless Player with RISP: .209/.280/.302, .243 wOBA, 51 wRC+
The triple-slash and wOBA numbers are FYI more than anything, wRC+ is the most important number there because it's park adjusted. There's an obvious difference between Yankee Stadium and Whatever They're Calling It These Days Coliseum. I don't put much stock in performance with runners with scoring position, so that's there for those that do more than anything.
In addition to just the overall offense, at least Posada is a switch-hitter, and there's a tiny bit of value in that even though he's been brutal (-16 wRC+ … -16!) against lefties this year. He can also play catcher in an emergency, which is more defensive value that Nameless Player provides. In reality, neither of these players should be on the Yankees' roster, but one is and apparently it's going to take a minor miracle to get him off it. Adding a second player like that doesn't make sense to me, regardless of how little he makes or how easy it would be to acquire or what he did in the past.
Dan asks: I thought Hector Noesi was supposed to be a fastball-changeup guy? ("He backs [the fastball] up with quality changeup, his second best offering, and he also throws both a slider and a curveball." From Mike's prospect profile) So far in the majors he's throwing a ton of sliders, and a decent amount of curveballs. Only 6 changeups in 71 pitches Tuesday night, and about 7% coming into the night. What's the dealio?
Hey, I'm not the only one that said that. From Baseball America's write-up of the Yankees' top ten prospects before the season (subs. req'd)…
He pounds the zone with an 89-93 mph fastball, reaching as high as 96. His maintains his velocity deep into games, and his fastball has some run and tail. Noesi's No. 2 pitch is a changeup with similar action, though he doesn't quite command it like his fastball. His curveball and slider remain below-average offerings, but he flashes the ability to spin the ball.
Remember, we're talking about a ridiculously small sample size. Noesi's faced 58 batters and thrown 204 pitches in the big leagues, which is nothing. Here's the breakdown of those 204 pitches: 107 fastballs, 61 sliders, 14 curves, and 14 changeups. That adds up to 196, and the missing eight pitches were part of intentional walks. He's faced 29 righties and 29 righties, so it's not a platoon thing (changeups are used primarily against batters of the opposite hand).
I honestly don't know what the deal is, but I suspect it's more of a fluke than anything given the number of batters faced and overall pitches we're talking about. Pitchers typical go with their two best offerings in relief, maybe he felt the slider was a better swing-and-miss pitch at the time? Maybe Russell Martin (who's caught all 204 of those pitches) just hasn't called it enough and Noesi's too rookie-ish to shake him off?
Ross asks: When will we get to see Montero in the Bronx? This Cervelli experiment has run its course. If we're going to accept mediocre defense, we can at least have a bat in the lineup for when the bottom half of the order gets on base. Would there be any takers on the trade market for Cervelli?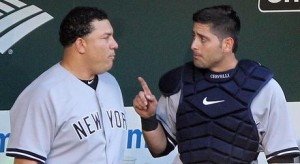 I think we've reached the point where Jesus Montero could be called up literally any day now. If it happened today, I would not be surprised. It's bad enough that Frankie Cervelli can't throw anyone out (he's gunned down 11 of the last 84 that have tried to steal off him, 13.1%), but now he's gotten into the habit of throwing the ball into center field and giving runners an extra base. It's not just some annoying problem anymore, it's in the scouting report and teams are exploiting it.
Despite his general awfulness, I'm certain that Cervelli has some value on the trade market. He's cheap and young, and the position itself is pretty much a wasteland these days. The Giants are looking for catching help following Buster Posey's injury, the Pirates are as well with Ryan Doumit and Chris Snyder on the shelf. I'm not saying there's a trade match between the Yankees and either of those clubs, but there are teams out there looking for catching.
J.R. asks: I know that Banuelos has had control problems in the minors, but I'm wondering how he has done against lefties. With both an innings cap coming up (not sure what you would guess it is) and the need for a LOOGY, would it make sense to put him in the pen for August and September (maybe even October)? It wouldn't really hurt his development and would give him major league experience.
I'm glad someone asked this because Banuelos is not exactly an ideal LOOGY candidate. Here's the numbers, first…
vs. LHB in 2011: 14.1 IP, 10 H, 2 R, 1 ER, 7 BB, 15 K, 1.22 GB/FB
vs. RHB in 2011: 36.1 IP, 37 H, 17 R, 15 ER, 22 BB, 30 K, 1.27 GB/FB
vs. LHB in 2009-2010: 34.1 IP, 27 H, 12 BB, 30 K, 4.15 FIP, 5.04 xFIP
vs. RHB in 2009-2010: 139.33, 116 H, 40 BB, 151 K, 2.54 FIP, 3.99 xFIP
The 2009-2010 numbers are park adjusted, courtesy of the minor league splits database at Driveline Mechanics. The numbers from this year come right from his milb.com player page. First of all, this does a great job of showing you just how relatively inexperienced Banuelos is. He's faced a total of 485 batters in the last 32 months. For some perspective, CC Sabathia has faced 424 batters this year alone.
Secondly, Banuelos has a reverse split. Not necessarily this year, but from 2009-2010 and as a whole from 2009 through today. Why? Because he's a fastball-changeup pitcher (with a great changeup), and changeups (as I said earlier) are used primarily against batters of the opposite hand. Banuelos' best pitch doesn't help him at all against lefties; he's got to use his fastball and curveball (easily his third best pitch) to get those guys out.
Just because a pitcher throws left-handed doesn't mean he's a LOOGY candidate. Banuelos projects as a starter long-term because he can neutralize right-handed batters with that changeup, but he's still got to work on improving the rest of his repertoire and his command, especially this year. The Yankees have other LOOGY options in house, namely Randy Flores, and there are always guys like Jerry Blevins and David Purcey on waivers. Given the complete debacle of Joba Chamberlain's development, I'd rather not see the team turn another high-end pitching prospect into a reliever for the big league club then try to turn him back into a starter long-term. I honestly have very little faith in it being done in a way that won't hurt Banuelos' long-term development/future.