Four questions on this Friday morning, one about a current Yankees' pitcher, one about a former Yankees' pitcher, and a pair about the farm system. Remember to use the Submit A Tip box in the sidebar to send in your questions throughout the week.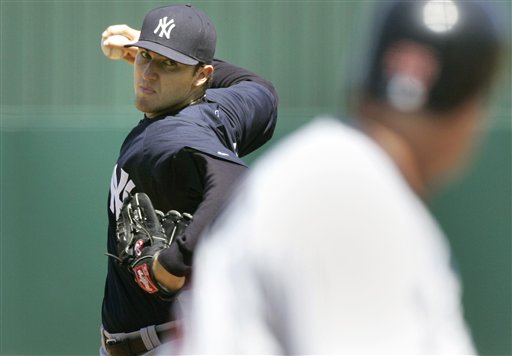 Shai asks: Is Hughes a candidate for fall/winter ball? Given his few innings this year and his obvious need for secondary pitch development maybe it would be good for winter ball participation.
Yeah, I definitely think so. The Arizona Fall League eligibility rules have apparently changed since I last looked at them, but Phil Hughes is ineligible anyway because he has more than a year of service time. They could send him to Puerto Rico or the Dominican Republic, but I can't ever remember the Yankees sending a pitcher to a Latin America winter league. I know Robinson Cano and Melky Cabrera used to play in the DSL every year, but they're obviously not pitchers. Hughes needs innings one way or the other, whether the Yankees consider him part of their future or not. Another handful of starts in winter ball.
RCK asks: Do you know what the incentives are on Chien Ming Wang's contract? I can only find articles saying they're worth $4MM total, but nothing about what the milestones are. Speaking of Wang, where do you think he'll land next year?
Wanger signed a one-year deal with the Nationals worth $1M guaranteed this offseason after they paid him $3M last season. There's another $4M worth of incentives in his contract, and Mark Zuckerman says they're based on the number of games he started. I have no idea what the breakdown is, though he's made six starts this season and might already be banking some of that extra cash.
It's great that Wang is back in the big leagues, I'm legitimately happy for him, but he's having a very odd season so far. He's walked 13 and struck out just nine, and his ground ball rate is merely very good at 54.5%. In his heyday (2006 and 2007), he was at 60.8% grounders. After spending all that money and waiting all that time for him rehab, I have to imagine the Nationals will re-sign him after the season, when he'll become a free agent by virtue of having six-plus years of service time. Wang still has a long way to go in his comeback, but he's off to a nice little start.
Will asks: Which Yankee prospects have seen their stock rise and which have seen their stock tumble? Can you see any players make the BA Top 100 list for the first time and can you see anyone drop in their ranking?
The two biggest risers for me are Mason Williams and J.R. Murphy, and I really liked Murphy coming into the season. His improved defense behind the plate increases his stock considerably, it's just a shame that his season ended prematurely with that leg injury. I remember seeing someone mention that it happened on a foul ball, but I haven't seen that confirmed anywhere. Williams obvious had the huge season with Short Season Staten Island, but apparently he has way more power potential than I realized. I thought he was a 10-12 homer guy at his peak, but apparently he's got a shot at 20+. That would be amazing given the rest of his skill set and athleticism.
As far as droppers … I mean obviously the big one is Andrew Brackman. Yes, he has pitched much better of late (since that nine walk, 3.1 IP disaster), but it doesn't erase what happened earlier in the year. He's not young (in prospect years) and he still has a ways to go before proving that the improvement is real. Slade Heathcott's third shoulder injury in four years really puts a damper on things for me, because it's the same body part over and over. You have to worry if it'll become (or already has become) a chronic problem. All the time Graham Stoneburner missed because of the neck certainly isn't a positive, same deal with David Adams and his never-ending injury troubles. Ryan Pope had a chance to see big league bullpen time this year but wound up hurt, back in Double-A, and eventually DFA'd. Melky Mesa and Jose Ramirez didn't help their causes either.
The Yankees landed six players on Baseball America's Top 100 List and five on Keith Law's Top 100 List before the season. Jesus Montero, Manny Banuelos, and Dellin Betances are locks for the list next year, and I think Gary Sanchez has a decent shot of making it again as well. It's not set in stone though. I have to imagine Brackman will drop off the list, and Austin Romine was barely sneaking on in the first place. Williams is the only serious candidate to jump into the list, and if he does so it'll be in the back half somewhere, 75-100 or so. There will be many guys closer to the majors ahead of him. So what's that, three shoo-ins and three others with a legit chance to make it? Not bad at all.
Melvin asks: For the next mailbag, what (if anything) does it mean that most of the Yankees farm teams aren't making the playoffs? The farm system is well regarded in terms of prospects, is it maybe just a matter of the non-prospects not performing? So in short, does this even matter?
Winning in the minors is always secondary to development, but everyone wants to win. It's good for business (for the affiliates), and you don't want your young players getting familiar with a losing atmosphere. The Yankees' four full-season minor league affiliates are likely to miss the postseason this year for the first time (as a group) in basically forever, but I don't think it means anything at all. As far as I'm concerned, it's an anomaly.
New York's affiliates have been making the postseason and winning league championships for years now, so this is way out of the ordinary. At least one of the full season squads has won a championship every year from 2007 through 2010, and that doesn't count the five titles won by Short Season Staten Island since 2000, or the four the GCL Yankees have won since 2004. Yankees affiliates have finished the season with a combined over-.500 record in each of the last 28 years, and the streak is likely to continue in 2011. If none of the four full season teams make the playoffs again next year, and then against the year after that, and it starts to become a trend, then I'll wonder what's up. But one year? Nah, I'm just chalking it up to being a total fluke.