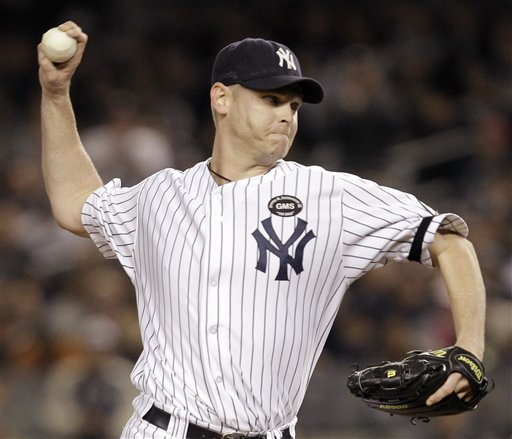 Last off-season might have gone a bit differently if not for Kerry Wood's desperate desire to again pitch in Chicago. After coming over to the Yankees at the 2010 trade deadline, Wood impressed all observers, allowing just two runs himself, plus one inherited runner, in 26 IP. In the playoffs he continued his impressive pitching, allowing just two runs in eight innings. After the season Wood became a free agent, and the Yankees expressed desire in re-signing him. But Wood yearned for his professional roots in Chicago so deeply that he signed a one-year, $1.5 million contract. Had Wood been more open to a more lucrative one-year deal with the Yankees, they would not have signed Rafael Soriano.
This off-season, Wood has changed his tune. While he'd reportedly like to stay in Chicago, he won't sign quite so cheaply this time. Rather than give one team preferential treatment, Wood seeks a market value deal for his services. The latest, from Dave Kaplan of CSNChicago.com (via MLBTR), speculates that Wood's "days as a Cub appear all but over." The Cubs apparently offered Wood a "substantial" raise over last season, but apparently it is not to his liking. That opens the market for him.
The Yankees have a relatively stacked bullpen, so Wood's presence is not a necessity. As Mike noted recently, there are only two remaining bullpen spots and plenty of candidates to fill them. Since one will likely go to a long reliever — which they will need if they plan to start the season with Phil Hughes and A.J. Burnett in the rotation — that leaves only one spot for Wood. It's unlikely that the Yankees want to fill out their bullpen with unmovable bodies right now, so a Wood reunion is nothing but a fantasy. Yet it remains intriguing. A stacked bullpen can help bandage a wounded rotation until reinforcements arrive. Having Wood, Soriano, David Robertson, and eventually Joba Chamberlain* available to pitch later in games, the Yankees could seal down victories even if their starters go five innings and give up four runs.
*Unless, of course, Joba goes to the rotation. /troll'd
The bullpen situation isn't the only one holding back the Yankees from making this move. They also have budgetary issues. The Yankees could decide to expand the budget in order to augment the starting rotation. But to make a budget-expanding decision for another relief pitcher? It seems unlikely. While there's not a ton of risk in the move — it would cost around $4 million for one year — there's also limited upside. Again, it would be reinforcing an area of strength. That can help in some ways, but it probably won't make a huge impact.
Still, it's tough to think of Wood and not remember his glorious run from August through October, 2010. His very first appearance set the tone for his tenure. He came in to relieve CC Sabathia in the 7th inning of a game in Tampa, striking out the final batter of the inning. He then walked the leadoff hitter in the eighth and then allowed a single before striking out the next two guys and then loading the bases with a walk. Chad Gaudin had to finish the job, but that's because Joe Girardi didn't yet know what he had in Wood. For the next three months Wood got the Yankees out of numerous jams, many of which were of his own creation. It wasn't quite magical, but it was certainly something different. It's the kind of run that makes fans want the player back with their team, despite the possible irrationality of it.
Many contenders could use bullpen help, and plenty of them likely have $4 or $5 million they could pay Kerry Wood. They also might have more prominent setup roles. This, combined with the Yankees' needs elsewhere, makes it unlikely we'll see a clean shaven Kerry Wood donning pinstripes in 2012. It's a nice thought, given how well he pitched in 2010. But right now the case for bringing in Wood is based on nostalgia. That's probably not something that will convince the Yankees brass to make the move.