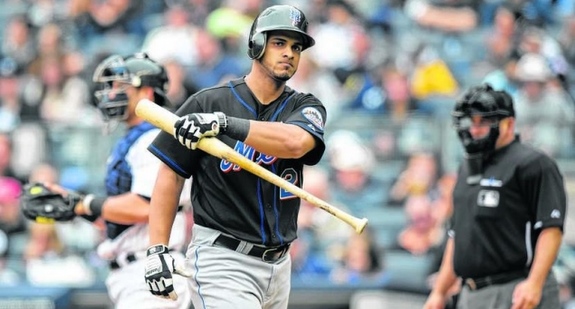 Yesterday afternoon the Mets somewhat surprisingly waived former top prospect Fernando Martinez, cutting ties with the 23-year-old outfielder to make room on the roster for personal fave Scott Hairston. Baseball America considered him one of the top 100 prospects in the game as recently as 2010 and four times overall, but the Omar Minaya regime did their best to sabotage his development by rushing him through the minors. The new Sandy Alderson led front office is basically turning the page.
It's all but guaranteed that some team will acquire Martinez from the Mets, either off waivers or through trade. Should that team be the Yankees? Let's take a look…
The Pros
Like I said, Martinez is only 23 and will spend all of next season at that age (born in October). He's a little more than a month older than Austin Romine, for reference. If nothing else, time is on his side.
"Martinez has power potential to all fields, though he has gone to left-center less frequently than when he was younger," said Baseball America (subs. scouting report) when they named him the Mets' third best prospect in 2010. "His bat speed and improved ability to make contact should allow him to hit for a solid average."
Adam Rubin confirmed that Martinez does have one minor league option remaining, so he can be sent to the minor leagues in 2012 without a problem. With less than one full year of service time to his credit, he'll remain under team control for another six seasons. Martinez will qualify as a Super Two when the time comes, however.
The Cons
Like I said, the Minaya regime rushed him badly. Martinez was playing in Double-A as an 18-year-old despite playing just 87 games and getting just 386 plate appearances in the low minors. He was in the big leagues as a 20-year-old in 2009.
Not only has he been rushed, but injuries have taken away from his development. Martinez has never played more than 90 games or received more than 400 plate appearances in a single season, topping out at those totals in 2008. He's been done in by a wrist strain (2011), right knee arthritis (2010), right knee surgery (2009), an elbow strain (2008), and various hamstring problems (2008, 2010, 2011).
In his 145 big league plate appearances, he owns a .245 wOBA overall and a .195 wOBA against left-handers. His career Triple-A batting line is fine (.265/.326/.465 in 727 plate appearances), but he's never walked much (6.6 BB% in the minors) and he's become more strikeout prone as he's climbed the ladder (21.7 K% in Triple-A). He also doesn't steal bases (just 20-for-32 in the minors).
Once considered a future center fielder, Martinez is now considered a corner guy because the leg injuries have sapped his speed. His arm isn't all that great either, meaning left field is the best fit.
When I looked at Jai Miller as the potential scrap heap pickup a few weeks ago, I did so thinking he might represent an upgrade over what the Yankees currently have on their 40-man roster, specifically Justin Maxwell. Small moves like that often get overlooked but they are important, as improving the margins of the roster can yield significant benefits down the road. The same logic applies to Martinez, who at this point is little more than a roll of the dice.
The incumbent left-handed hitting spare outfielder is Chris Dickerson, who is a fourth outfielder type that can hit righties a bit (career .340 wOBA), play solid defense in all three outfield spots, and steal some bases (24-for-30 career). He's no higher than fifth on the Yankees outfield depth chart though, and since he's out of options he can't go to the minors without first clearing waivers. There's a chance he'd get claimed. Martinez is six and half years younger, has more power (see some of it here and here), and can go to the minors without a problem, which might make him a better fit for the team and their roster. After all, Dickerson could be gone before Opening Day whether the Yankees like it or not.
I don't think there's any chance Martinez will get to the Yankees on waivers; a team with a higher waiver priority will surely claim him first, which means they'd have to work out a trade with the Mets. Crosstown trades don't happen very often, but that doesn't mean they can't happen. Dickerson is the better player at this point, but Martinez provides more flexibility and long-term potential, even though most of his prospect shine has worn off.