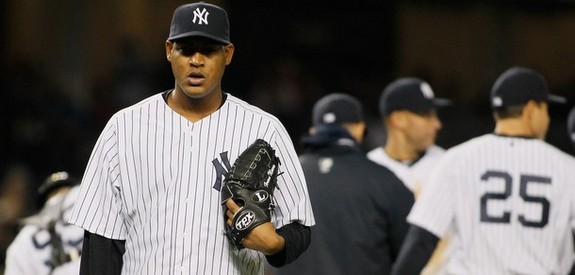 It's been kind of an odd start to the season for Ivan Nova. He's striking out way more batters (8.22 K/9 and 19.6 K%) than last year (5.33 K/9 and 13.9 K%) and has walked fewer as well (2.64 BB/9 and 6.3 BB% vs. 3.10 BB/9 and 8.1 BB%), but his ground ball rate is down (44.2% vs. 52.7%) and he's been getting hit hard. I mean really hard. Opponents have hit .341/.392/.636 against Nova in 143 plate appearances so far this year, and that's just awful.
Thankfully, there are two pieces of good news. First, his stuff hasn't changed from last season. His slider continues to be his primary secondary pitch and if anything, his fastball velocity actually jumped about half-a-mile an hour this year. Secondly, there is some statistical funny business going on. It's very unlikely that Nova will fall victim to a .393 BABIP all season, though I suppose it's possible if he doesn't boost his ground ball rate and Raul Ibanez/Eduardo Nunez roam an outfield corner all season. His 16.7% HR/FB is quite astronomical and Hit Tracker says three of the six homers he's allowed are "Just Enoughs," meaning they were essentially wall-scrapers. Hopefully that evens out over time.
Unfortunately, there's also some bad news. Nova's fastball has been getting hammered despite the slight increase in velocity, resulting in a pitch that has been 9.2 runs below average so far this year. It hasn't just been the least effective fastball in the league this year, it's been the least effective pitch in all of baseball. That's pretty bad. Unsurprisingly, location is a big reason why. Nova's left the pitch up in the strike zone quite a bit in the early going, especially to left-handed batters…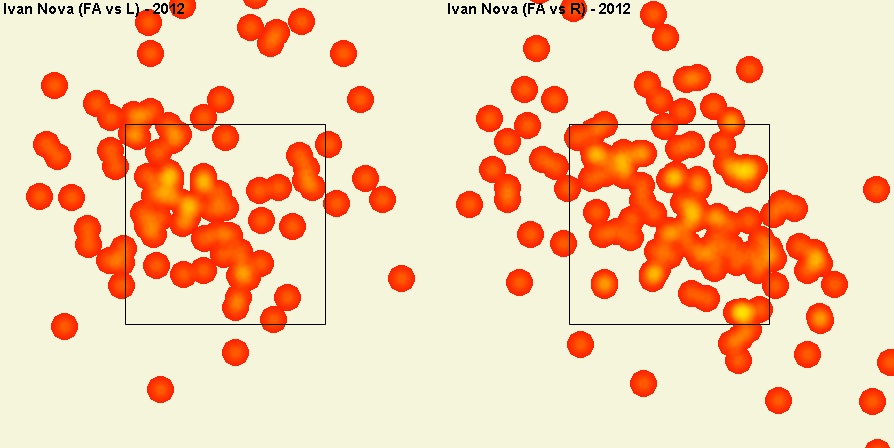 That's a lot of fastballs basically right in the middle of the zone and above. There's nothing wrong with pitching up in the zone, it can be brutally effective when done properly, but the rate at which Nova is going is probably a) a little extreme, and b) not entirely planned. The big knock on him throughout the minors was that he lacked deception in his delivery, which is why he never racked up as many strikeouts as his stuff suggested he should. If he's not hiding the ball well and leaving fastball up in the zone too much, well that's how you end up with a .341/.392/.636 batting line against through five starts.
The Rays have been one of the very best fastball-hitting teams in the majors so far this season, so tonight would be a great time for Nova to get his heater under control and down in the zone. Given the general uncertainty in the rotation behind CC Sabathia, it would be nice to have Ivan become that workhorse starter we all expected him to be after his great second half last year.