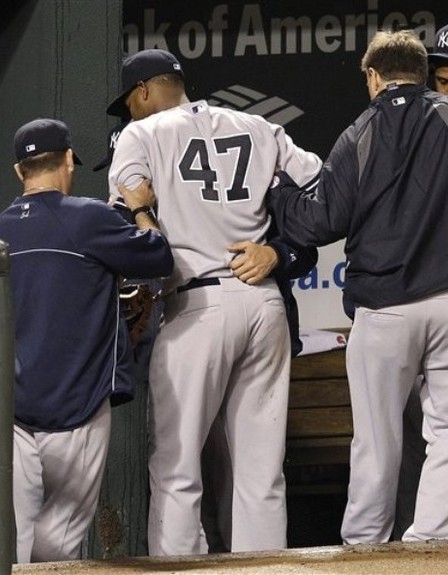 The Yankees won last night's game against the Orioles but lost four players to injury in the process. Clay Rapada's viral infection isn't the end of the world and even if he needs time on DL, the recently claimed Justin Thomas can take his place as the second lefty rather easily. Raul Ibanez has a nice little mark on his right elbow after getting hit by a pitch, but he said he'll probably be able to play today. With the left-handed Wei-Yin Chen on the bump for Baltimore, Ibanez figures to get the day off anyway.
The injuries to Ivan Nova and David Robertson are potentially much more significant. Nova took a comebacker off his right ankle/foot in the third inning and apparently did more damage fielding a ground ball in the sixth, suffering a contusion and sprain of that right ankle and foot. It's unclear if he'll have to miss a start at the moment, but I assume David Phelps will shift back into the rotation if Nova can't give it a go in five days. That can be problematic because it will shorten the pitching staff, which is already without Mariano Rivera and will likely lose Robertson as well.
The setup man turned closer suffered some kind of rib cage injury during his last appearance on Friday and it lingered through the weekend. Robertson is headed for tests today and almost any kind of oblique issue would result in a DL stint. Those can be very tricky and it's easy to turn a minor oblique/ribcage injury into a major one if it isn't given enough time the heal. With Mo already on the shelf, the Yankees can ill afford to lose Robertson for any length of time.
This recent rash of injuries combined with losing Mo and Michael Pineda for the season is really going to test the team's depth. Phelps is a fine fill-in starter and the trio of Rafael Soriano, Boone Logan, and Cory Wade is fully capable of late-inning relief work, but there would still be two pitching spots to fill. Cody Eppley is a logical call-up candidate but is nothing more than a right-handed specialist. D.J. Mitchell could pitch multiple innings and could even spot start for Nova if the Yankees want to keep Phelps in a leveraged bullpen role. Manny Delcarmen is a non-40-man roster bullpen candidate, but I don't think anyone is clamoring for him.
Obviously losing the starter in Nova is more significant, but the Yankees will have a tougher time replacing a late-inning arm in Robertson. Phelps, Mitchell, and even Adam Warren can spot start with no problem if needed, but it'll take some time to find a trusted end-game reliever. It's silly but it's true, late-inning relievers are in their own little world. The Yankees can always scour the waiver wire and dabble in the trade market if internal solutions are not found and Robertson's injury is anything that will require more than like, two weeks on the shelf. I really hope it doesn't come to that.
Assuming tonight's game doesn't get rained out, the Yankees will have CC Sabathia on the mound and yet again, they're going to need innings from their ace. The bullpen, specifically the middle relief guys like Logan and Wade, have been worked hard these last few games and could really use the night off. I mean no warming up, no nothing. Robertson's probable unavailability will compound the problem, ditto the chance that Phelps will be needed to start for Nova in five days. Every team deals with injuries, but the sheer volume of injuries in such a short amount of time is going to put the club's pitching depth to work.