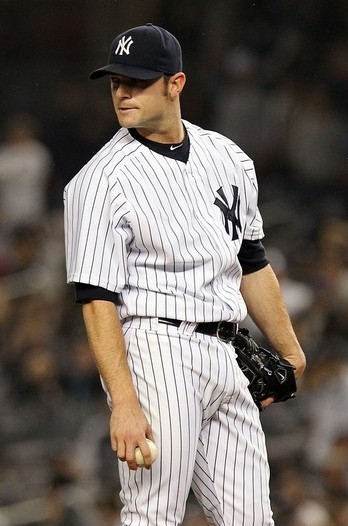 The Yankees have received some pretty stellar pitching over the last three weeks or so, and it's about to get a whole lot better. David Robertson aced his second minor league rehab appearances yesterday afternoon, and afterward Joe Girardi confirmed that his top setup man will rejoin the team today and be activated off the DL on Friday. Cory Wade and Boone Logan have done a superb job setting up Rafael Soriano in recent weeks, but I think it's safe to say we've all missed Robertson in the late innings.
Getting Robertson back on the roster won't be a problem but the Yankees do have some roster flexibility and a number of different options. We know Wade, Logan, and Rafael Soriano aren't going anywhere, but there's a case to be made that everyone else in the bullpen should be replaced. Each has their own pros and cons, of course.
Cody Eppley
Sending Eppley back to Triple-A seems like the most obvious move since he's been the designated up-and-down guy early this season. He hasn't pitched great but he hasn't been ineffective either — 3.55 ERA with a 4.55 FIP and a 67.5% ground ball rate — and lately Joe Girardi has been using him as a right-handed/ground ball specialist in the sixth and seventh innings. That's the best way to use the sidewinder, though a ROOGY isn't exactly the most efficient use of roster space. The Yankees could send Eppley down on Friday and call him up at a later point without a problem.
David Phelps
Do you know how long it's been since Phelps has appeared in a game? Eleven days now. He hasn't pitched since game two of the Tigers series in Detroit, when he started the bottom of the ninth inning in the eventual walk-off loss. Phelps has made two appearances totaling five outs in the last 20 days, and his brief warm-up session last night was the first time he's even done that much since the Tigers' game. The Yankees don't need to carry two long-men and although Phelps has done nothing to lose his job — 2.94 ERA and 4.50 FIP — they could opt to send him to Triple-A to make sure he gets regulars innings as a starting pitcher. Winning is always the number one goal, but the Yankees could send him down to focus on his development without weakening the big league club.

Freddy Garcia
Since being banished to the bullpen, Sweaty Freddy has worked sparingly in mop-up duty. He missed a few days following the death of his grandfather but has otherwise appeared in just six of the club's last 41 games, and only once in those six games was the score separated by fewer than three runs. It's been pure mop-up work and is totally redundant with Phelps on the roster. Freddy has no trade value so the Yankees would have to just cut ties with him, a legitimate option but probably not the smartest thing in the world. Pitching depth has a way of disappearing quickly and Garcia can do a lot of different things if needed, particularly start.
Clay Rapada
Cutting Rapada was unlikely even before his recent stretch of solid pitching (despite a heavy workload). The Yankees obviously place some value on having two left-handers out in the bullpen given how much money they've spent on those guys in recent years, and for the most part Rapada has done the job. He is out of minor league options, so the Yankees wouldn't be able to send him to the minors without first passing him through waivers. Rapada ain't clearing waivers, I can promise you that.
* * *
The Yankees have enough bullpen depth that there's no obvious candidate to go once Robertson is healthy. They're going to shed one solid bullpen arm in favor of an elite reliever, and that's pretty awesome. Since we polled you folks about replacing Brett Gardner internally yesterday, we might as well do the same for getting Robertson back on the roster.
How should the Yankees get Robertson back onto the active roster?