Five questions this week, but four of them got relatively short answers. Make sure to use the Submit A Tip box in the sidebar to send us anything at any time.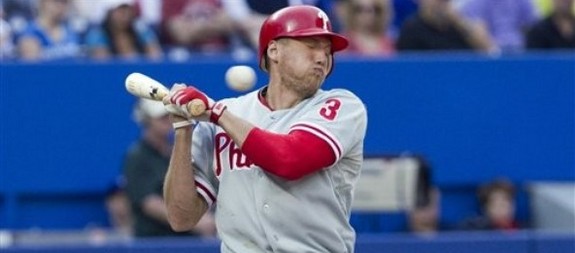 Tucker asks: With the Cole Hamels extension, could Hunter Pence be a trade option for the Yankees? Could he help to replace Nick Swisher next year?
Pence, 29, is having a solid year (111 wRC+) but has been just a touch worse than his career norm (118 wRC+). His walk rate (8.6%) is better than his career average but otherwise the power numbers (.180 ISO) are normal. He's hitting for a slightly lower average than usual (.267), most likely due to BABIP issues (.299 this year vs. .324 career). Pence has stopped stealing bases (only four so far) and the various defensive metrics say he's trending downward in the outfield. He's making $10.4M this year and will likely jump up to $14-15M through arbitration next year before becoming a free agent the following winter.
Now that all that is out of the way, sure. Pence definitely makes sense as a stopgap outfielder in 2013. My only concern is that the Phillies are going to market him as a superstar even though he very clearly is not. He's a consistent, profile right fielder who never ever gets hurt. At the same point of his career, Dan Uggla was traded for a big league ready bullpen prospect (Mike Dunn) and a fringy utility player/everyday big leaguer (Omar Infante). Pence is a bit of a hacker and that concerns me, but I feel like the disconnect between the type of player he's perceived to be and the type of player he actual is will make things difficult.
Chip asks: Would trading for Corey Hart be wise? The Brewers look to be on the edge of falling out of the race and Hart is signed at reasonable money for [next season]. Yeah, he sucks at defense and doesn't take walks but I would imagine he'd outproduce Chris Dickerson (or they could somewhat platoon) next season.
The 30-year-old Hart is owed $10M next season, the last one on the three-year, $26.5M deal he signed in the middle of the 2010 season. He owns a 117 wRC+ this season, right in line with his career norm (115 wRC+). Apparently the Brewers would have to be overwhelmed to deal him, and Hart's not a guy you go overwhelming his club to acquire. He's similar to Pence in terms of raw production — both right-handed hitters too — but gives you cost certainty next year. He's an option, but it always comes down to price.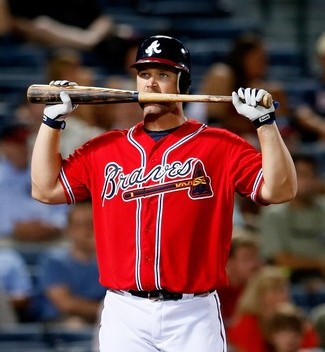 Nick asks: Do you think the Yankees could look at Kevin Shoppach or David Ross to be the starter over Russell Martin next season?
Sure, I think so. Shoppach is a straight platoon player (126 wRC+ vs. LHP last three years) and Ross has been the best backup catcher in baseball since landing with the Braves (123 wRC+ overall last three years). Neither is a Gold Glove type defender but they're not awful. The offense makes up for it. Both Shoppach and Ross are playing for less than $1.7M this season and will be free agents this coming winter. They're both great stopgaps options as far as I'm concerned, though there are legitimate questions about Ross' ability to be productive in more than 180 plate appearances or so.
Nico asks: Are there any MLB managers who buck the conventional righty-vs-lefty mentality when they're facing changeup specialists with reverse platoon splits? Does Joe Maddon? Can we ever hope to see that from Joe Girardi in the Bronx?
Maddon has done it plenty of times it past — you'll see it referred to as The Danks Theory around the web. Maddon first used it against …wait for it … John Danks in 2010, loading his lineup with left-handers — the switch-hitters batted left-handed as well — to take away his changeup. The result? They hammered him for eight runs in four innings. Tampa still does it occasionally but I don't think I've ever seen or heard of another team doing it.
I can't imagine the Yankees and Girardi will employ something similar anytime soon. It's too against the grain I think. Tommy Milone, who shut the Yankees down and set a career-high in strikeouts in Oakland last week, is a perfect Danks Theory candidate as a soft-tossing changeup guy. Instead, New York has faced him twice this year with a right-handed heavy lineup and he's pitched well both times. Alas.
Ori asks: With the Nets moving to Brooklyn and having a formidable roster now, do you think YES Network ratings will spike, and if so, will this help the Yankees in doling out more cash for a big name?
I don't know much about basketball at all, but there sure seems to be a lot of buzz around the Nets these days, no? I have no idea how the financials work between the network and the team, but I have to think that higher YES Network ratings — regardless if it's the Yankees, Nets, Yankeeographies, whatever — the better it is for the Yankees overall. The team has never had a problem with shelling out big bucks for a player though, and I don't think improved YES ratings will cause ownership to suddenly scrap the 2014 payroll plan or anything like that.