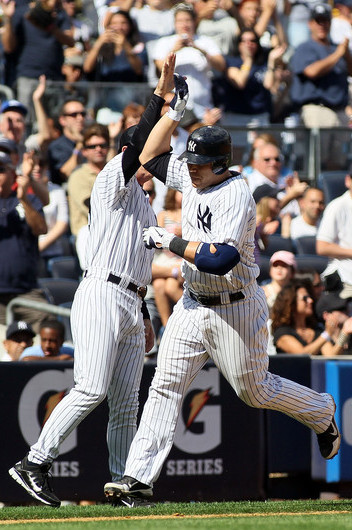 In more ways than one, the second half of this season has been the polar opposite of the first half. The Yankees were winning games left and right before the All-Star break, but recently they've been struggling to string wins together. The pitching staff carried the club for lengths of time back in May and June, but August and September haven't featured the same kind of effectiveness. A deep and productive lineup carried a weak-hitting Russell Martin early on, but lately it's been Martin who's done the carrying.
Martin, 29, had the big blow in yesterday's 6-4 win over Tampa, a three-run opposite field blast off the hard-throwing Matt Moore. The at-bat was as impressive as the outcome, as Russ battled back from an 0-2 count to work it full before going deep. It was his third homer in his last nine starts and part of a second half surge that has seen him hit .246/.324/.437 with nine homers in 51 games (46 starts). Joe Girardi has been batting his starting catcher higher in the batting order — including fifth against left-handers — and it is not undeserved.
The first half of the season was not kind to Martin, who hit just .179/.300/.348 with eight homers in the club's first 85 games. He struck out in 20.2% and walked in 12.3% of his plate appearances prior to the All-Star break, rock solid plate discipline numbers. His batting average on balls in play was abysmal though, an unsustainably low .193. Obviously luck plays a major part in any BABIP south of the Mendoza line, but not all of it was undeserved. Here is his day-by-day batted ball profile…
Martin was beating the ball into the ground in the first half of the season, and if you watched the games, you know that most of those grounders were weakly hit to the left side of the infield. Smart teams played a bit of a shift on him, exacerbating the BABIP problem.
The second half has been a different story however, as the ground ball issue evened out and his batted ball profile normalized with last year, when he hit .237/.324/.408 overall. That looks quite a bit like his .246/.324/.437 line from the second half of this year, just with a little less power. His strikeout rate (17.0%) also began to approach his career average (14.7%) as well. Martin's average on balls in play has jumped up to .254 in the second half, which is low for most hitters but probably right in line with his true talent level at this point. He is still prone to the weak ground ball and does hit a lot of pop-ups (especially on the infield), a combination that will forever keep his average in the dumps. There's no away around that, his days of hitting .280+ like he did in 2006-2008 are undoubtedly in the rear-view mirror.
One thing we've learned during Martin's time in New York is that he's crazy streaky. He can carry an offense when he gets hot and he'll turn into an out machine at the bottom of the order when things aren't going his way. The lows are more frequent than the highs, but the Yankees needed him to perform better in the second half and he's done that so far. It's unfortunate that they've fallen back to the AL East pack and they're relying on his production so much, but that isn't really Martin's fault. He's hitting for some more power and a few more hits are starting to fall in, and lately they've come at the exact right time.