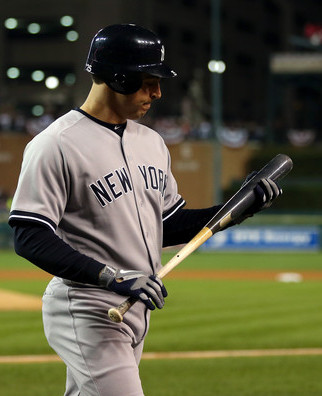 The Yankees are playing with house money at this point. No one realistically expects them to win the next four games and mount a historic comeback from a three games to none deficit in the ALCS. The pitching has been fantastic and the hitting has been dreadful. Even is CC Sabathia goes out and dominates the Tigers in Game Four tonight, there's a pretty good chance the Yankees will support him by scoring zero runs.
I hope that's not the case though. Maybe those tough grind-it-out at-bats in the ninth inning last night were an indication that the Yankees are starting to figure things out offensively. Robinson Cano even got a hit in that inning, and they always say that all it takes is one hit to turn things around. Max Scherzer had a great regular season but has been battling shoulder problems of late, which is why his fastball velocity fell off in a big way in September. He averaged 94.2 with the fastball during the season but just 93.0 in Game Four against the Athletics last week.
Maybe that reduced velocity allows the Yankees to scratch a run or two across early and actually take the lead, something they've yet to do in the series. Maybe that's enough for Sabathia to squeeze out the win. Then the Yankees have Andy Pettitte going in Game Five and Hiroki Kuroda on regular rest in Game Six. Sabathia would come back on three days' rest to square off against Verlander in the winner-take-all Game Seven. It could happen. It's incredibly unlikely, but not impossible.
At this point, the Yankees are the underdog. They're not your typical small market underdog, but they're an underdog nonetheless. No one expects them to win the series and I'm sure most people believe they're going to lose Game Four tonight and get swept out of the playoffs as well. Expectations are low or just flat out non-existent, which can be a dangerous thing. It's easy to forget how good of a team the Yankees really are, and if one or two (or three!) bats wake, they could become a headache for the Tigers in a hurry.
The Yankees have nothing to lose at this point other than their entire season, and I think most people assume that it's only a matter of time before Detroit wraps up the series. Joe Girardi & Co. are going to take it one game at a time and blah blah blah cliche cliche cliche. There's nothing to say, they just have to start hitting and hope the pitching holds up. It would behoove the Tigers to end this series as soon as possible though, you don't want to give the Yankees that Game Four win. Anything can happen after that.