For the first time in baseball history, all four LDS matchups will go the full five games. Unfortunately that means the Yankees lost Game Four to the Orioles on Thursday night, a 2-1 game that featured an awful lot of offensive failures on both sides.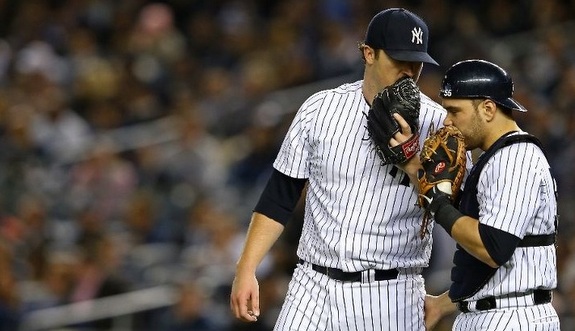 St. Philip of Hughes
Pitching in his first game action in nearly two weeks, Phil Hughes put up a light version of Hiroki Kuroda's Game Three outing but dancing around danger early before settling down to put up a representative start. He walked the leadoff man in three of the first four innings but pitched out of the jam each time — first and second with no outs in the first, second and third with no outs in the second, first and third with two outs in the third. Phil's only mistake was a solo homer to Babe McLouth leading off the fifth.
All told, Hughes threw 95 pitches in 6.2 innings of one-run ball. He retired nine of the final ten batters he faced after the homer and allowed just four hits overall. He also walked those three leadoff men. The Orioles swing and missed 15 times as part of eight strikeouts, a strong number for Hughes after struggling to miss bats a bit in September. This start was awfully reminiscent of Game Three of the 2010 ALDS, when Phil scuffled in the second half but came out and held the Twins in check. Unfortunately the offense did not support him like they did that night.
Set Up To Fail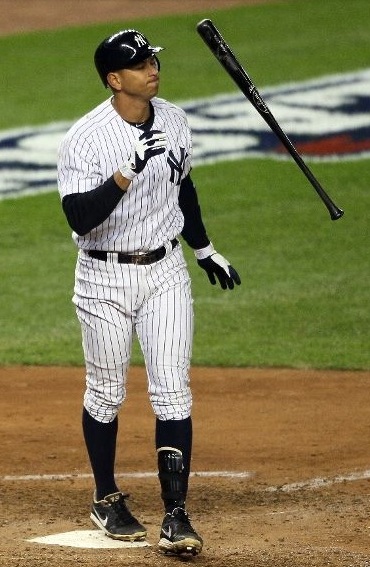 Joe Girardi made the gutsiest call of his managerial career in Game Three on Wednesday, lifting Alex Rodriguez for pinch-hitter Raul Ibanez in the ninth inning of a one-run game. It was the right call and not just because it worked out — A-Rod has been abysmal against right-handed pitchers lately and he simply did not give the team the best chance to win in that spot. Instead of following the same script in Game Four, Girardi left Alex in the game to face righties with the go-ahead run in scoring position on not one, but two occasions.
Now just to be fair, A-Rod did reach base in his first two at-bats. He drew a leadoff walk against Joe Saunders in the second inning, but his teammates failed to advanced him any further. He also singled with one out in the fourth only to be erased on a double play. That came off Saunders as well, a left-hander. The situation changed in the sixth, after Robinson Cano tied the game with an RBI ground out. Mark Teixeira was on second base with two outs and rather than leave Saunders in to face Alex a third time, Buck Showalter lifted him for hard-throwing righty Tommy Hunter. Five pitches later, the inning was over after A-Rod swung through a fastball for strike three.
Fast forward to the eighth, when the Yankees blew their biggest opportunity to take the lead. Ichiro Suzuki and Teixeira singled to open the inning, putting men on first and second with no outs. Cano advanced the runners to second and third with a ground out, which wasn't exactly ideal but better than nothing I suppose. Robbie's ALDS disappearing act is something we can discuss at another time. So now the go-ahead run is on third base (and an insurance run is on second) with one out. Showalter lifted the lefty Brian Matusz for the side-winding righty Darren O'Day, who has crushed same-side hitters for years. He struck out A-Rod on four pitches with three swings and misses. Nick Swisher flew out to end the inning.
Ibanez, the Game Three mega-hero, was not used in the game until there were two outs in the bottom of the ninth. The score was tied and no one was on-base. It was homer of bust, basically, and Ibanez grounded out to end the inning before being replaced by Eduardo Nunez defensively the next inning. No one is expecting him to hit pinch-hit homer every game, no one reasonable anyway, but it's very clear that Ibanez is one of the team's more productive hitters at the moment. Girardi opted to let A-Rod bat in two situations in which he had so little chance of succeeding — he's 0-for-12 with nine strikeouts against righties in the series — and his faith was not rewarded. The team's hottest and most dangerous hitter was given one at-bat with no one on-base. With that many underperforming hitters in the lineup, they were destined to fail.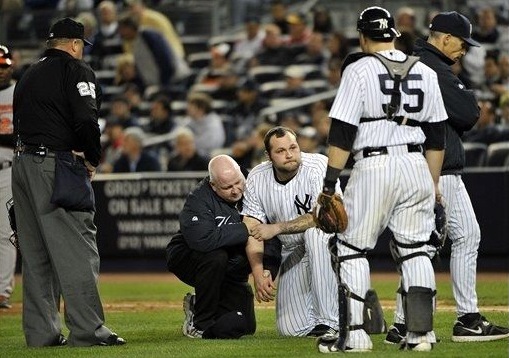 All Hail The Bullpen
The Orioles have scored exactly one run after the seventh inning in this series, and that was the game-winning run in the 13th inning in Game Four. J.J. Hardy doubled in Manny Machado to win the game. The bullpen, and really the entire pitching staff in general, was not at fault for the loss however. After Hughes went the first 6.2 innings, a total of seven relievers combined to allow four base-runners and one run in 6.1 runs. Two runs and 12 strikeouts in 13 innings, and that wasn't good enough for a win. Think about that.
Anyway, Boone Logan was first in line and he retired McLouth with a soft liner to second to end the seventh. David Robertson dazzled in an eight-pitch eighth inning, then Rafael Soriano chipped in scoreless ninth and tenth innings. Joba Chamberlain threw a perfect 11th and started the 12th, but a Matt Wieters' broken bat hit him in the elbow and forced him from the game. X-rays were negative and he'll be re-evaluated tomorrow. David Phelps took over and escaped the inning before giving up the run in the 13th. Clay Rapada and Derek Lowe got the final two outs without incident. The pitching staff has allowed nine runs in 42 innings this series. Nine runs in 42 innings. That's a 1.93 ERA, and it wasn't good enough to avoid a decisive Game Five.
Leftovers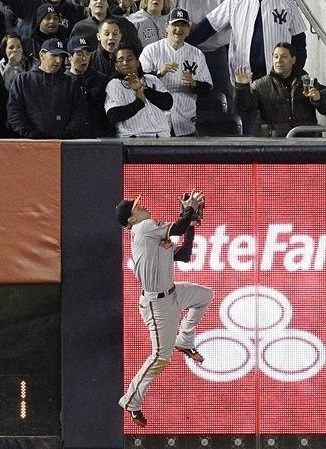 We've already talked about A-Rod, but let's count all the other ways the offense failed. Derek Jeter went 2-for-6 and scored the only run, and he has multiple hits in all four games of the series. He also struck out looking on a Luis Ayala fastball with two men on to end the seventh. Ichiro went 1-for-5 with a sacrifice bunt and Teixeira reached base four times in his six plate appearances (single and three walks). The quartet of Cano, Swisher, Curtis Granderson, and Russell Martin went a combined 0-for-20 with one walk (Martin) and four strikeouts (three by Curtis). The Yankees went 0-for-9 with runners in scoring position on the night with Jeter, A-Rod, and Cano taking 0-for-2s in those spots.
Jayson Nix played shortstop while Jeter nursed the bone bruise on his left foot, making him the first player to start at the position other than the Cap'n since (who else?) Tony Fernandez in Game Five of the 1995 ALDS. Nix was actually the team's most productive offensive player in the game, going 2-for-3 with a double. He was replaced by Ibanez in the ninth.
Fieldin Culbreth's strike zone was a disaster, which I guess isn't a surprise. It was bad for both teams but I don't want to blame it for anything, I'm just making an observation. It's made even more noticeable and annoying by the little permanent strike zone sidebar on the TBS broadcast.
Box Score & WPA Graph
MLB.com has the box score and video highlights. Outside of the final six outs of Game One, these two teams have never been separated by more than one run in the series.

Source: FanGraphs
Up Next
Either the Yankees or the Orioles are going home tomorrow when they play Game Five. The winner will advance to play the Tigers in the ALCS, but let's not get ahead of ourselves here. CC Sabathia and Jason Hammel will square off in a Game One rematch at 5:07pm ET. Yes, a 5:07pm ET start on a Friday. That's actually a thing that will happen.